Nightlife in Stockton
---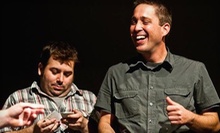 The comics of the Anti-Cooperation League interview a local personality and then improvise scenes with the information they've gleaned
---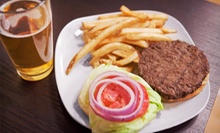 UFC matches and football games flash across flat-screen TVs at a pub serving chili-smothered fries and hot sandwiches
Use Monday 11:00am - 10:00pm
---
Recommended Nightlife by Groupon Customers
---
Try before you buy. Savvy Cellar Wine Bar & Wine Shop features 90+ point wines for $39/bottle or less. Sample wine flights, glasses, artisan beer and small food plates before buying a bottle (or two).
2048 Broadway St.
Redwood City
California
US
Treat a friend or the alien you found in the woods to a luscious and luxuriant evening of nightcaps in a welcoming, Cheetos-stain-free environment. Today's deal gets you $35 worth of wine, spirits, desserts, and small-plate fancies at A Perfect Finish for $15. You may purchase up to two Groupons for yourself, but you will have to use them on separate dine-in visits.The feared animal uprising never happened and Americans embraced jazz and jazz musicians, often giving them colorful nicknames, such as Fancy Fingers and Ol' Skin Bag. Jazz faced its toughest challenge in 1936, when it was stolen by the French, who attempted to use the improvisational music to power a series of submarines. France and the United States sent their five best warriors into an ancient temple to battle for the future of jazz, but all 10 fighters became friends and moved in together. Thereafter, jazz returned to the United States on its own, where it remains popular today.
55 S 1st St.
San Jose
California
US
With past performers such as Jerry Seinfeld, Dennis Miller, and Dana Carvey, Laughs Unlimited has accumulated a formidable collection of laughs in its 27-year history. Owner and booker Steve Grove keeps the comedy lineup fresh with imported mountain air and a steady rotation of established and up-and-coming comedians. Warm brick walls and exposed-beam ceilings line the recently renovated club. Laughs Unlimited's full menu furnishes empty bellies with Mexican-inspired tacos, burritos, and snacks, which go down smooth with several Californian wines and an arsenal of signature cocktails.
1207 Front St.
Sacramento
California
Along the walls of Tessora's Barra di Vino, a cultivated selection of boutique wines from across the globe perch on handsome wooden racks while bistro tables invite patrons to relax and indulge. A rotating list of wines by the glass (usually $9–$15 for a six-ounce glass) features more than 20 varieties at a given time, each of which may find a delightful dance partner amid the sweet and savory small plates. Sip a slightly spicy pour of the Yangarra Shiraz, hailing from Australia's McLaren Vale, with eucalyptus and anise on its breath, and prop your subsequently tipsy head up on pillowy squares of roasted-pepper and basil focaccia, served with olive oil and balsamic vinegars from Campbell's Olive Bar ($8). Asparagus fries—fresh stalks outfitted in phyllo and baked to a crisp and buttery finish—lounge beside roasted-pepper aioli ($9 for a order of eight). Allow your veggie fries to waltz with a glass of the Two Angels sauvignon blanc from the Mayacamas Mountains, where bouquets of thyme and sage dress buffets of kiwi, melon, and basil, or order up three pulled-pork sliders in rosemary barbecue sauce ($11.50) with an intense malbec and cab-sauv blend from Mendoza that is full of wood smoke, black currant, and blueberry. Tessora's also offers beers, salads, cheese and antipasto plates, desserts, and, on Thursdays, pizza.
1875 S Bascom Ave., Ste. 560
Campbell
California
At Grill 'Em, the chefs leave customers to broil their own slabs of juicy, beefy meats, guaranteeing steaks done as well or as rarely as each specific flamemongerer desires. Chefs prepare the appetizers ($5.95+) and sides ($1.95), while diners choose a hunk of beef from the menu. Go for the 8-ounce top sirloin for a reliable cut of steak ($11.50), or snag a satisfyingly marbled 12-ounce rib eye for moderate ravenousness ($16.95). Should your stomach mount an all-out assault on your mind, strike back with a hunger-trouncing proportion known as a hungry man special, such as the 16-ounce T-bone served with a side salad and garlic bread ($19.95). Aside from grill-it-yourself options, the restaurant also offers a variety of someone-else-made sandwiches such as the firecracker shrimp sandwich ($9.50), salads like the barbecue short rib salad ($9.95), and burgers like the three-cheese Jucy Lucy ($8.95).
2509 S Bascom Ave.
Campbell
California
ComedySportz, voted Best Comedy Club by KCRA's A-List in 2009 and 2010, turns out quick-witted performers from classes helmed by experienced improvisers. Designed for students of any experience level, classes help people overcome social shyness and stress. Beginners get a feel for improv basics through games and exercises, learning the bones of scene structure and character development while exploring creativity and facing fears of speaking in front of audiences that are not stuffed animals. During the Intermediate 2A class, students with previous experience tackle the long-form style of improv juggernauts such as Second City and iO, and Intermediate 2B students revel in performance games common during ComedySportz and Whose Line Is It Anyway?. Each class aims to get students ready to create scenes, work with partners, and get out of tickets by saying, "OK, now I'm the police officer."
2230 Arden Way
Sacramento
California
916-243-8541
---