Things to Do in Stoneham
---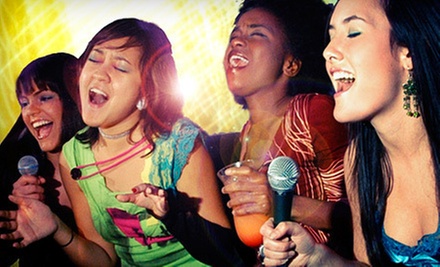 Chinatown - Leather District
---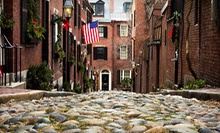 Tours follow in the footsteps of abolitionists and soldiers who fought for a more perfect union, visiting landmarks from their lifetimes
Use Thursday 2:00pm - 5:00pm
---
Recommended Things to Do by Groupon Customers
---
Gray-hulled naval ships sit stoically by weathered docks, as sailboats and yachts dart to and fro in graceful traffic. The tide ebbs and flows around islands, piers, and against harbor walls under the Boston skyline. Hestia Cruises' four ships glide among this nautical throng, carving wakes across the busy waters on seasonal cruises in the morning, afternoon, at sunset, or under the light of the moon. As the classic 1948 motor yacht Full Moon rumbles through the water, on-board tour guides divulge facts about harbor history and point out ideal landmarks to photograph. The ship's open decks host passengers for sightseeing tours, and its staff also guides morning cruises with massage services or yoga classes, evening voyages with wine and whiskey tastings, and photo-shoot cruises.
Captains also ferry visitors past harbor sights on an EPA-acclaimed private catamaran or the 32-foot Catalina sailboat Hestia, where passengers can help pull lines, unfurl the main sail, and make a mix-tape of sea shanties. They also pilot a rigid inflatable boat—built to Navy Seal specifications—for adventures to far ends of the harbor at speeds of up to 40 miles per hour. The speedy craft lies low to the water, letting passengers feel the harbor's salty spray while hunched securely on saddle-style jockey seats.
260 Commercial St.
Boston
Massachusetts
At the age of 16, Matthew "Matty" Hughes became the youngest-ever licensed captain in the port of Boston. Funneling his passion into a career, he founded Boston Harbor Cruises in 1926 to lead tours up the Charles River. What began as a two-man, one-boat operation has grown tremendously throughout its more than 90-year history, now encompassing a 21-boat fleet and more than 250 employees who transport more than 2 million passengers.
The Boston Harbor Cruises's staff handles all things nautical, from whale watching and speedboat tours to wedding receptions and celebrations for special occasions. Because dolphins are hard to saddle and refuse to obey verbal commands, Boston Harbor Cruises also navigates the waters with ferries and harbor cruises that explore the historic and romantic sights of Boston.
Though the leadership has changed, Matty's grandchildren Rick and Chris Nolan still perpetuate the traditions of Boston Harbor Cruises, furthering one man's obsession with the harbor and inspiring future generations to create their own memories on its calm waters.
1 Long Wharf
Boston
Massachusetts
617-227-4321
Local actors guide the three-hour Boston TV & Movie Sites Tour, dishing out behind-the-scenes specifics and juicy tidbits about 40+ TV show and movie locations peppered across Boston's diverse neighborhoods. The tour bus comes outfitted with TV screens that roll video clips corresponding with passing sites, starting at Boston Common and continuing through the quaint brownstones of Beacon Hill, and onto South Boston, Back Bay, Copley, and the North and West Ends before ending back at Boston Common. Along the way, grab a bite to eat at the original Cheers bar, where everybody knows your Social Security number, or visit the L Street Tavern, the local pub frequented by Matt Damon and Ben Affleck's characters in Good Will Hunting. Tour-goers can ogle at pavement made famous by films such as The Departed, Legally Blonde and a multitude of America's Funniest Home Videos. Tours start rain-or-shine on Saturdays and Sundays at 11 a.m. in September and October and Saturdays at 11 a.m. in November and December.
151 Tremont St.
Boston
Massachusetts
US
212-209-3370
Hop aboard a high-speed, rigid inflatable boat to journey the Boston Harbor Islands National Recreation Area with Flagship Adventures. Flagship's expert tour guides pepper the 90-minute adventure with interesting Boston Harbor factoids and their favorite porterhouse marinade recipes. Board ship at 200 Seaport Blvd. and venture through Boston Harbor, passing many national recreation area islands and peninsulas during your journey.
200 Seaport Blvd.
Boston
Massachusetts
US
---