Shopping in Stony Point
---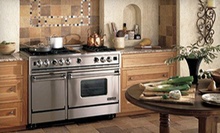 Materials such as ceramic, porcelain, metal, natural stone, and glass comprise a huge selection of tile for any home-improvement project
Use Monday 9:00am - 5:00pm
---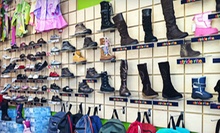 Use Thursday 11:00am - 12:00pm
---
Recommended Shopping by Groupon Customers
---
At Bespoke Fit, skilled tailors with at least 10 years of experience meticulously measure, cut, sew, and toil over their masterwork: handmade suits, shirts, jackets, and trousers of the finest quality. Unlike factory-made apparel cut by unseasoned hands or machines, bespoke tailoring ensures that artisans know each client's exact measurements and that they attack their craft with a careful attention to detail, from hand-sewing buttonholes to adding personal embroidery on inside pockets. Onsite pattern makers and cutters piece together fine European fabrics from merchants such as Giorgio Armani, Cerruti, and Fabrics by Holland & Sherry. Customers help personalize the design, with more 30 styles of shirt collars and 15,000 varieties of cloth available. Each suit also comes with up to two years of alterations after completion.
140 W 57th St., Suite 4C
Manhattan
New York
212-767-0547
Founded in 1969 by Jerry Greenberg, Frame It in Brooklyn has brightened up the walls of local homes in addition to museums, hotels, and public buildings throughout the country. Professional technicians hand-join frames and custom-design mats with a delicate human touch, and computer-driven hardware cuts materials for mass production with the practiced precision of a cold, unfeeling robot. The creative staff helps customers envision each project by narrowing down choices from thousands of mats, mouldings, and fillets and by deciding whether artifacts warrant specialty conservation framing.
767 3rd Ave.
Brooklyn
New York
Backed by more than 85 years of experience, the shoemakers at Stride Rite of Wyckoff design and assemble durable, cushy footwear specifically tailored to accommodate the constantly growing soles of babies, toddlers, and kids. They put each piece of footwear from their eponymous brand through a meticulous, three-step test, first scrutinizing fit before allowing real kids to don the shoes for 30–45 days of active play and imaginary-friend wrestling. Then they administer another 30–40 lab tests, striving to secure a snug fit with sturdy materials. To further swaddle tots' feet in style, Stride Rite compiles a vast array of sneakers, sandals, and dress shoes from renowned brands such as Sperry, Robeez, and Keds.
319 Franklin Avenue
Wyckoff
New Jersey
201-891-8580
Since the company's founding in 1927, Cohen's Fashion Optical has grown from a pushcart business into a successful franchise peddling prescription and designer wares at more than 100 locations spanning seven states and Puerto Rico. Each store employs experienced doctors of optometry who test pupils with comprehensive eye exams to assess ocular health, pinpoint visual acuity, and ensure that no wool has been pulled over the eyes. The store's visionary staff can also help outfit peepers with contact lenses or designer frames from brands such as Prada, Ray-Ban, and Dolce & Gabbana.
133 2nd Ave.
Manhattan
New York
212-254-0246
If you already have a costume idea when you walk into the Abracadabra Superstore, hold onto it tight, because you're bound to second-guess yourself. The shop overflows with outfit options, which range from superheroes, such as Thor and She-Ra, to animals, cowboys, and flappers. Many of the costumes come in all-in-one kits that ensure you don't forget important items, such as the Cat in the Hat's iconic top hat, bow tie, and pair of latchkey kids.
Those who enjoy building their own disguises piece by piece will find everything they need, too. There's a wealth of wigs and beards, jewelry and accessories, and professional makeup and gear, including application brushes, adhesives, and prosthetics. Professional makeup artists are also on hand to give your costume a touch of authenticity, which ensures your David Bowie doesn't get mistaken for a Twilight vampire.
19 W 21st St.
Manhattan
New York
Eastside Art Gallery's skilled frame-fitters prepare photos and artwork for eye-catching display with hand-finished wood and metal frames. They pride themselves on helping visitors to customize an ideal frame style to match their home décor, and they strive to protect valuable prints from deteriorating, fading, or spontaneously combusting by using acid-free backing and UV glass. In addition to their fastidious framing services, they maximize customer satisfaction by regularly offering same-day turnaround and free pickup and delivery within the neighborhood.
1239 1st Ave., Suite 1
Manhattan
New York
---