Tours in Storrs
---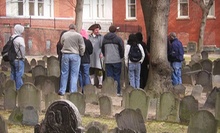 Follow a guide in a tricorn hat on a 90-minute exploration of colonial Boston through the uprisings that led to American independence.
Use Monday 8:30am - 11:30am
---
Recommended Tours by Groupon Customers
---
David Goldstein could be considered a renaissance man: he's organized skiing trips and city bar crawls, founded a murder-mystery dinner theater, and led team-building exercises—one of which focused on sharing his passion for chocolate. As this particular venture garnered public demand, he began traveling across the country to meet with chocolatiers and cocoa experts. In 2009, he returned to Boston and focused his findings and theatrical flair into sweets-focused tours—what he now refers to as his passion business.
Today, his team includes chocolate-experience designer Caitlin, two chocolate tour guides, Count Chocula, three pastry-chef chocolatiers, and a wine expert who teaches wine-and-chocolate pairings. The guides lead guests on walking tours and a cupcake crawl through three of Boston's historic neighborhoods, taking them to boutique chocolate shops, bakeries, ice-cream parlors, and a cosmetics company that uses chocolate in its products. In hands-on workshops, chocolatiers teach students how to form truffles, make fillings, hand mold chocolate, and package confections.
7 Newbury St.
Boston
Massachusetts
781-784-7469
Segway of Newport makes the world smaller by equipping customers with wheeled transports ideal for exploring Newport's beauteous scenery. Crowned by TripAdvisor voters as the town's best tour company, Segway of Newport offers regular guided group tours atop Segways, Ultra Motor electric bicycles, and Dahon folding bikes. After a brief training session, patrons masterfully steer Segways toward Thames Street and onto scenic 10-mile Ocean Drive. Here, they coast past Newport Country Club and Gooseberry Beach before peering over the Cliff Walk's jagged edges and pondering whether the ocean is bouncy. Ultra Motor electric bikes reach speeds up to 20 miles per hour, driven by feet or their own enchanted power, whereas 7-speed cruisers or 21-speed mountain bikes allow riders to set a pace of their choosing.
438 Thames St.
Newport
Rhode Island
401-619-4010
During your tasting for two ($5 value per person), you'll sample five different red and whites from Osprey's superb selection. The award-winning grapen goodness is culled from lively vinifera vines creeping across the 90-acre grape growery. Spend time sipping in Osprey's comfortable tasting room and scouring the sky above the sun-bathed rows of green for soaring ospreys, who guard grapes from liquor-loving kobolds. The take-home bottle of 2006 reserve chardonnay ($15 value), a full-bodied sip that's ripe with aromas of tropical fruit, toasted oak, and vanilla, has a well-balanced acidity that pairs well with seafood and sea-smoothed stones. Check Osprey's Dominion's schedule of events to see when there's live music.
44075 Main Rd.
Peconic Long Island
New York
Freewheeling around historic hallmarks and architecture, Boston By Segway, formerly Boston Gliders, has led more than 100,000 sightseers through Bean Town atop intuitive, easy-to-maneuver segways. Tours, which kick off every half-hour, range from one to two hours; the shorter version trundles down Boston's Harborwalk, and the longer sojourn ventures past historic hotspots including Faneuil Hall and Bunker Hill. To get acquainted with the segway, all upright rollers speed through a half-hour how-not-to-crash course, getting acquainted with the natural, fluid steering and learning how to propel the vehicle forward using a carrot tied to a stick. Armed with digital cameras, the urban sherpas snap shots throughout the tour for purchase afterward, and customers may take their own pictures as long as they briefly hop off the segway.
420 Commercial St.
Boston
Massachusetts
866-611-9838
As an aerial photographer, it makes sense for Jeff Codman to pilot a Robinson R44 Raven. The viper-red aircraft affords him unlimited freedom of movement, nearly 360-degree visibility, and the ability to hover and swoop like a hummingbird as he dips 100 feet above the earth to snap shots of sailboats, unusual toupees, and ocean-side mansions.
Now, with Bird's Eye View Helicopters' tours, Mr. Codman grants guests the same breathtaking aerial views in the helicopter that he's enjoyed for more than 20 years. The Fall Foliage tour transports guests over a patchwork quilt of red and orange foliage, and the Island Tour traces a route above Ocean Drive and historic lighthouses. Mr. Codman even lets amateur pilots take the reins during a 25-minute introductory flight.
211 Airport Access Rd.
Middletown
Rhode Island
401-843-8687
When Valerie Beck was in kindergarten, there was only one way to get her to drink her milk: mixing in chocolate. As she grew up, her passion for the sweet treat only deepened. During a five-year stint living in Europe, she sleuthed out the most delectable chocolate shops and bakeries, eventually bringing friends along with her on trips to chocolate hot spots. After returning to the United States, she broadened her scope to create Boston Chocolate Walking Tours, focusing on the city's increasing number of premium chocolatiers.
Valerie's team of tour guides reveals Boston's best chocolate spots to guests on 2.5-hour tours around the Newbury Street neighborhood. They embark from Teuscher Chocolates of Switzerland, walking or canoeing across the city's historic chocolate canals. The tour changes daily, hitting five–six spots, such as DeLuca's Market and Emack & Bolio's, though the Lindt shop is always on the list.
1651 Washington St.
Boston
Massachusetts
---