Beauty & Spas in Streamwood
---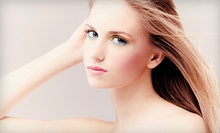 Microdermabrasion reduces the appearance of scars, blemishes, and age spots by sloughing away dead skin cells.
Use Monday 10:00am - 1:00pm
---
Recommended Beauty & Spas by Groupon Customers
---
Despite a long list of beautifying hair services and soothing massages, the most important sense at C'zar Salon-Spa is not sight or touch, but smell. Stemming from natural Aveda products, aromas drift throughout the space, tinting the air with rosemary, peppermint, and lavender scents that evoke pastoral scenes pulled straight out of the organic farms on which many of their ingredients grew. The Stress-Fix line of lotions—whose fragrances help to reduce anxiety—cloaks hands and feet in sage during specialty mani-pedis, and customized blends of essential oils augment Elemental Nature massages and facials.
Plants play a role in even the most detailed procedures at C'zar Salon-Spa. Flowers contribute extracts to the salon's cosmetics, and Nufree hair-removal formulas provide a botanical alternative to wax that's more gentle than tweezing with a venus flytrap. Although they don't incorporate leafy greens, wellness treatments such as acupuncture and cupping strive to round out makeovers by goading the body's healing processes. For special events, the staff can accommodate groups inside the calming venue or transport their perfumed practices to a specified location.
175 W Jackson Ave., Ste. 123
Naperville
Illinois
Upon entering the tranquility lounge at One Salon & Spa, clients receive a warm, soothing cup of complimentary herbal tea. The elegant ambiance—accented with contemporary furnishings and an earthy palette of beige and umber—allows visitors to sink into a deep state of relaxation inside private treatment rooms. One Salon & Spa's team of specialists offers an exhaustive menu of salon, spa, and cosmetics services, including a variety of facials, spa manicures and pedicures, and massage-therapy approaches.
2000 Spring Road
Oak Brook
Illinois
630-954-1900
Inside Ultimate Exposure Tanning Centers' 34 Chicagoland locations, a full lineup of UV- and spray-tanning equipment infuse skin with a healthy summer glow year-round. Individual sessions in the automated spray-tanning booths—such as VersaSpa—or UV beds gild bodysuits for nights on the town, and unlimited monthly packages fashion a continuous golden hue previously only available to sunbathing satellites. The salon stocks a variety of tan-accelerating lotions from Swedish Beauty, Australian Gold, and Designer Skin, which deepen bronze hues and moisturize skin to fashion a long-lasting radiance.
1085 E Golf Rd.
Arlington Heights
Illinois
847-640-7722
Board-certified gynecologist Dr. Sheri B. Merchant oversees the dedicated staff at Women's Doc Medspa, a tranquil retreat focused on female-centric cosmetic-skincare concerns. Trained specialists reinvigorate well-worn epidermises amid an upscale med spa outfitted with advanced equipment and rejuvenating skin treatments, such as custom facials, laser hair removal, Zerona body-slimming sessions, and chemical peels. The med spa's personal skincare line, DermaQuest Skin Therapy, brims with antioxidant-rich ingredients that aim to combat signs of aging while helping clients retain freshly glowing complexions from the comfort of their homes or office pillow forts.
1 Executive Ct., Suite 1
South Barrington
Illinois
847-852-1000
To the staff at Renaissance Med Spa, a client's request for facial tightening never conjures images of a surgical procedure. Instead, the lateral-thinking staff would probably envision the Palomar Lux1540 fractional laser—a device that glides over skin to painlessly promote collagen production and fade wrinkles, acne scars, and Sharpie-drawn goatees. The spa offers nonsurgical solutions to other skincare woes, including laser hair removal, massage, and age-fighting dermal fillers. Each treatment is performed under the supervision of Dr. Carl Cucco, and the certified staff comprises registered nurses, nurse injector specialists, licensed massage therapists, and licensed aestheticians.
814 E Woodfield Rd.
Schaumburg
Illinois
847-485-2650
At Sweet & Sassy, a candy-colored salon and spa that frequently hosts beauty parties, experienced pulchritude practitioners pamper toddlers to tweens with myriad services. Little women relax after long days crunching numbers at the lemonade stand amid walls awash in purples, pinks, limes, and oranges. An ear-piercing throne, an accessories boutique, and a celebration area complete with globe lights, a reflective disco ball, and a fashion runway make up Sweet & Sassy's diva-friendly atmosphere.
3041 Butterfield Road
Oak Brook
Illinois
630-706-4411
---