Strongsville Gyms and Fitness
---
Gym, Exercise, Weightloss Deals
---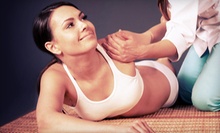 Seasoned instructors relax recipients with Thai yoga massage or lead students through strengthening poses during yoga and Pilates classes
---
Recommended Gym, Exercise, Weightloss by Groupon Customers
---
Long Island native Rocco Cona has had a tennis racket in his hand since the age of 11. His unyielding infatuation with the sport motivated him to go pro, win the Kidel Cup in 1983 as part of a doubles team, and found Springside Racquet & Fitness Club in 1988. Within the family-friendly facility, Cona leads a team of certified trainers and accomplished sports instructors as it whips athletes of all ages into shape with tennis, soccer, and swimming lessons. When the gang isn't busy perfecting backhand slices, bicycle kicks, and breaststrokes, it's hosting body-toning fitness and aerobics classes, such as kickboxing, spinning, and granite-statue-wrestling. They also offer custom personal-training sessions, in which they pump up heart rates with Cybex resistance equipment, Bodymaster free weights, and elliptical cross-trainers.
Springside's facility houses a cushioned indoor track as well as tennis and parquet courts, an NBA-size basketball court, and soccer fields that are available for recreational use. The community center's staff includes trained professionals certified in CPR and well versed in tantrum mediation techniques for when they watch over youngsters in the playroom.
215 Springside Dr.
Akron
Ohio
330-666-3161
AOK! Fitness's experienced trainers whip their clients into shape in an intimate 8,400-square-foot gym. When they aren't toning up physiques through group Zumba, TRX-training, and cardio-kickboxing classes, they're drawing up plans for custom workout regimens, tailored to each client's goals during one-on-one personal-training sessions. They further boost exercisers toward complete physical fitness through boot-camp programs, which include cardio workouts.
AOK! Fitness also hosts seminars on healthy living to help clients incorporate informed decision making into their diet and daily routines. Before and after workouts, guests relax or cool down at the coffee bar and lounge while eagle-eyed staff members keep watch over children in the 1,200-square-foot childcare facility.
12381 Pearl Rd.
Strongsville
Ohio
The three facilities that comprise Cleveland Sports Institute—Parisi Speed School, Cuyahoga CrossFit, and L.E.A.N. Nutrition-Weight Loss—form a fitness triumvirate that produces athletes well versed in agility and nutrition education. Helmed by training director John Collis, Ph.D., the institute's staff leads CrossFit classes designed to build strength and endurance through a philosophy of constantly changing motion. The team also conducts athlete-specific, small-group training and programs that work to develop skills such as linear speed, change of direction, and flexibility. The L.E.A.N. Nutrition-Weight Loss program supplements training sessions with custom meal plans suited to each individual's goals and ability to digest freshly pumped iron.
1 Eagle Valley Ct.
Broadview Heights
Ohio
Helmed by a licensed doctor and ably staffed with professional nurses and personal weight-loss counselors, Physicians Weight Loss Centers continues a 33-year-long corporate tradition of helping patients achieve and maintain a healthy weight and lifestyle. Six different programs, such as a low-carb VLCD 700 or a low-fat, high-energy 1500, slim bodies with calculated nutrition regimens that may prove to be much more effective than fad celebrity diets of sugar water and shredded movie reviews. Products such as meal-replacement bars and B12 shots give helpful boosts to systems, and one-on-one support and guidance empowers patients to work their way to healthy living.
740 E Washington St., Suite 2
Medina
Ohio
330-721-8181
---