Beauty & Spas in Stuart
---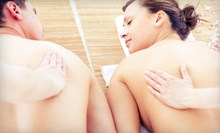 Side-by-side massages, scented body scrubs, paraffin treatments to soften the hands, and breakfast or lunch with wine, champagne, or tea
Use Today 9:00am - 5:00pm
---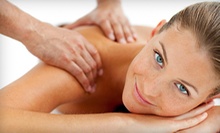 Therapists knead deep into sore spots to loosen muscular fibers and release long-held tension
Use Today 9:00am - 5:00pm
---
Recommended Beauty & Spas by Groupon Customers
---
Everything about Tease Inc. Salon and Spa suggests relaxation and renewal. The interior soothes the senses with a warm color palette, a soundtrack of smooth contemporary jazz, and the pleasant aromas of floral arrangements and scented candles. This peaceful environment is the perfect setting for spa treatments including 10 types of facials, couples' massages, and mani-pedis. In addition to administering these services, the multitalented staff offer salon treatments ranging from hairstyling to waxing.
1973 SW Savage Blvd., Suite 201
Port Saint Lucie
Florida
772-344-0445
The therapists at Healing Palms Massage & Spa reach for natural and organic products whenever possible. Not only are the lotions and balms used during treatments good for their clients and Mother Earth, but so are the cleaning supplies used around the studio and the recycled paper used in the office. The chemical-free scents of aromatherapy oils kneaded into backs during massages and fragrant ingredients blended into body wraps create a relaxing environment more effectively than lullabies sung by a choir of Enyas.
214 SW Ocean Blvd.
Stuart
Florida
772-225-3887
Mark T. Smith, a physician's assistant and the president of Weigh to Go, helps patients achieve their aesthetic goals with procedures that require little to no downtime. Along with Dr. Suzette Reyes, aesthetician Crystal Irwin, and nurse practitioner Doddie Lankford, Smith helps banish spider veins with sclerotherapy, eases the appearance of wrinkles with cosmetic injections, and uses Thermage technology to help patients sculpt svelter figures.
6779 W Indiantown Rd, #23B
Jupiter
Florida
US
561-744-8803
At Go Bare! a team of veteran aestheticians elevate their range of traditional spa and waxing services with a carefully curated collection of skincare products made both locally and around the globe. Their Belgian waxes are triple-filtered and infused with zinc and titanium dioxide to minimize redness after hair-removal sessions. For skin nourishment, aestheticians use a physician-developed line of epidermal elixirs hailing from Capetown, South Africa, where they're made with vitamins and antioxidants. Locally-made creams, meanwhile, boast 100% organic blends of mint and chocolate, or vanilla and honey, and are painted across freshly waxed skinscapes to soothe the aches that follow follicular uprooting.
6779 W Indiantown Rd, #23B
Jupiter
Florida
US
561-744-8803
[[m:####Rumirs Day Spa & Salon
At Rumirs Day Spa & Salon, a cavalcade of trained aestheticians, hairstylists, massage therapists, and makeup artists indulges clients with a variety of relaxing, beautifying services in keeping with the spa's philosophy of total health and wellness. They dole out everything from spray tans and waxing services to detoxifying body wraps and microdermabrasion treatments. The spa's sleek front desk greets clients as they step into a tranquil oasis replete with lush tropical flora.:m]]
740 Colorado Avenue
Stuart
Florida
772-468-0099
The staff of Fine Lines MedSpa solves clients' hair and skin concerns with an advanced IPL system, whose bursts of concentrated light work to erase acne, broken capillaries, unwanted hair, and signs of aging. Technicians use the handheld device to deliver pulsating fluorescent light over problem areas, while the heated energy helps stimulate collagen and destroy follicles at the root. Clients looking for help building a healthier lifestyle can be buddied up with a personal trainer, who can create custom exercise and diet plans that help fulfill goals ranging from weight loss to triathlon completion. Fine Lines MedSpa also offers an array of other services, including physican-supervised weight loss therapy and vitamin injections.
828 W Indiantown Rd., Suite 104
Jupiter
Florida
561-249-7502
---