Stuart, FL Indoor Activities
---
Indoor Activity Rewards Deals - Use Anytime
---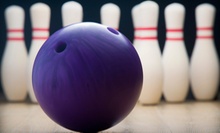 Retro-classic bowling alley with 32 well-maintained lanes, a fully stocked bar, food, and billiards
---
Recommended Indoor Activities by Groupon Customers
---
At Greenacres Bowl's lacquered lane emporium, competitors ranging from pint-size to full-size unleash spherical fury seven days per week. Strikes, spares, and sequential cheers ring through the center late into the evenings on weekends, which features laser bowling on Fridays and Saturdays. Automatic scoring helps cut down on disputes between opposing players or teams of Olympic figure-skating judges. In addition to games between friends, the facility also plays host to pin-punishing birthday parties, as well as leagues designed for all levels and ages. A recently sprouted billiards room lures eyes away from slick lanes and onto felt tables and high-definition televisions, while an on-site pro-shop stocks the latest shoes, gear, and accessories.
6126 Lake Worth Road
Greenacres
Florida
US
561-968-0100
A sea turtle proudly displays its intricately patterned shell. A stingray safely brushes its sleek skin against a child's hand, grazing the top of a 10,000-gallon tank. A bird splashes into mangrove swamps to snatch fish. Sensory experiences like these occur on a regular basis at the 57-acre Florida Oceanographic Coastal Center on Hutchinson Island, sandwiched between the Atlantic Ocean and the Indian River Lagoon. As the headquarters for the nonprofit Florida Oceanographic Society, the center strives to both educate the public and inspire environmental stewardship of Florida's coastal ecosystems.
Among the center's many activities, visitors can high-five crustaceans at the Sea Star Touch Tank Pavilion and watch a live feeding at the 750,000-gallon Game Fish Lagoon. Educational programs throughout the day explore the lives of sea turtles and explain how to identify local fish that refuse to wear nametags. Just past a colorful butterfly garden and aquariums at the Frances Langford Visitors Center, guests can find nature trails that wend through mangrove swamps and hardwood hammocks. Here, they can see the natural state of a bio-diverse estuary, along with endangered plants and animals that the Florida Oceanographic Society is striving to save through research as well as educational and restoration initiatives.
890 NE Ocean Blvd.
Stuart
Florida
Opened in January of 1959 by Hazel Verdes, Verdes Tropicana Bowl features 32 lanes, a snack bar, and a lounge with billiard tables and a fully stocked bar. The alley offers open bowling until midnight or later, hosts parties, and oversees bowling leagues and tournaments. In addition to offering shoe and equipment rental, the pro shop supplies bowlers with gear of their own, so they can personalize bowling balls with tick marks indicating the number of pins they have knocked asunder.
2500 N Florida Mango Rd.
West Palm Beach
Florida
US
561-683-5424
As Sunset Pilates Fitness' instructors guide students through Pilates movements, gentle breezes and ocean scents waft through the air during outdoor classes. They also have a fully equipped indoor studio, which allows students to take advantage of classes and the studio's Balanced Body and Peak equipment.
223 Sunset Ave., Suite 160
Palm Beach
Florida
561-820-9184
Named in honor of golf-course designer Bruce Borland, who died in a plane accident in 1999, the Borland Center swings open its doors to the community by focusing on family values. Concerts, plays, and recitals are just a few of the events that coax guests into the venue's 10,000 square feet of space, which harbors a 500-seat theater and a multipurpose ballroom that doubles as an indoor practice field for local cribbage teams on rainy days.
4885 PGA Blvd.
Palm Beach Gardens
Florida
561-904-3130
Founder and lead instructor Jamar has spent more than 25 years empowering students to take control of their lives by sharing his own inner journey through yoga. A certified Kripalu yoga instructor and meditation teacher, Jamar infuses each session of focused breathing and movement with his dedication for seeking the Higher Self. The yoga studio's dark wood flooring, green earth tones, and tranquil lighting cultivate a relaxing environment where students peacefully work their way through the Hatha-style poses paired with meditation and inner reflection, striving to calm the mind's constant nagging about remembering to breathe. The studio hosts more than 30 classes and workshops each month— including Zumba, belly dance, hoop, and tai chi, in addition to yoga—as well as regular presentations from guest speakers. Just beyond the meditation floor lies a metaphysical gallery of books, jewelry, healing stones, and crystals to supplement students' practice.
4595 Northlake Blvd.
Palm Beach Gardens
Florida
561-630-2280
---