Theme & Amusement Parks in Stuart
---
Theme & Amusement Park Deals
---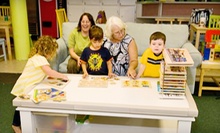 Babies 9 months old to kids 9 years old enjoy play floor, equipped with indoor treehouse, bounce house, dress-up area, and toddler's corner
Use Monday 9:30am - 5:30pm
---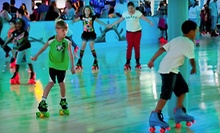 Indian River Groves And Gardens
Use Friday 12:00pm - 8:00pm
---
Recommended Theme & Amusement Parks by Groupon Customers
---
During a round of golf in this region, it's not uncommon for players to see the occasional alligator sunning itself on the banks of a fairway pond. The same, however, cannot be said for miniature-golf courses, unless you're playing at Congo River Golf, where the civilized sinking of putts coexists with the visceral carnage of live-alligator feedings. More than 25 alligators wait for patrons to feed them morsels of gator food in an exhibit beside the course. Though the course offers no chance for an encounter with the ancient, scaly species, it enchants players with waterfalls, safari-themed artifacts, and towering rock faces. In addition, Congo River Golf encompasses an indoor arcade and a gemstone-mining station, where guests dig through dirt for fossils, arrowheads, and Neanderthal's kindergarten time capsules.
4777 W Irlo Bronson Meml Hwy.
Kissimmee
Florida
Zombies created by an old factory's chemical spill roam through the darkness, carnies banished for animal abuse and torture scream in the distance, and a murderous Santa greets visitors with a wicked grin and a bloody ax. These are just snapshots of the horrors awaiting visitors to Fright Nights at the South Florida Fairgrounds. Hair-raising creatures and the souls of murder victims lurk throughout five haunted mazes. But those who wander into these haunts aren't always helpless. At Kill Shot, victims running through an old factory must find an ammo closet and arm themselves with rifles to shoot free of zombie hordes. The Creature, on the other hand, leaves people little time before it swallows them whole.
Screams echoing out of the Carnival of Creeps' tattered red-and-white-striped tents pierce the air of Santa's Workshop and join shrieks coming from the midway itself, where 13 rides, such as the High Flyer and Zero Gravity, whip passengers through the air. Food stalls nestle amid the attractions, tempting guests with hot dogs, tacos, funnel cakes, and tufts of cotton candy, which patrons can use as hair for the decoy body they place in their bed later that night.
9067 Southern Blvd.
West Palm Beach
Florida
Lion Country Safari is a zoo with no cages. Instead, more than 900 animals, including the largest zebra herd outside of Africa, roam its 320 acres freely. During drive-through safaris, cars tour seven sections of the preserve—which represent different areas such as western Zimbabwe and the Serengeti—to see llamas, asiatic water buffalo, chimpanzees, and white rhinoceros. Lions have a section all to themselves so that they don't prey on other animals or disturb them with giggles from the pride's late-night slumber parties.
In addition to the four-mile drive, Lion Country Safari's Safari World allows guests to explore rides and attractions as they visit with animals on foot. They can feed giraffes, practice animal-massage techniques at the petting zoo, or hop on the carousel next to Lake Shanalee's paddleboat rides. After kids splash through the interactive Safari Splash waterpark, they can hop onto the ferris wheel or ask exotic birds for advice on how to fly.
2003 Lion Country Safari Rd.
Loxahatchee
Florida
Bounce U envelops kids in a colorful indoor playground populated with inflatable slides, tunnels, and jump houses. Kids can bounce and boomerang about the clean and monitored environment, which is also climate controlled to fend off the summer heat and a fleet of winter snowmen. Parents may jump along with tots during open-bounce times, as well as reserve bounce rooms for private parties of up to 25 people.
582 US Highway 1 North
Jupiter
Florida
561-744-5867
The only exit from Leapin' Lizards' treehouse is down a slide, but those leaving fall only to a cushioned pile of stuffed jungle animals. Across the facility's indoor playgrounds, kids bounce on inflatable obstacles and test Newton's laws of motion on a tire swing. Other entertainment takes place in the music room, where they don costumes and belt out melodies or play musical instruments. A separate playroom for toddlers and infants displays walls hand-painted by a local artist to resemble a peaceful aquarium or terrifying dining room. Nearby, parents lounge at the café with a cup of coffee and access to free WiFi. They can also participate with their kids in the center's music and movement classes.
416 Clematis St.
West Palm Beach
Florida
561-832-8140
A miniature clay-racing track is the centerpiece of Basher's RC Raceway, facilitating races for hobbyists, competitive drivers, and partygoers. The indoor facility's simulated terrain allows racers to maintain command over their remote-control-operated mini vehicles to stay competitive regardless of inclement weather or impending asteroid impacts. The experts at Basher's RC Raceway frequently host summer camps to teach young hobbyists the basics of RC-car handling, and they also rent out the facility for birthdays with organized races, food in private party rooms, and press conferences with the tiny drivers in each car.
10358 Riverside Dr., Suite 100
Palm Beach Gardens
Florida
561-623-7690
---