Beauty & Spas in Sturgis
---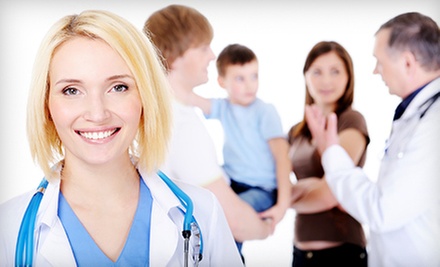 ---
Recommended Beauty & Spas by Groupon Customers
---
Vital Living WellSpa's accomplished staff, which include registered nurses, licensed aestheticians, and 11 certified massage therapists, focus on healing bodies with de-stressing massages, rejuvenating facials, and calming body treatments. In fact, Vital Living requires patrons to fill out personal-health information forms, answer skincare questionnaires, and consult fortune tellers to ensure that problem areas aren't glossed over during body-mending sessions, causing future health troubles. The spa specialists then get to work repairing corporeal landscapes, revitalizing skin with more than 10 facial and body treatments that use high-end Bioelements and Sircuit Cosmeceuticals products and powerful essential oils, and untying knotted musculature with classic massage varieties such as deep tissue, trigger point, and neuromuscular therapy. Vital Living may also add extras such as hot packs, heated blankets, pillows, and sweet compliments to any treatment to further soothe corpora.
5111 N Bend Dr.
Fort Wayne
Indiana
260-436-8807
In as little as 12 minutes, patrons can bronze their bodies in New Haven Tanning's Matrix bed. It is outfitted with more than 22,000 watts and six facial tanners. Less intense tanning options, such as base beds and standup beds, are also available and allow clients to relax for up to 25 minutes each session. For those wanting a glow sans UV rays, an airbrush tan or dip in a bath of melted pennies does the trick.
108 Lincoln Hwy. West
New Haven
Indiana
When MTV's MADE was in town and needed to complete a dramatic makeover for the episode "Ladies Man," the show knew whose door to knock. As L Spa Modern's experts bronzed the episode's Don Juan-in-training, they added yet another tan to the more than 25,000—including 224 wedding tans—they've completed in the past eight years. The salon's automated airbrush platform darkens skin to a choice of three shades in just 10 minutes so guests can get in and out and on with their plot to mock the eternally pale moon. Before or after sessions, clients can sip complimentary cappuccinos, mochas, and lattes, or 14 kinds of tea.
As the tanning pros help guests acquire golden tints, L Spa Modern's trio of hairstylists snips locks in private rooms and banishes frizz with Brazilian Blowouts.
6342 W Jefferson Blvd.
Fort Wayne
Indiana
260-434-1000
A graduate of the Indiana University School of Dentistry, Dr. Kimbra Druley captains the Grabill dental frigate in treating customers to the toothy triad of an exam (a $37 value), x-rays (a $50 value), and a thorough cleaning (a $68 value). After an initial maw investigation, a periodontal probe clears a season's worth of plaque and splattered bugs from smiles, boosting sparkle, health, and slippery-smoothness. A series of safe, low-radiation x-rays then exposes mobster molars smuggling bits of spinach in hidden crevices. From the resulting images, experts can identify potential problems such as decay or abscesses and make proper recommendations for additional care.
13307 Witmer Road
Grabill
Indiana
Tangles offers a full range of hair services, as well as massage, waxing, and nail beauty-bolstering treatments. If your noodle nest needs a summery glow, Tangles will highlight it ($50+). If you don't like the way your noodles swirl together in their nest, Tangles can cut them ($20+ for women's haircut and $15+ for men) or reswirl them in a way that makes you feel content ($60+ for a perm). If your noodle nest already makes you feel content, Tangles will give you a manicure (starting at $20), pedicure (starting at $30), or one-hour massage ($60) to make your fingers, toes, and back content enough to match your highly contented hair. And, if you have a noodle nest where you shouldn't have a noodle nest, Tangles will wax it away ($10 for eyebrows).
6433 Georgetown N Blvd.
Fort Wayne
Indiana
260-485-9160
Eyes by India first opened its doors in Indiana to provide threading as an alternative to waxing. Threading is more precise than waxing and causes less pain, redness, and burning when removing unwanted fuzz. Now with nine locations in two states, Eyes by India's staff of specialist completes more than 100 hours of training in threading and service etiquette before applying those skills to patrons' faces at work and image-conscious teddy bears at home.
During appointments, cotton thread twists over hair, tweaking hair- and brow lines or removing all traces of fuzz on the neck, chin, or upper lip.
4201 Coldwater Rd.
Fort Wayne
Indiana
260-483-2044
---