Sudbury, MA Outdoor Activities
---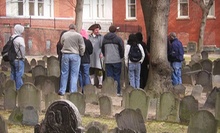 Follow a guide in a tricorn hat on a 90-minute exploration of colonial Boston through the uprisings that led to American independence.
Use Monday 8:30am - 11:30am
---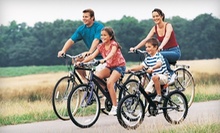 Lubed & trued two-wheelers roll along Sandwich Boardwalk planks as riders absorb sites of museums & unique village shops
Use Today 8:00am - 6:00pm
---
Recommended Outdoor Activities by Groupon Customers
---
At the center of The Water Hazard Mini Golf's three-acre course, a 35-foot geyser erupts, knocking away incoming golf balls and sprinkling sun-baked putters with a refreshing mist. The expansive course owes many of its obstacles to the natural layout of the Holliston landscape. Flourishing bushes sit between holes and three large ponds break up the terrain while giving golfers glimpses of the sunbathing turtles and soft-shoeing frogs dotting its banks. A waterfall system nearly 500 feet in length also meanders throughout the property. Rolling hills, ridges, and a grand 120-foot slope also challenge golfers. The Water Hazard Mini Golf also features a full-service concession stand, which serves hot dogs, hamburgers, and homemade ice cream from Bliss Dairy.
750 Concord St.
Holiston
Massachusetts
508-740-0014
Looking to put a new spin on a classic family activity, the minds behind Glowgolf decided to give the game a phosphorescent update. Incandescent courses place friends and family amid a tropical-fantasy golf world of neon orange, green, and violet surroundings. Players putt luminous orbs through vibrant treasure chests and glimmering windmills while negotiating tricky obstacles near walls portraying black-light-lit aquatic scenes. With more than 20 locations spread over 10 states, Glowgolf's fluorescent labyrinths challenge human players and traveling gnomes.
601 Donald Lynch Blvd., Suite N161
Marlborough
Massachusetts
The Kingsbury Club, a multi-purpose health facility with a restaurant and multiple fitness/athletics options, ups the net worth of humankind with tennis programs for both raw and rehearsed racketeers. With the one-hour private tennis lesson ($78), taught by a certified senior tennis professional, and a one-day guest admittance ($15) to the Kingsbury Club, guests will refine backhands, polish up volleys, and learn how to properly grunt in spite of headband-wrought cranial pressure. The instructor will offer tips and suggestions on techniques and skills, helping students polish giant-scale ping-pong ability in time for summer's street-corner tennis showdowns.
2 Icehouse Rd.
Medfield
Massachusetts
Since 1965, the family-run Ski Haus has kept customers coming back by adhering to the family motto: "Make sure we keep a fun environment and give everybody a fair deal. They get a ton of stuff for their money and we stay in business for a long time." Patrons can still expect the same low prices and see the same friendly staffers' faces year after year while shopping for winter gear.
Racks stocked with apparel by brands such as The North Face and Marmot, skis and snowboards by brands such as Atomic and K2, and a team of skilled technicians have earned Ski Haus accolades from Ski magazine, SnowSports Industries America, and New England Winter Sports Representatives, Inc. During tune-ups, technicians polish skis, stone-grind ski edges, apply hot wax, and repair bases damaged by treacherous slopes and sharp snowman noses.
1 Wheeler Rd.
Burlington
Massachusetts
In 1973, Mike Farny had a vision: to bring affordable outdoor recreation to the residents of metropolitan Boston. Opening the Charles River Canoe Service that year, Farny became an instrumental voice in efforts to clean up the river, encouraging people to canoe, kayak, and sweep up the dirt on the riverbanks. The next year, he persuaded the Leo J. Martin Golf Course to transform its greens and fairways into a sprawling landscape for cross-country skiing alongside the Charles, allowing the public to enjoy recreation on the river even when its waters had frozen. A 15-kilometer system of trails makes use of natural snowfall and offers skiers a chance to change up their routes. Even when flakes refuse to fall, a state-of-the-art artificial-snow system shoots powder over a 2.5-kilometer loop, which rests beneath lights to allow night skiing before guests return to the cozy snack shop for hot cocoa and a bite to eat.
200 Park Rd.
Weston
Massachusetts
Home of the Babson College Beavers, and thus naturally formed by a dam made from half-chewed hockey sticks, the frozen expanse of Babson Skating Center provides plenty of space for skaters to etch figure eights in its smooth, glistening surface. Professional instructors impart skills in hockey and figure-skating lessons for all experience levels and ages, and public skating or pickup hockey matches allow students to test their newfound skills. Off the ice, the onsite skate shop's staff sharpens skates and keeps mouth guards, laces, and tape on hand in case hockey coaches need to fix up their injured starting mannequin.
150 Great Plain Ave.
Wellesley
Massachusetts
781-239-6056
---