Restaurants in Suffern
---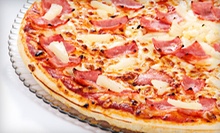 Use Monday 5:00pm - 8:00pm
---
Recommended Restaurants by Groupon Customers
---
Impressed by the flavor and precision of Okinawa Hibachi Steakhouse's cuisine and chefs, respectively, the readers of Westchester Magazine cast their votes to name the restaurant the home of the area's best hibachi in 2011. Surrounded by the glowing reds and golden hues of the dining room, chefs sear and manipulate meats and vegetables at traditional teppanyaki tables, cooking steaks to order and cutting heads of broccoli to resemble arms of broccoli. At the sushi bar, a line of chefs assemble maki rolls and platters of sushi and sashimi. The trickle from the fountain in the dining room provides a soothing soundtrack for fully equipped eating contests.
218 S Highland Ave.
Ossining
New York
914-762-9887
Since 1993, Mendy's Restaurant has infiltrated Manhattan and Brooklyn neighborhoods with its kosher soups and sandwiches, serving thousands of eaters each day. Rumor has it that one of them was Larry David, who reportedly sampled the eatery's split-pea soup in the early '90s before writing the now-famous dish into an episode of Seinfeld. But the split-pea soup is just one of many tasty offerings; the deli cures its own corned beef and crafts matzo-ball soup in-house. Any of the tasty menu items can be enjoyed during snorkeling sessions or private parties held in rooms that hold 20–200 guests.
109 E 42nd St., Suite D , Lower Level Food Court
New York
New York
From within the coal-fired oven at Dino's Cucina, a menu of gooey pizzas, seafood dishes, and Italian favorites emerges to sate sauce-seeking appetites. Diners select from Dino's three specialty pies or perform pizza alchemy, combining such high-quality ingredients as italian sausage, kalamata olives, and prosciutto to create a custom dish or edible portrait of William Henry Harrison. House specialties tackle hunger pangs with an assortment of chicken, seafood, and eggplant entrees, and wrangle noodle noshers with traditional and whole-wheat pastas. Between bites, patrons sip beverages from Dino's full bar, check scores on flat-screen TVs, and tune out from workday hassles—such as deadlines and overly affectionate office supplies—with live entertainment every weekend.
183 Old Tappan Rd.
Old Tappan
New Jersey
201-297-7444
For more than 25 years, the Orfino family has welcomed diners to share their zeal for authentic Italian recipes at Orfino's Restaurant. Renovations and décor updates over the years have kept the eatery in shape to churn out lobster ravioli and chicken marsala. Inside, white tablecloths and exposed brick walls compose a refined, rustic backdrop for a seasonal menu created by chef Douglas Tucci. In addition to fresh herbs and vegetables, chef Tucci draws inspiration from Orfino family recipes, such as house-made Italian cheesecake.
1201 Pleasantville Rd.
Briarcliff Manor
New York
914-941-7353
A whimsical sculpture of chefs tossing a 3-D pie sits above Old Tappan Pizza's range and pizza ovens, which bake its signature Rothlisberger pie, topped with sausage, cheesesteak, lettuce, tomato, and a secret-recipe dressing. The pizza factory also prepares ready-to-go slices, and a pasta station lets customers top linguini, rigatoni, and other noodles with tomato sauce and garlic. From the café's green-checkered tables, one can dine while keeping an eye on the large wall-mounted television, ideal for watching the big game or an Azerbaijani reality show.
216 Old Tappan Rd.
Old Tappan
New Jersey
201-666-3363
Sushi Maru's chefs prepare a menu of maki rolls and traditional Korean hotpots in an eatery reminiscent of a Tokyo sushi bar. Delicate porcelain figurines enliven the BYOB restaurant, which otherwise dons a decidedly romantic vibe by combining dark wood accents, glowing paper lanterns, and a friendly staff well-versed in the entire Tom Jones catalog. Table and sushi-bar seating both offer comfortable perches from which to enjoy more than two dozen regular and specialty rolls, with choices that range from traditional california and spicy-tuna options to contemporary updates such as a caribbean roll topped with baked lobster salad.
57 Kinderkamack Rd.
Westwood
New Jersey
201-666-0990
---