Museums & Galleries in Suffolk
---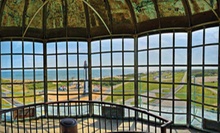 Expert guides regale guests with tales of the lighthouse's 200+ year-old past on tour that affords scenic ocean views
---
Recommended Museums & Galleries by Groupon Customers
---
Apart from the number of respective members and guests, the benefits of the Otter and Crab memberships are exactly the same. Both grant you a year of unlimited admission—including express entry through the mythical members' entrance—and, if you travel in an especially large school, both grant up to four additional guests half-off entry when accompanied by a cardholding member (per day). Although prices vary, today's deal offers you a year's access to the aquarium at a cost comparable to a single day's admission for the same number of people.
717 General Booth Blvd.
Virginia Beach
Virginia
Walking across the dock to Nauticus, visitors' eyes are inevitably drawn to the sleeping giant nestled up alongside it: the 850-foot battleship Wisconsin. One of the largest battleships ever built by the United States Navy, its massive, 16-inch guns lent their firepower to WWII, Korea, and Operation Desert Storm. The hulking warship is now retired, its gigantic mass a testament to both its immense power and the strength of the open ocean whose waves it once plied.
This dichotomy between peaceful repose and thundering wrath is fully embraced by Nauticus, immersing visitors in exhibits that explore the ocean and man's use of it at their most peaceful and destructive. On the Wisconsin, visitors can tour crew messes and officer lounges, getting a taste of naval life. Inside the center, permanent exhibits include Our Mighty Seaport, which delves into Norfolk's busy maritime commerce, with real-time updates on ships sailing past and an observation deck overlooking the port. Turning to nature, the National Oceanic and Atmospheric Administration's Science on a Sphere exhibit simulates extreme weather conditions on a 6-foot video sphere. In Horseshoe Crab Cove, visitors can pet starfish, crabs, and sea urchins without having to take turns with nearby seagulls.
Following Memorial Day weekend, the Nauticus will host new features to their exhibits such as access to new interior areas of the battleship [Wisconsin], including the chapel, post office, a section of enlisted berthing, and dental office, a WWII era song and dance revue, and an interactive top secret mission on board the ship.
1 Waterside Dr.
Norfolk
Virginia
Rare-breed horses trot down green, tree-dappled streets, past rustic wood and brick buildings. As cracking drums and chirping fifes echo off ancient streets and the gnarled trunks of trees, a solider in a red jacket, boots, and military epaulets addresses a group of visitors clad in baseball caps and T-shirts. The historical interpreters and other staff of Colonial Williamsburg bring the restored 18th-century town's history into the modern era through live demonstrations, walking tours, and educational programs. The living museum town sprawls across a 301-acre Revolutionary City, which encompasses designated historic structures such as the opulent Governor's Palace, Capitol building, and Magazine, many of which are perched atop their original foundations. Within some buildings, interpreters explain the significance of various period furnishings such as medicine cabinets and original 1770s Twister mats.
Visitors can witness live demonstrations of blacksmithing, shoemaking, and carpentry in Williamsburg's 19 historic trades shops, or traverse galleries inside DeWitt Wallace Decorative Arts Museum, Abby Aldrich Rockefeller Folk Art Museum, and Bassett Hall. In warmer weather, the Revolutionary City's manicured gardens bloom with period-appropriate plantings, and a garden maze confounds explorers with winding hedges and resident gnomes who insist on reading maps upside down. On tours, guides lead visitors through archaeological collections or into a reenacted courtroom session, and at Great Hopes Plantation, interpreters provide glimpses into the lives and plight of African-American slaves. Other seasonal activities span hands-on children's programs, Revolutionary War reenactments, and fife and drum performances.
101 Visitor Center Dr.
Williamsburg
Virginia
---