Restaurants in Suffolk
---
Recommended Restaurants by Groupon Customers
---
Lush greenery and pigment-soaked flowers surround Pungo Grill's converted 1919 cottage where visitors can snuggle up on an outdoor deck and revel in southern hospitality. The kitchen's creations are equally comforting, with platters of Louisiana–styled etoufee, chicken-and-sausage gumbo, and pan-fried catfish sending savory wafts down the length of long banquet tables and into inspiration journals of high-end perfumers. In addition to its homestyle menu, Pungo fills glasses with a full bar's worth of frosty libations and miniature ice sculptures.
1785 Princess Anne Rd.
Virginia Beach
Virginia
757-426-6655
Raised in England by Jamaican parents, Alvin Williams developed a knack for merging global ingredients early on. Now, at Cobalt Grille, he draws upon his heritage and tenure as a chef at some of London's finest hotels to craft a menu of upscale fusion cuisine. He pairs local, organic veggies with organic, free-range lamb and duck breast, and enhances them with flourishes such as white-truffle alfredo sauce and wild-mushroom risotto.
Lauded by Hampton Roads as "sexy in an understated and elegant way," Cobalt Grille's dining room ensconces companions in booths illuminated by tiny blown-glass chandeliers and separated by thick black drapes that can, as long as the wine is as good as they say it is, double as impromptu capes.
1624 Laskin Rd., Suite 762
Virginia Beach
Virginia
757-333-3334
Side Street Cantina's friendly, casual atmosphere is matched in appeal by its proximity to the oceanfront. Just a block away from sparkling waters, diners mingle over shared appetizers and platters of nachos, which they can wash down with 12- or 28-ounce margaritas. The carnitas—a favorite among regulars—pairs seasoned roast pork with a slew of rice, beans, guac, and tortillas, which make for easy transportation to mouths. Those with senses of adventure or second stomachs can take on the restaurant's challenge of finishing the three-meat 9-pound burrito in less than 30 minutes.
205 11th St.
Virginia Beach
Virginia
It might seem like a contradiction that Volcano Sushi Bar specializes in uncooked fish. But the "volcanic" part of the restaurant's name comes into play in the restaurant's spicier signature seafood rolls, such as the Spicy Omy God roll, the Volcano roll, and the Spicy Tuna roll, as well as in the decor, which features warm orange and yellow walls. Beyond the fiery realm, the chefs assemble a wide variety of artful sushi that incorporates yellowtail, eel, and smoked salmon as well as vegetarian options such as the sweet-potato roll. You also can find a multitude of other Japanese staples on the menu, such as yakisoba, crispy-tempura shrimp, and teriyaki salmon.
1328 N Great Neck Rd
Virginia Beach
Virginia
US
At Central 111, energetic music thrums from the DJs' speakers and rich aromas dance in the air, engaging each human sense with a feast of input. Bright, narrow beams of light lance through the space, bathing the dance floor in bright colors while leaving four-seat tables under the low glimmer of conical ceiling lamps or one's mildly regrettable glow-in-the-dark tattoo. In keeping with tapas tradition, chefs prepare small, shareable portions of Spanish-style cuisine replete with luxury ingredients such as lump crab meat and petite beef filets. Glasses brim with fermented potables chosen from an ample wine list or contain craft cocktails from the regularly shifting menu. The venue hosts themed events regularly, such as ladies nights, various industry nights, and regular events that collect the talents of prominent local DJs.
401 N Great Neck Rd., Suite 111
Virginia Beach
Virginia
757-222-1022
At El Taco Loco's three locations, including their newly opened location in Chesapeake, kitchens bustle with chefs sizzling meats on the grill, bubbling pots of soup, and rolling tortillas into handheld Mexican entrees. Chefs stuff burritos, tacos, and enchiladas with stomach fillers such as spanish rice, pulled pork, grilled chicken, and house-made hot salsa. Platefuls of fajitas can be enjoyed solo or ordered in a size to share with a date or chef.
3333 Virginia Beach Blvd.
Virginia Beach
Virginia
757-428-7631
---
---
Restaurant Deals - Recently Expired
---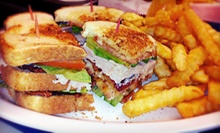 Fish fillets and popcorn shrimp share the menu with pub staples, such as hot wings, burgers, and philly cheesesteak sandwiches
---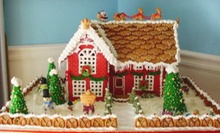 Cookie platters with assorted cookies, two pies available in nine different flavors, or a gingerbread house that lights up on the inside
---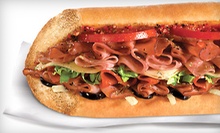 Sandwich gurus use butcher-quality meats, cheese, and artisan breads to craft subs such as turkey bacon guacamole, Italian, and baja chicken
---
---