Restaurants in Suffolk
---
Recommended Restaurants by Groupon Customers
---
At El Taco Loco's three locations, including their newly opened location in Chesapeake, kitchens bustle with chefs sizzling meats on the grill, bubbling pots of soup, and rolling tortillas into handheld Mexican entrees. Chefs stuff burritos, tacos, and enchiladas with stomach fillers such as spanish rice, pulled pork, grilled chicken, and house-made hot salsa. Platefuls of fajitas can be enjoyed solo or ordered in a size to share with a date or chef.
3333 Virginia Beach Blvd.
Virginia Beach
Virginia
757-428-7631
Cancun Fiesta's team of chefs whips up traditional Mexican dishes amid a culinary orchestra of steaks sizzling on the grill and the savory scents of simmering rice and beans wafting through the air. The staff operates three locations, including one next to Lynnhaven Mall in Virginia Beach. Firm believers that fresh ingredients make the tastiest meals and the best friends, the chefs assemble a menu of authentic eats using mouthwatering constituents such as fresh mexican cheese, ripe avocados, and Angus beef. Affable servers whisk plates out from the kitchen into the vibrantly hued dining room, the décor of which features bold artwork and cacti that sidle up to tables to be petted and fed bites of burritos.
689 Phoenix Dr.
Virginia Beach
Virginia
757-431-0333
Framed art lines the walls at The Grey Goose, where whimsical paintings of geese and vintage light fixtures set the mood for food. But sight is just one of the senses treated to a feast. The aromas of freshly baked cookies and pastries waft through the dining area to supplant the equally pleasant scents of classic southern meals. Hearty offerings such as the pulled-pork barbecue sandwich meet lavash sandwiches in the form of the veggie burger served up on protein-packed, stone-ground flatbread. The husband-and-wife culinary team of Dana Clark Epstein and Phillip Epstein invite diners to take in a Dinnertainment show while supping at the establishment, where they can hum along to live music or become engrossed in a play while acting out the plotlines with their silverware—napkins make great curtains over a plate stage or a colleague's face.
101 W Queens Way, Suite A
Hampton
Virginia
757-723-7978
Soya carefully balances spectacle and serenity: while hibachi chefs display searing and flipping prowess at fiery tableside grills, a large fish tank bathes the dining room in soft light. The tank contributes to the "inviting and relaxing" vibe cited by the Daily Press, which also praises the "clean taste and variety" of the restaurant's sushi. Like scuba divers armed with waterproof makeup, the kitchen preps fresh seafood daily, then pairs it with rice and veggies for colorful maki rolls and nigiri. Japanese entrees such as stir-fried noodles and teriyaki meats round out the menu.
12715 Warwick Blvd., Suite J
Newport News
Virginia
757-930-0156
On the patio, diners scoop up forkfuls of shrimp and grits as their dogs lounge at their feet, shaded by the table's umbrella. This is the kind of casual vibe Scrambled exudes, backed by a menu of classic American comfort food for breakfast and lunch and a wait staff that has the ability to hum entire Kenny G tunes on demand. Seated at high-backed white booths, guests carve up sweet-potato pancakes, crab benedict, and fish tacos with black-bean salsa and await bloody marys or frothy brews from the full bar.
910 Atlantic Ave.
Virginia Beach
Virginia
US
757-644-6670
The staff of Jimmy's Oven and Grill hasn't changed much since Mo Boulftali bought the restaurant a few years ago. This may be because, as Boulftali explained to Williamsburg Yorktown Daily reporters in 2009, he doesn't allow stress at Jimmy's. Whether customers are chowing down on breakfast omelets, scrutinizing the dinner menu, or enjoying the all-you-can-eat selection of Jimmy's weekday lunch buffets, the bright, spacious restaurant creates a comfortable haven to relax and enjoy classic American cuisine. In a dining room of mint-green walls accented with classic wood paneling, customers can sit around tables or tuck themselves into comfortable wooden booths bathed by sunlight from large windows for the sake of pet plants that are afraid to stay home alone.
7201 Richmond Rd.
Williamsburg
Virginia
US
757-565-1465
---
---
Restaurant Deals - Recently Expired
---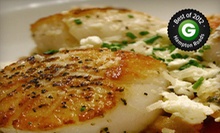 American kitchen with European flair serves up 16 oz. grilled grass-fed rib-eye steak & cumin-fennel rubbed mahi
---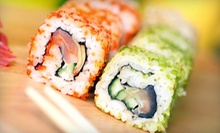 Scores of sushi rolls, many of which feature spicy seafood; wide variety of Japanese entrees such as yakisoba and stir-fry, too
---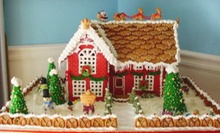 Cookie platters with assorted cookies, two pies available in nine different flavors, or a gingerbread house that lights up on the inside
---
---