Hair Salons in Sugar Hill
---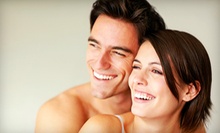 Suds relieve hair of dirt and product before salon artists dive in to resculpt ladies' locks with a trim and new style
Use Saturday 10:00am - 4:00pm
---
Recommended Hair Salon by Groupon Customers
---
Though they've earned multiple nominations in Best of CitySearch categories such as Hair Extensions and Hair Weaves and Hair Straightening and Relaxing, the influence of Soho Salon's staff reaches far beyond their doors. The team has also cultivated hairstyles and looks for local photographers, fashion designers, and magazines, as well as the film and theater industry.
These aestheticians gather their influence from current hair trends in cities around the country, but aren't limited by urban aesthetics. Using approaches customized to each client, they perform cuts for men and women, correct DIY color mistakes, and add a glossy sheen to tresses with double-process color and foil highlights. In each service, they use only high-end products—such as Kerastase, Moroccanoil, and Kevin Murphy—that they deem acceptable for strengthening hair or erasing stubborn shampoo stains.
9945 Jones Bridge Rd., Suite 302
John's Creek
Georgia
Stylists at Lace Hair Care's full-service salon cut and color the locks of their male and female clients, oftentimes, shaping the hair they helped to restore. The salon features a line of hair systems that include braids, hair extensions, and lace hair units made with human hair to add volume and length to existing strands. Additionally, their laser hair-therapy treatments use a low laser light over the course of 12 months to regrow hair thinning from conditions including alopecia, eczema, and low-flying planes. After treatments, clients may opt to go to the salon for trims that include hot-oil conditioning treatments to treat breakages. In addition to hair extensions, technicians frame eyes with Lavish Lashes eyelash extensions, bonding them to individual lashes to give a fuller look for up to six weeks.
1944 Braselton Hwy., Suite 102
Buford
Georgia
678-575-4484
Paul Mitchell The School Esani is the starting point for scores of now well-established salon stylists. As an institution for careers in cosmetology, skincare, and makeup, the school holds its students to the highest of standards as it educates them on everything from the technical to professional aspects of the beauty industry. The scissor-happy student body receives hands-on industry experience inside a 20,000-square-foot school facility, located just north of Atlanta. Guests in need of anything from a cut and color to a Dermalogica skin treatment can stop by the school to receive their services from a passionate burgeoning stylist. The school was recognized in Modern Salon's 2011 Excellence in Education awards for its placement, facilities, and culture, among other categories.
1003 Mansell Rd.
Alpharetta
Georgia
678-795-0999
Wherever Wenny Blackman goes, Aveda's organic products are sure to follow, and vice versa, as the stylist, aesthetician, and owner of Wen Chic Salon and Spa—an Aveda Concept Salon and Spa—has been attending Aveda classes since 1996. Needless to say, she and her skilled staff employ Aveda products exclusively to augment their repertoire of salon and spa services, including colorings that use HeadMapping, instead of traditional wizards, to predict the amount of time, product, and cost for each session.
Before the Texas board-certified stylists can cut, color, or treat hair, Blackman requires them to attend classes at the Aveda Institute. The stylists' mastery of Aveda's curriculum, coupled with their overall experience, determines their status as a stylist, senior stylist, master stylist, or director. Similarly, the licensed aestheticians and registered massage therapists reach for Aveda products during facials, massages, waxing treatments, and airbrush-tanning sessions, which are staged in the spa area's quiet summer and winter rooms, free of cell-phone ringtones and piles of burning leaves.
6275 Spalding Dr.
Norcross
Georgia
US
770-674-5902
Christine Dechert and Briana Fernandez at Fourth Street Studio transform their clients' looks and accommodate aesthetically adventurous spirits with a variety of hair services rendered with Redken products. Both members of the duo employ their color knowledge of the ombre color technique, imbue tresses with multifaceted beauty with balayage highlights, and reboot locks with the bright hues of the Redken coloring system. Additionally, they also offer keratin straightening treatments, makeup applications, wedding and special occasion services, and hair and feather extensions, the last of which was greatly appreciated by Yankee Doodle. Christine's 18 years of stylist experience and Briana's 10 years of experience allow their keen aesthetic eyes to craft haircuts tailored to client's hair type and growth pattern for a chic or classic style that fits well into each customer's lifestyle and maintenance habits. Both stylists also train continually to prevent any cobwebs from encroaching upon their deft shear hands, and they eagerly work with each client to accomplish the best possible aesthetic outcome.
23 Oak Street
Roswell
Georgia
US
At Suite Hibiscus Salon, clients who come in for a haircut get much more than just a trim. Upon entering, clients are met by staff members who offer complimentary cups of exotic tea or glasses of wine. Beyond the waiting area, stylists customize cuts and Global Keratin treatments, which give strands a mirror-finish shine. At the end of each service, aestheticians offer complimentary makeup touchups and a parting gift from the salon such as a bronzed comb to commemorate the cut.
1655 Mansell Rd., Suite 254
Alpharetta
Georgia
678-310-3885
---