Sugarland Run, VA Indoor Activities
---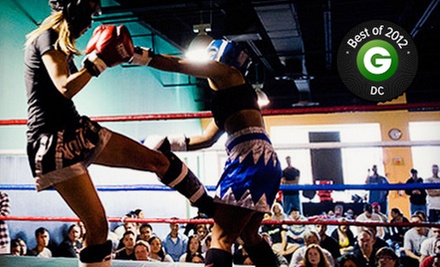 ---
Recommended Indoor Activities by Groupon Customers
---
They're a common food in several Latin countries, including Colombia, Puerto Rico, and Mexico, but empanadas are made a bit differently in Argentina. "We have an edge because we actually bake them," Nicolás Ibarzabal, co-owner of 5411, told the Decider in 2009. "Here in Chicago there are a couple of places that offer empanadas, but they're pretty much all deep-fried. We like to think of ourselves as the new healthy frontier of empanadas."
Along with pals and fellow Buenos Aires natives Mariano Lanfranconi and Andrés Arlia, Ibarzabal makes the flaky baked treats in nearly a dozen varieties. You'll find traditional hand-cut beef empanadas as well as Americanized versions including barbecue chicken, which Ibarzabal admits is one of his favorites despite chuckles from his Argentine friends. The trio started 5411—a mash-up of Argentina's country code, 54, and Buenos Aires's city code, 11—in 2009 as a catering company before rolling out a food truck and finally opening a shop in Lakeview. That shop makes deliveries by the dozen, and the same pale-blue food truck—perhaps the catalyst for 5411's success—still takes to the streets daily, urging office dwellers to emerge from their cubicles and horses to escape from their buggies.
18031 Central Park Circle
Boyds
Maryland
Ultrazone Laser Tag might be familiar to fans of The Real World, whose cast members—fed up with drama—blew off steam by ducking colorful laser beams in the sprawling multilevel arena's fog-filled maze. There's enough space for 45 vest-clad players to face off at one time, and plasma monitors let the next wave watch the game as they eagerly await their turn. The expansive recreation center also hosts sleepover parties that grant exclusive overnight use of the laser-tag facilities, the plasma-screen theater, and the room that's inexplicably full of doorknobs. Outside the arena, an arcade keeps synapses ablaze with video games, air hockey, and golf simulators, supplemented with slices of Papa John's pizza from the cafe.
421 S Sterling Blvd.
Sterling
Virginia
Pilates is a low-impact, total-body discipline that focuses on the core to help keep the body balanced, toned, and energized. During the private equipment session at Fit to the Core Pilates, one of the studio's friendly and experienced instructors will teach you how to correctly use resistance machines, safely accommodating your skill level and fitness goals. Classes at Fit to the Core utilize STOTT PILATES equipment but also incorporate natural body resistance, stretching, and controlled breathing to build long, lean muscles while promoting physical and mental cohesion. Call ahead to schedule your one-on-one equipment session.
10016 Darnestown Rd., Suite B
Rockville
Maryland
Every year, the NCAA men's basketball tournament is a three-week saga of single-elimination suspense, where athletic juggernauts must fight for their records and overlooked programs have the chance to shine. In 2006, the George Mason Patriots penned their own March Madness Cinderella story by unseating powerhouses Michigan State, North Carolina, and Connecticut to become the lowest seed ever to advance to the Final Four. The Patriots' historic run left fans gasping for air and basketballs everywhere reaching for the nearest pump before the team finally bowed out to the eventual champions, Florida, in the national semifinal.
Though the Patriots' Final Four berth garnered tremendous national attention, George Mason's athletic prowess extends beyond the basketball court. In their proud history, the Patriots have won NCAA championships in multiple sports, including men's indoor track and field and women's soccer.
4400 University Dr.
Fairfax
Virginia
MoBu Kids' founder Melissa Steele devoted her time to entire classes of children for eight years before retiring to care for her two favorite youngsters—her son and daughter. Shortly after the birth of her son in 2005, Melissa opened MoBu Kids, an indoor playground and classroom for kids that was voted ParentsConnect Parents' Picks Best Kids' Party Place in 2010 and Best Indoor Playspace in 2009. During open play, youngsters scramble atop custom-designed foam playground equipment and roll around safe gymnastics flooring like Olympic-level tumbleweeds. They also test footholds in a rock-climbing wall and zoom down the slide of a petite tree house.
A more structured blend of learning and recreation characterizes small classes led by energetic instructors. Music and movement strengthens the link between notes and motion, bolstering language or motor and social skills according to age. Art-class masterpieces spring from the colorful depictions in a storybook, and ballet encourages dancers to forge creative steps, like the stubbed toe hop. Similar themes run through summer camps and private birthday parties.
442 S Washington St., Suite A
Falls Church
Virginia
US Tae Kwon Do classes are taught by martial-arts experts and help students achieve peace of mind, personal confidence, better understanding of physical capabilities, self-defense techniques applicable to the real world, and the ability to knock a jar of pickles off the top shelf with a roundhouse kick. With class schedules modeled on the ancient art of busy lifestyles, those with busy lifestyles will be able to easily squeeze in a kicking-and-punching jam session that can breathe new life into a stale exercise regimen. Class offerings and times vary at each location—call ahead to begin your membership and schedule your first foray into one of the world's most practiced martial arts.
9420 Main Street
Fairfax
Virginia
---