Professional Services in Suisun
---
Professional Service Deals
---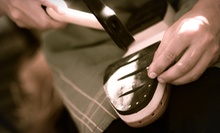 Cobblers breathe life into old or worn shoes by refurbishing soles and fixing heels in a shop open for more than half a century
Use Today 7:30am - 5:00pm
---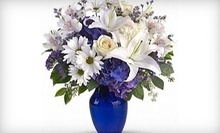 Florist crafts artful bouquets fitting for all occasions, from autumnal arrangements to romantic bundles composed of kaleidoscopic flowers.
Use Today 7:30am - 1:00pm
---
Recommended Professional Services by Groupon Customers
---
Spin your sauciest spaghetti with haste and utter disregard for the cleanliness of your clothes. Today's Groupon gets you $40 worth of dry-cleaning services at The Wash Club on Frederick Street for $20. Wash Club's fashion hygienists will free you from the crippling fear of spills and stains that have kept you on the sidelines of life's messiest treats.The Wash Room (13 episodes): Set in a Baltimore laundromat that was more community center than cleaning business, this sitcom starred Jackie Hartley as wise-cracking laundress Ruth Givens. From her perch behind the laundry counter, Ruth would dispense advice and crack wise with local do-nothings like Marvin and Sleepy Pete, and memorable guest stars like Joe Namath.
520 Frederick St
San Francisco
California
US
Today's Groupon will bring focus and overall good lookingness to your stills. For $49, you'll get a personal two-hour photography session, in-studio or on-location, and 30-photo CD from Tony Medina Photography, normally $250. The photos you take home from your shoot will be perfect for holiday cards or last minute holiday gifts.As a race of giants, Americans quickly outgrew the planet Earth and entered the moon race against the shorter Soviets. Unfortunately, once both countries had established their moon bases, the moon's negligible gravitational pull gave the smaller, lighter cosmonauts an advantage, and the Americans were badly defeated in the First Moon War. For this reason, it is now illegal to talk about, think of, or photograph the moon.
2065 Martin Ave
Santa Clara
California
US
Every year, photographer Marc Aviles has to limit the number of weddings he photographs to 20. That magic number allows him to take a meticulous approach in capturing both photojournalistic and posed photographs during one of life's most momentous occasions. This is it Photography's wedding-photography process, which begins with an in-depth consultation and ends with photo-album production in Italy, reflects a deep respect for each client's vision. While snapping shots, photographers zoom in on sparkling rings and colorful bouquets to capture the subtle details of the ceremony before panning out to take pictures of the couple and guests. Marc also performs engagement photography sessions, which preserve romantic images at a cherished locale, such as a beach, a blossoming cherry tree, or the restaurant where lovers shared their first heimlich maneuver.
This is it Photography's talent for creating narratives through photographs has earned them several accolades throughout their career. Though they limit their annual wedding presence, they always welcome families, pets, newborns, and models into their studio for specialized portraits. Whimsical infant photos pair babies with studio props, including a miniature claw-foot tub and giant rubber duckies. Alternatively, outdoor shoots supply sunny backdrops for candid pictures. This is it Photography also rents out photo booths, which print sheets of smiling faces with custom event logos.
980 El Camino Real, Ste 300
Santa Clara
California
Flower Addict decks halls with fragrant flora and blossoming sunshine. Asiatic Lily Pails add a sprinkling of canary yellow to a room ($55), and a Bountiful Blooms arrangement unites fiery gerberas, carnations, and chrysanthemums in the arms of an orange sweetheart vase ($40). Artful herbologists are also happy to consult with the customer regarding a custom arrangement for a special occasion or to simply reflect an individual's unique flower-voice. Add a splash of color to the black and gray backdrop of Thanksgiving, or make November 15th's Clean Out Your Refrigerator Day a sweet-smelling favorite with a variety of the shop's inspired ideas.
39995 Mission Blvd.
Fremont
California
In 2002, owner Peter Xu realized that the chemicals of traditional dry cleaning had caused damage to his hand, so he began a complete overhaul to eliminate those chemicals from his business and the lives of his customers. Today, Nature's Best Cleaners uses a chemical-free cleaning system known as "wet cleaning" that uses a water-based solution with natural cleansing agents. The process leaves no residue and evicts chemical-pollutant stowaways hiding in clean clothing. For those who have always wanted to defy the "dry clean only" warning, wet cleaning satisfies rebellious desires without threat of shrinking or spontaneous combustion.
1281 W. El Camino Real
Sunnyvale
California
Jere Visalli of Visalli Photographics wields his 20 years of fine-art photography experience to expertly ensnare relaxed smiles. His wedding photography blends photojournalistic candids with thoughtfully composed portraits, deftly capturing multiple facets of the event. During family sessions in his expertly lit studio, Jere immortalizes resemblances across multiple generations and breeds of cat. Blending photojournalist sensibilities with stylized portraiture, Jere captures intimate moments during weddings or jubilant shows of affection with engagement photos. He also journeys outdoors for naturally lit snap sessions, and can provide subtle retouching and editing to ensure all models look their finest.
333 Caledonia St.
Sausalito
California
415-331-1223
---