Things to Do in Suitland
---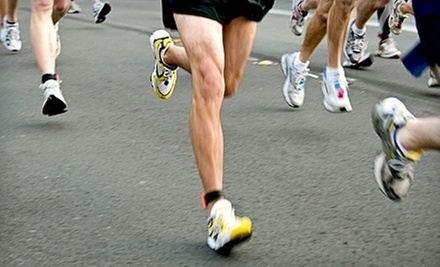 ---
Recommended Things to Do by Groupon Customers
---
1300 Pennsylvania Ave NW
Washington D.C.
Washington D.C.
Learn the fundamentals of fine art while quickly becoming the sharpest, most dangerous crayon in the box. A skilled and accomplished artist leads each class, introducing prospective Leonardos to new and exciting techniques that will inspire first-timers and advanced colorfully decorated veterans. The classes focus on painting and drawing in a cozy, laid-back environment. The student-to-teacher ratio is about 7:1, ensuring personal attention and strict adherence to the golden ratio. All the necessary materials are provided, including canvases, brushes, paints, and berets. Currently, two morning and two night classes are offered, but more will be added to accommodate additional students. Check out the schedule for adult workshop dates and times.
7740 Old Georgetown Rd.
Bethesda
Maryland
You'll be led in the ways of matching and loving under director Ron "Ald" McDonald, aka Tennis the Menace, aka the Count of Volley Cristo—a US Professional Tennis Association–certified coach and 35-year veteran of successful tennis-knowledge transmission. You'll be grouped with a handful of swingers at your own skill level, allowing you to reap the benefits of group training and assign each other catchy nicknames. Through fun drills and lightly competitive scrimmaging, you'll build on fundamentals and incorporate new flourishes into your victory dance.
501 N Roosevelt Blvd.
Falls Church
Virginia
DC Cruises showcases the capital from an uncommon angle: the waterfront. Sightseeing boats drift on the Potomac from Georgetown to the river basin, taking in views of the Kennedy Center, the Lincoln Memorial, the Jefferson Memorial, and the Washington Monument. Daytime excursions grant an unusual view of the monuments from behind, whereas sunset excursions cast the buildings against colorful skies. At night, the moon glows on the marble structures, giving them new mystique. Wine cruises and crab feasts combine on-the-water sightseeing with local fare, and cherry-blossom cruises showcase signs of spring: trees dotted with pink blooms and newborn bills cooing in their bassinets on the mall.
1300 Maine Ave. SW
Washington
Washington D.C.
At Sumner Fitness, a Titleist-certified instructor obtains a player's golf history and identifies swing problems using physical screening, golf biomechanics, and human eyes. With a golf dossier in hand, the links expert will create a program tailored to your needs and follow up your on-site evaluation with an email containing customized results to help enhance golf performance. By combining physical workouts with an improved technique, both weekend swingers and pros can maximize distance and accuracy.
4611-K Sangamore Road
Bethesda
Maryland
Recently celebrating 20 years of delighting passengers, the maritime crew at Capitol City Tours supplies a memorable yet speedy method of taking in Washington, DC's historical highlights. The crew whisks new passengers away from Washington Harbor every hour on afternoon boat tours that navigate the famous Potomac River. Two tour vessels—the Nightingale and his son, _Nightingale II_—house refreshments as guides supply historically astute narration. Their narration, combined with the unobstructed views granted by the Potomac, create an illuminating way to explore sites such as the Washington Monument, Lincoln Memorial, and US Capitol.
31st & K Sts NW
Washington
District of Columbia
800-405-5511
---