Restaurants in Summerlin South
---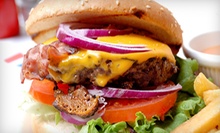 Hand-scooped ice cream shakes wash down chili-topped hot dogs and gourmet burgers crowned with premium toppings
---
Recommended Restaurants by Groupon Customers
---
Yelpers give the restaurant an average of 4.5 stars, OpenTable users give it 4.6, TripAdvisors give it 4.5 owl eyes, and 95% of Urbanspooners recommend the restaurant:
3770 Las Vegas Blvd. S
Las Vegas
Nevada
702-798-7151
This genuine family pizzeria traces its roots to the Old World. Back in 1969, immigrants from the home of the pizza, Sicily, sensed a pizza absence in Las Vegas. Making their way to the American Southwest via New York, they founded what became today's Graziano's, bringing along an ethos of fresh ingredients, handmade care, and an almost motherly love for the perfect pie.
8410 W Desert Inn
Las Vegas
Nevada
Eclectic tapas abound at the Southern Highlands eatery. On the tapas cold front, there's a chilled gazpacho ($4), marinated olives ($5), or tuna tartare ($9). Toastier small plates include veggie empanadas with mushrooms, carrots, spinach, and garlic cream cheese ($5); ravioli bathing in a savory cream sauce ($5.50); and fried goat-cheese nuggets ($6.50). Meat-focused dishes such as chicken cakes (topped with multi-colored onions, peppers, cilantro, black beans, and corn salsa, $6) and seafood plates, including grilled octopus and steamed mussels ($9.50 each), mind the gap between main dish and dessert. Barcelona also serves a variety of entrees ($15–$20) such as grilled salmon and Spanish paella. Desserts ($4–$9.50) such as chocolate tres leches à la mode sweeten sips of festive mojitos and sangria.
10690 Southern Highlands Pkwy. , Suite 100
Las Vegas
Nevada
Yelpers give it an average of four stars, and OpenTable users give it a 4.4:
4321 W Flamingo Rd.
Las Vegas
Nevada
Peach De-Lite's menu of drinks uses nature's deadly beauty to slay thirst without artificial flavors or additives. Frozen yogurt is made in-house using hormone-free milk, natural yogurt, and real fresh fruit ($3/6 oz., $4/10 oz., $6/16 oz.). Lychee, peach, plain, and pomegranate flavors are always available, and there are free-agent flavors signing on all the time. Toppings (granola, mochi, roasted almonds, raspberries, Fruity Pebbles, and more) are $0.50 each. If you're craving dairy delight that fits through a straw, opt for an antioxidant-packed fruit smoothie, a blend of ice, frozen yogurt, and one or two fruits of your choice ($4.95). Or, wake from dreams of cows balancing papayas on their noses with a white-chocolate latte (starting at $3.75) or a Red Eye (coffee with a shot of espresso, starting at $2.75) from Peach De-Lite's full-service coffee bar. This Groupon is only valid for drinks from the coffee bar, fro-yo, smoothies, and boba tea; it is not good toward pastries, salads, or other beverages at Peach De-Lite's.
7225 S Durango Dr., Suite 101
Las Vegas
Nevada
Villa Pizza's menu offers more than 15 toppings to toss on freshly baked, homemade-dough-based pizzas that heat up any hockey-viewing party or air-conditioned igloo. Score a circular creation such as the barbecue-chicken pizza (sauced and diced chicken, red onion, and cilantro, $16.99 for 16") or a Popeye-pleasing, herbivorous stuffed pie with fresh spinach, ricotta cheese, and layers of gooey mozzarella ($18.99 for a large).
3620 W Sahara Ave.
Las Vegas
Nevada
---