Summerlin South, NV Spa and Massage
---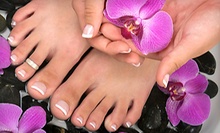 Popular hair treatment straightens curly or wavy hair for a smooth, silky look
Use Today 9:00am - 6:00pm
---
Recommended Spa & Massage by Groupon Customers
---
Hands On's therapeutic massage uses medium pressure that's not too hard, not too soft, and offers enough muscle relaxation to satisfy the tensest of goldilocked humans or bear trios. This massage combines techniques from the Swedish massage—designed to relieve stress and improve circulation—and the firmer, more intense deep-tissue massage, which counters your genetic predisposition to feel pain.
8335 Las Vegas Blvd. South
Las Vegas
Nevada
Diva Beauty releases faces from follicular shackles with a slew of threading services. A practice poached from ancient beauticians, threading caters to sensitive epidermises by forgoing chemical-packed waxes and painful tweezing, instead lassoing wayward hairs and passing steers in a natural-cotton loop. Eyebrow artisans prune faces for approximately 30 minutes, precisely targeting and tugging wayward brow, lip, and chin hairs. Witness sculpted arches swiftly unfold with milder side effects than with alternative lock-removal methods, such as short-lived redness and foreheads bashful about their newfound nakedness.
2184 North Rainbow Blvd.
Las Vegas
Nevada
CHIssential, creating a Wellness state through bodywork and massage.
7020 North Durango Dr.
Las Vegas
Nevada
702-528-0757
A high-tech day spa staffed with a skilled group of aesthetic experts, Saffron offers a wide range of beautifying services. Sashay into the relaxing confines and obtain a strikingly smooth mug with the aid of a SilkPeel Dermalinfusion, which remedies almost any skin type—as well as targets and improves issues such as acne, brow spots, fine lines, sun damage, dehydration, chin brows, and advanced clownism. A patented SilkPeel diamond-tip wand will exfoliate the skin while serum is infused deep into the pores, delivering nourishment (vitamins, antioxidants, and therapeutic essentials) effectively and intensively. This customized process is tailored to your skin type and its specific needs.
2400 S Jones Blvd., Suite 14
Las Vegas
Nevada
It goes without saying that Ukranian model and actress Oleksandra Nikolayenko-Ruffin knows a thing or two about beauty. But the 2004 Miss Ukraine Universe winner is also the brains behind her self-named spa, a tranquil and luxurious facility that earned a five-diamond rating from The American Academy of Hospitality Sciences. Housed inside the Treasure Island Hotel and Casino, the wellness sanctuary pampers guests with a massive menu of services that enhances everything from skin and body to scalp, hair, and nails. Facials are enhanced with hydrating botanical extracts and ingredients such as pumpkin pulp or papaya enzymes, which may cause pores to ask for second helpings. Six Davines Natural Tech hair treatments perform a spectrum of good deeds for scalps and manes, from softening damaged hair with silk proteins to excavating strands sequestered beneath chlorine and hard-water deposits.
Marble tile accents the walls of the spa, where cushy recliners congregate with other upholstered furniture inside separate lounges for men and women. Visitors to the spa typically check in at least 30 minutes early so they may change or cartwheel into a robe and sandals and warm up in the steam room, sauna, or whirlpool.
3300 Las Vegas Blvd. S
Las Vegas
Nevada
702-894-7474
The beauty specialists at Centennial Hills Salon and Day Spa dedicate their daily beautification efforts to the memory and mission of founder Nancy Jane Shaw. After suffering a debilitating stroke in 1997, Shaw unsuccessfully with her husband for a salon where she could sit comfortably in her wheelchair while having her hair and nails done. Her determined family stepped up to fill Las Vegas's need for an accessible salon and day spa and began construction on the project in 2001. Though Shaw passed away in 2005, her legacy lives on in a place where caring staffers meet the needs of customers regardless of their level of mobility, complete with features such as a wheelchair ramp and an ample spa shower with grab bars.
The natural and organic ingredients and eco-friendly philosophy of the Aveda line proved to match the salon and day spa's vision. In addition to haircuts, deep-conditioning treatments, and extensions, stylists transform hues with 97% naturally derived hair color with sunflower and jojoba oils. The crew also offers custom facials, soothing massages, fragrant mani-pedis, and makeup application for brides-to-be or clowns trying to transition back into civilian life.
7991 W Tropical Pkwy., Suite 120
Las Vegas
Nevada
702-839-9669
---