Museums & Galleries in Summerville
---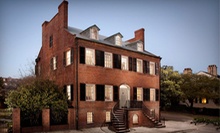 The award-winning preservation of a Federal-style home built by Isaiah Davenport lets visitors glimpse life in the 1820s
---
Recommended Museums & Galleries by Groupon Customers
---
When the Charleston Museum was founded in 1773, South Carolina was still a British colony. Today, the museum is itself a historical gem, surviving both the American Revolution and Civil War and acquiring an astounding collection of South Carolinian artifacts along the way. Nine permanent exhibits include the Armory, brimming with antique weaponry, and the Lowcountry History Hall, which chronicles the land's metamorphosis from a tribal society into an agricultural empire, telling the story with early trading goods, slave badges, and pottery. Temporary exhibits change regularly, keeping visitors on their toes in the same way changing cell phone numbers every 24 hours does.
The museum extends its history-preserving mission to two area homes: the 19th-century Joseph Manigault House, once home to a wealthy rice plantation owner, and the Heyward-Washington House, where George Washington once stayed during a weeklong visit to the city. Restored rooms, period pieces, and loudly snoring grandfather clocks await guests during scheduled tours.
360 Meeting St.
Charleston
South Carolina
It was February 17, 1864. The USS Housatonic floated in Charleston Harbor atop calm, cold waters. Below the surface, a group of Confederate soldiers sweated bullets as they cranked the propellers of the H. L. Hunley, speeding toward the Union's Housatonic on a historic mission: they would become the first submarine crew ever to sink an enemy ship. A 135-pound torpedo struck the Housatonic's stern, detonating a fiery explosion that sank the vessel within minutes. The Hunley then surfaced just long enough for the crew to flash a blue magnesium light, signaling to fellow forces on the shore that the mission succeeded and the submarine would return. And it did—but not until almost 140 years later, when it was raised from the harbor's sandy bottom on August 8, 2000, after author Clive Cussler discovered the wreck intact.
Today, the leaders of the nonprofit H. L. Hunley Submarine seek to conserve, restore, and ultimately exhibit this historic vessel, as well as solve the mystery of how it completed its mission only to vanish moments later. They welcome visitors to see the submarine in its current condition—within a 90,000-gallon conservation tank—and educate guests on the vessel's many details. Guides walk guests through features such as the manual-propulsion system and automatic moon roof, and illuminate exhibits such as a lifesize model from the TNT movie The Hunley.
1250 Supply St., Building 255
North Charleston
South Carolina
---