Things to Do in Sun City
---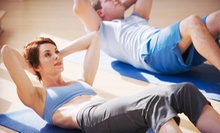 Small-group boot-camp classes led by an experienced personal trainer use a variety of activities to achieve fitness goals
---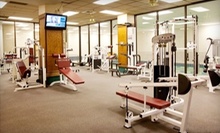 Use Thursday 8:00am - 12:15pm
---
Recommended Things to Do by Groupon Customers
---
Randy Long entered the working world as a travel agent, a vocation that whet his appetite for globetrotting, adventure, and haggling with airlines. When he became a father and husband, he passed a passion for thrill seeking on to his family, and their recent escapades include scuba diving in Barbados and dog sledding in Alaska. It was this thirst for exploration and a love of aviation that drove Randy to become an FAA-certified powered-parachute instructor and found Arizona Powerchutes.
Powered parachutes are comprised of two-seater, wheeled carts that float 20 feet beneath 40-foot parachutes. At sunrise—or sunset during the cooler months—Randy and a passenger climb aboard the cart, and Randy hits the throttle, gathering speed for about 100 feet before the parachute fully inflates and hoists the cart into the air. Randy adjusts the altitude to his patron's comfort level and steers crafts over the exotic plants and mountain silhouettes of the Sonoran Desert, averaging a speed of 26 miles per hour. After journeys, powered parachutes float to land safely, as they are inspected by the pilot prior to each flight and by an FAA-approved facility after every 100 hours of operation.
31414 N Cave Creek Rd.
Cave Creek
Arizona
480-502-7640
At Deer Valley Rock Art Center, visitors walk a quarter-mile trail that leads to thousands of Native American carvings. The ancient artwork includes more than1,500 petroglyphs, which were created between 7,000 and 500 years ago. Inside, a museum teaches about the prehistoric population who once inhabited the area.
For lunch, visitors can head over to outdoor picnic tables or an amphitheater area. They might also spot local wildlife such as roadrunners, jackrabbits, and red-tailed hawks.
3711 West Deer Valley Road
Phoenix
Arizona
623-582-8007
Freshly splattered paint drips down the mazelike barricades and buildings that speckle Fightertown Paintball Park's five fields, each of which pose their own scenarios and challenges. Players in full complements of rental or personal gear dive behind decommissioned vehicles and helicopter hulls on Field 1, seeking advantageous flanking positions and picnicking sites by sneaking through the trenches. Players deploy from Vietnam–era helicopters onto Field 3, descending into open spaces and trench combat with a maze of claustrophobic buildings, which teams can navigate by communicating through secret messages composed of paint splatters. The arenas host open-play sessions, long scenario events, and motorized skirmishes on ATV Dogfighting Systems, a fleet of four-wheelers armed with paintball-blasting turrets.
195th Ave. and Happy Valley Rd.
Surprise
Arizona
602-421-7039
Tumbling balls and clattering pins echo across the gleaming hardwood alleys at Glenfair Lanes, where bowlers of all ages strap on multicolored kicks for group play. Fluorescent bulbs shine neon shades onto alleys until 1:30 a.m. every Friday and Saturday night during neon bowling, where orbiting disco balls, flashing lasers, and excessive Blade Runner quotes add flair to game play. Tournament bowlers can clink chalices of beer and soda to celebrate strikes, and pintsize players can fuel up for youth bowling sessions with saucy slices of pizza.
6110 N 59th Ave.
Glendale
Arizona
Clean angles and an uncluttered aesthetic give the auditorium at Comerica Theatre a refreshing air of minimalism. No columns, chandeliers, or giant neon cowboys distract from the stage, which has hosted such celebrities as Harry Connick Jr., Jerry Seinfeld, George Lopez, and the Blue Collar comedians. Thanks to the facility's state-of-the-art audio and visual capabilities, the stage can be reconfigured to suit everything from arena concerts to standup comedy and ballet performances.
400 W Washington St.
Phoenix
Arizona
602-379-2888
Born in 1945, Fred Amator's Arizona-bound life began on a dairy farm southwest of Phoenix. Later, work took him across the state, from the Sonoran Desert and Mogollon Rim to the Grand Canyon. During his Jeep tours, the CPR-certified driver's intimate knowledge of Arizona comes alive as he escorts two–four guests on desert journeys full of historical anecdotes, rather than mirages of Benjamin Franklin greedily chugging water.
During expeditions, Amator's passengers take in panoramic views of the Gila Bend Mountains, off-road past the native trees and cacti around the White Tank Mountains, or potentially spot coyotes and rabbits at Margie's Peak. Amator also accompanies guests on three-hour trips to a farm in West Phoenix, where they observe fields full of growing cotton and the beginning of vegetable season before touring a dairy.
289 N Litchfield Rd.
Goodyear
Arizona
623-980-6007
---