Things to Do in Sun City
---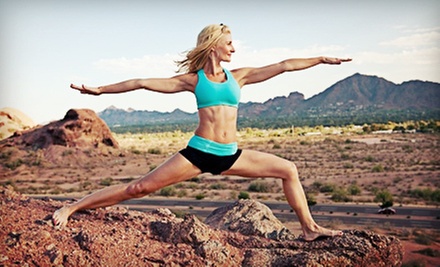 ---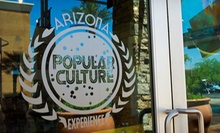 Museum with more than 13,000 action figures, comic books, and pieces of memorabilia covers the last 50 to 60 years of pop culture
---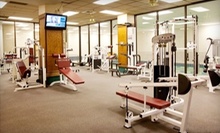 Combat masters guide students through intense training exercises to burn calories, build stamina & tone muscles
Use Wednesday 6:00am - 12:00pm
---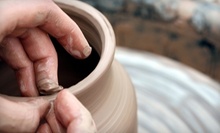 Use Friday 6:30pm - 7:30pm
---
Recommended Things to Do by Groupon Customers
---
Freshly splattered paint drips down the mazelike barricades and buildings that speckle Fightertown Paintball Park's five fields, each of which pose their own scenarios and challenges. Players in full complements of rental or personal gear dive behind decommissioned vehicles and helicopter hulls on Field 1, seeking advantageous flanking positions and picnicking sites by sneaking through the trenches. Players deploy from Vietnam–era helicopters onto Field 3, descending into open spaces and trench combat with a maze of claustrophobic buildings, which teams can navigate by communicating through secret messages composed of paint splatters. The arenas host open-play sessions, long scenario events, and motorized skirmishes on ATV Dogfighting Systems, a fleet of four-wheelers armed with paintball-blasting turrets.
195th Ave. and Happy Valley Rd.
Surprise
Arizona
602-421-7039
The two British buddies who dreamt up Real London Bus Company imported authentic London-style double-decker buses to shuttle guests around the city. With a fleet of four busses that can ferry up to 65 passengers each, they operate assorted tours throughout the area—including pub crawls to local dives and treasure hunts that explore downtown Phoenix, Mill Avenue, and Old Town Scottsdale—with the help of knowledgeable though decidedly nonandroid guides. They also make their busses available for special events such as proms, weddings, girls' nights out, or charters for corporate occasions, including past clients Go Daddy and Coors Light.
1234 N State St.
Phoenix
Arizona
480-334-8372
Challenger Space Center Arizona is on a mission: to excite and educate its visitors about science and the vast wonders of outer space. That excitement starts as soon as guests walk onto the entrance's elevated gantry bridge to see a four-story, space-themed mural painted by Robert McCall. Then it's on to the museum, where the center's affiliation with the Smithsonian Institution enables it to offer top-notch exhibits, which range from a model of an Iridium satellite to three separate meteorite exhibits. Beneath the planetarium's night sky, stargazers can learn about the stars or test their wishes out on different constellations. Regular Family Star Nights encourage families to bond over stargazing presentations, a simulated shuttle launch, and other activities.
To immerse themselves in the space experience, groups can also sign up for two-hour simulated space missions that unfold in three spaces: a mission control room designed after the Johnson Space Center; the Spacecraft, which simulates a room onboard the International Space Station; and the Earth Space Transit Module, which helps crew members dock there.
21170 N 83rd Ave.
Peoria
Arizona
Tumbling balls and clattering pins echo across the gleaming hardwood alleys at Glenfair Lanes, where bowlers of all ages strap on multicolored kicks for group play. Fluorescent bulbs shine neon shades onto alleys until 1:30 a.m. every Friday and Saturday night during neon bowling, where orbiting disco balls, flashing lasers, and excessive Blade Runner quotes add flair to game play. Tournament bowlers can clink chalices of beer and soda to celebrate strikes, and pintsize players can fuel up for youth bowling sessions with saucy slices of pizza.
6110 N 59th Ave.
Glendale
Arizona
Born in 1945, Fred Amator's Arizona-bound life began on a dairy farm southwest of Phoenix. Later, work took him across the state, from the Sonoran Desert and Mogollon Rim to the Grand Canyon. During his Jeep tours, the CPR-certified driver's intimate knowledge of Arizona comes alive as he escorts two–four guests on desert journeys full of historical anecdotes, rather than mirages of Benjamin Franklin greedily chugging water.
During expeditions, Amator's passengers take in panoramic views of the Gila Bend Mountains, off-road past the native trees and cacti around the White Tank Mountains, or potentially spot coyotes and rabbits at Margie's Peak. Amator also accompanies guests on three-hour trips to a farm in West Phoenix, where they observe fields full of growing cotton and the beginning of vegetable season before touring a dairy.
289 N Litchfield Rd.
Goodyear
Arizona
623-980-6007
Koko Bee's Playhouse entertains tykes aged 10 and younger with a slew of indoor activities staged safely in sight of parents. Little feet blaze trails across the slide-filled subdivisions of playhouses that sprawl across the facility's carpeted interior. The inflatable bounce house hosts jumping contests in its pillowy cavern, a train table entrances the minds of aspiring engineers, and a diaper-clad bouncer checks for photo IDs at the toddler-only play area. Toy dolls and tool sets inspire hours of imaginative play, and romps through the spaceship and medieval castle enlighten kids to the playtime customs of their historical counterparts. The staff orchestrates themed days on which kids can paint faces or blow bubbles and curates celebratory gatherings with private and public party packages. Free WiFi fills the café area, where parents sip on coffee as their concerned youngsters search the internet for cooties remedies.
4041 E Thomas Road
Phoenix
Arizona
602-391-8222
---