Museums & Galleries in Sun City
---
---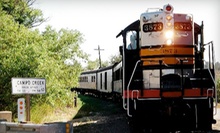 A one-hour, 10-mile train trip takes guests through the San Diego countryside; it includes admission to a museum with antique locomotives
Use Saturday 8:00am - 11:00am
---
Recommended Museums & Galleries by Groupon Customers
---
The Science of…Aliens exhibit has crash-landed at the San Diego Air & Space Museum, offering thrilling glimpses into humanity's long-held belief in the existence of extraterrestrial life forms. The exhibit is split into four star-gazing sections, each offering different POVs on ETs. "Alien Fiction" celebrates sci-fi classics, with movie props and other items detailing our fascination with silver-screen space-dwellers and its connection to ancient mythology, while "Alien Science" covers alien-looking creatures living on planet Earth, such as deep-sea fish and Lady Gaga. Explore two fictional but scientifically credible alien planets—Aurelia and Blue Moon—in the "Alien Worlds" section of the exhibit, or pen a personal love note or jury summons to residents of neighboring galaxies with "Alien Communication."
2001 Pan American Plaza
San Diego
California
US
The membership includes the following:
1450 El Prado
San Diego
California
Chula Vista Nature Center provides guests with dozens of ways to encounter the birds, marine life, and other organisms that call the refuge home. Visitors can pet gentle rays or admire preening sea turtles before visiting the underwater discovery center to spy on majestic sea horses, spotted octopi, and exploding ants. Outside, 1.5 miles of walking trails lead out to the shore of San Diego Bay, offering convenient stops at native-plant gardens, Raptor Row, Eagle Mesa (home to majestic bald and golden eagles), and a shorebird aviary. Among the many native water birds and shorebirds housed by the aviary are light-footed clapper rails, one of California's most endangered bird species.
1000 Gunpowder Point Dr.
Chula Vista
California
The Museum of Man, voted runner-up in 10news.com's A-List 2011 Best Museum category, explores and shines a light on the emergence of man with five standing collections and special exhibits, filled with the cultural and physical anthropology artifacts housed and studied within its confines. Mummies are featured in the Ancient Egypt permanent exhibit, grasping the attention of attendees of all ages and complimenting grandparents on their youthful vigor. Tots toddle in the footsteps of archeologists in the Children's Discovery Center's interactive learning experience, Discover Egypt. The museum's 7,000-square-foot west wing bursts at the seams with artifacts from four million years of human evolution, featuring prime pieces of physical anthropological evidence in the Footsteps Through Time exhibit. Photographs collect images of anthropologists in the midst of rapt explorations and discoveries in the temporary Adventures in Photography exhibit, a visual story which spans a hundred years and six continents. Additionally, the Modern Day Mummy and Strange Bones exhibits apply medical know-how to unveil historic secrets of the human body.
1350 El Prado
San Diego
California
619-239-2001 x10
The aquarium features small, intimate exhibits, so you don't have to fight crowds to get really close to the hairy hermit crabs. Plus, the friendly and knowledgeable staff is always on hand to answer questions and share interesting facts about the blacktip reef shark, leopard shark, epaulette sharks, or their roommate situation. The aquarium currently has more than 5,000 specimens representing more than 380 species of fishes and invertebrates. Exhibits include colorful displays of live coral (reef residents such as lionfish, chambered nautilus, and giant clams are included), a 70,000-gallon kelp forest tank, and a 2,000-square-foot interactive seahorse exhibit with leafy and weedy seadragons. It's a wondrous wrigglebin for kids, since it has a live tide pool display where you can touch the finger-friendly scales of tide-pool beasts and a water-mechanics exhibit where you can build dams and find out how water power and ocean currents work.
2300 Expedition Way
La Jolla
California
858-534-4109
More than one million fossils and artifacts were unearthed during the construction the Diamond Valley Lake reservoir in Hemet. These time-swept relics make their home in the Western Science Center's museum complex, creating a bridge between ancient eras and the scientific advances of the future. The campus itself is steeped in advanced design tactics, making it the first museum in California to earn a Platinum LEED Certification from the U.S. Green Building Council. A rooftop covered with 3,000 solar panels provides more than half of the museum's power needs, and a combination of heat-resistant windows and forced-air circulation keeps the interior cool while spending less energy on air conditioning and ice sculpture maintenance.
A journey through the ages begins from the moment visitors step from the parking lot and under the Life on Earth Timelime, a 156-foot corridor of geologic time rings from Pre-Cambrian to Holocene that leads to the museum lobby. Inside, they explore permanent and temporary exhibits, including "Max," the largest mastodon skeleton found in the Western United States and the Discovery lab highlighting the tool contemporary architects use every day. Crowds can take a seat in the immersion theater with a 270-degree screen to watch a pair of short films about the time when giant creatures roamed California and how the region was excavated and preserved.
2345 Searl Pkwy.
Hemet
California
951-791-0033
---