Sun City West, AZ Outdoor Activities
---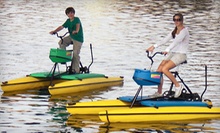 Up to three passengers sunbathe or sightsee on Tempe Town Lake in an open-air pedal boat
Use Tuesday 8:00am - 11:00am
---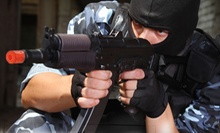 Tiny pellets speed toward combatants as players out-flank and ambush one another in 19,000 sq. ft. airsoft arena
Use Sunday 4:00pm - 8:00pm
---
Recommended Outdoor Activities by Groupon Customers
---
Though a pilot mans each of Hot Air Expeditions balloon flights, the excursions are really guided by Mother Nature. The colorful balloons simply follow the wind, hovering above the cacti and coyote that call the Sonoran desert home before gently climbing breezes to give passengers a full view of the surrounding mountains and lakes. Groups can take morning flights year-round or afternoon flights from November through March, both of which offer spectacular photo opportunities, as well as time-sensitive challenges to any still-life painters on board.
The mutable nature of the flights mean they last anywhere from 45–90 minutes, after which, passengers will enjoy sparkling beverages and catered snacks, such as pastries. Each guest is awarded an official flight certificate as a memento of their aerial journey before boarding a courtesy van that returns them to the launch point. Though the actual flights last up to 90 minutes, groups should allow up to four hours for the entire trip.
704 W Deer Valley Rd.
Phoenix
Arizona
480-502-6999
The ice rink at Arcadia Ice Arena invites bladed feet for a full calendar of public skate times, hockey leagues, and figure-skating lessons. For public skating sessions, skaters may bring their own skates or rent hockey or figure skates before carving figure eights and love notes to the zamboni into the ice. Beginners and Olympic hopefuls alike can improve their technique through the arena's Learn to Skate programs, complete with private or group lessons.
3853 E Thomas Rd.
Phoenix
Arizona
602-957-9966
John Flanders and Jeff Varner founded the Academy of Scuba to bring the magic of diving to the arid lands of the Southwest. They employ a team of PADI-certified instructors, who lead courses ranging from beginner and advanced open-water certification to more in-depth programs such as master diver, deep diver, underwater video and photography specialists, and professional shark imitator. Once certified, divers can stretch their new sea legs on diving excursions to exotic locales such as Belize, Mexico, and Bonaire through the academy's partner and affiliate companies. Both of the Academy's locations rent, repair, and sell high-quality gear from reputable brands such as Sea Dive, Amphibious Outfitters, and H2Odyssey.
4015 E Bell Rd., Suite 134
Phoenix
Arizona
602-971-3483
A kaleidoscope of multichromatic blossoms and emerald leaves bursts from the soil, blanketing 65 acres of desert landscape at Desert Botanical Garden. Diverse walkways flanked by more than 50,000 types of cacti, succulents, and wildflowers educate visitors on the importance of protecting the environment and not hugging every plant they see. In addition to the garden's more stationary organisms, some of which go home with local green thumbs during biannual plant sales, numerous avian and insect species make their homes amid the thriving greenery.
1201 N Galvin Pkwy.
Phoenix
Arizona
480-941-1225
Fourteen lighted outdoor tennis courts, four new pickleball courts, seven indoor racquetball courts, weight rooms, a group fitness studio, and an indoor cycling room make up the facilities at La Camarilla Racquet, Fitness & Swim Club, setting the stage for members to get fit any way they see fit. For one, there's a varied schedule of group fitness classes, with structured workouts such as tai chi, muscle cardio, yoga, and spinning. Treadmills, upright bikes, elliptical machines, and other fitness machines are within the four fitness rooms, too. If you want to cool off after a workout, feel free to swim the club's 25-meter outdoor pool or juggle ice cubes in the members' lounge and bar area.
You can hear a constant thwacking of tennis balls and shuffling feet in the outdoor tennis facility, which hosts numerous tournaments, clinics, and lessons. Director of tennis Roger Furman and his staff of USPTA-certified pros offer instructional guidance to aspiring tennis players and ball boys of all ages.
5320 E Shea Blvd.
Scottsdale
Arizona
480-998-3388
Desert Skydiving Center carries people into the air in Cessna 182 and 206 planes and then sends them gleefully careening toward the ground. The center offers static parachuting, tandem jumping, and accelerated freefalls alongside experts. Participants can work with an instructor for 30-minutes to eight-hours, depending on the type of jump, before pulling on a parachute and jumping from two miles high. The ground grows rapidly as divers freefall with the wind whipping their faces before they pull the parachute cord and float to the ground or attempt to land on a passing goose.
3000 S Palo Verde Rd.
Buckeye
Arizona
---