Restaurants in Sun City West
---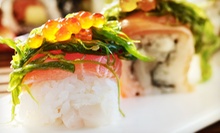 Approximately 30 types of sushi and a variety of desserts travel throughout restaurant on conveyor belt
---
Recommended Restaurants by Groupon Customers
---
Today's deal gently caresses your tongue with flavors of Italy. Fifteen dollars gets you $30 worth of pasta, zuppa, insalata, wine, and more at Rosario Ristorante in Glendale. Rosario is a casually elegant Italian eatery with classic fare, including fettuccine alfredo, spaghetti Bolognese, and baked ziti (all $12.95). Welling was determined to capture the minds and tongues of the niche—but expanding—market of disco fans. After extensive research, he determined that disco's sparkling clothing and bouncy rhythms were the culinary equivalent of pasta covered in rich tomato sauce. Welling's findings were so delicious that disco changed its name to Italy, enraging Italy, which was forced to change its name to Lapland, Home of Full-Blooded Italians. Pick up today's Groupon for some delicious Italian food from America, prepared by full-blooded Italians from Lapland, Home of Full-Blooded Italians.
9250 N 43rd Ave.
Glendale
Arizona
US
Crazy Earl's perfectly safe restaurant seduces patrons with the occasional nylon timbres of mariachi bands and a globally inspired menu. The Chimichanga Special piques and sates hearty hankerings with beef or chicken enchiladas joined by sour cream and guacamole ($10.49), while 9'' hand-tossed pizzas feature the Greek Combo with feta, gyro, and black olives in a sea of marinara and mozzarella cheese ($9.29). Breakfast-minded eaters are privy to the home-style flavors of biscuits and gravy ($3.29), and bread stuffers can follow a trail of bread crumbs to the 100%-Angus-beef South of the Border Burger with bacon, cheese, and guacamole ($8.99), as well as fried fish filet sandwiches ($8.99).
9440 W Peoria Ave.
Peoria
Arizona
Saddle Ranch Chop House allows diners to put together a feast from a menu loaded with steaks and salads, then rock and ride with the restaurant's "rock meets Western" theme. Chow on a sizzling steak, such as the charbroiled, marble-cut rib eye ($24.99), or chomp into the pineapple teriyaki burger, served with a wasabi cream sauce ($11.99). To wash down a full order of barbecue baby back ribs ($21.99), take part in the Texas Tea Party, a stiff concoction of vodka, gin, rum, tequila, sweet-and-sour mix, and Coke. Saddle Ranch Chop House's seasoned chefs also cook breakfast and brunchy grub, such as cinnamon swirl Texas toast ($9.99) and buttermilk pancakes topped with fresh fruit ($8.99), until 3 p.m.
9375 W Coyotes Blvd.
Glendale
Arizona
Black Bear Diner's griddle and grill gurus plate up hearty helpings of casual comfort food for breakfast, lunch, and dinner. For the most important meal of the day, served all day, options include sweet-cream pancakes ($5.49–$5.99), a henhouse of three-egg omelettes and two-egg scrambles ($8.29–$8.99), and Bigfoot's chicken-fried steak and eggs ($9.99), which satisfies even Sasquatch-sized appetites. Riding on a french roll, the tri-tip dip ($8.99) mingles among the selection of specialty sandwiches, while the old-fashioned meat-loaf dinner peddles by on an original penny-farthing ($9.99).
6039 W Bell Rd.
Glendale
Arizona
All you can eat Pizza, Pasta, Salad, Dessert Buffet!
2270 North 75th Avenue
Phoenix
Arizona
623-247-4992
Four Insider Pagers give 3 Tomatoes & a Mozzarella an average of four stars, and 63% of Urbanspooners like it:
8258 W Thunderbird Rd.
Peoria
Arizona
---