Sun Lakes, AZ Health and Fitness
---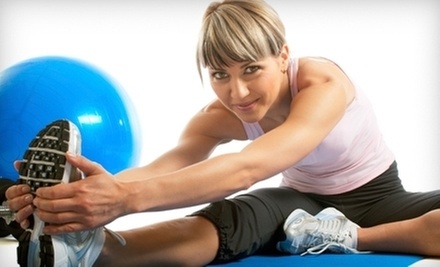 ---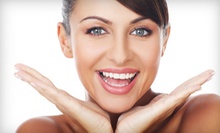 Experienced dentists enhance smiles with durable porcelain veneers
---
Recommended Health & Fitness by Groupon Customers
---
Dr. Rogel A. Carlos, who speaks fluent Tagalog and Spanish, banishes plaque, straightens teeth with ClearCorrect invisible braces, and whitens smiles with the intensive Kor Whitening deep-bleaching system—a system the doctor personally uses. He can install porcelain veneers, prevent jaws from clicking with TMJ treatments, and treat sleep apnea inside his office, which surpasses all standards set by OSHA and the Center for Disease Control. Dr. Carlos also keeps himself at the ready at all times, fielding dental emergencies such as cracked molars and missing dental crowns stolen by the greedy tooth fairy.
2055 N Alma School Rd., Suite 22
Chandler
Arizona
480-273-8827
The doctors at Scottsdale Center for Sight back their procedures with impressive resumés. The center's founder, Dr. Paul M. Petelin, completed his ophthalmology training at Emory University, received fellowships in cornea and refractive surgery, and has completed more than 10,000 LASIK surgeries. Dr. Stanley Shorb is a specialist in diseases of the retina and eye and has practiced in the Phoenix area for more than 35 years. With their combined talents, the duo takes on a variety of ocular challenges. They perform cataract and lens-implant surgery, a procedure that Dr. Petelin has performed more than 8,000 times in his career. They can also diagnose and treat glaucoma and retinal diseases caused by age through surgery, medication, or laser treatments. The center, one of the first in the state to perform all-laser LASIK, specializes in bladeless LASIK corrective surgery, a much better way of improving eyesight than sleeping on a pillow filled with carrots.
25229 S Sun Lakes Blvd., Suite 202
Sun Lakes
Arizona
480-895-8900
Most of us don't wait until we have a cavity to brush our teeth. Similarly, Dr. Aaron Kovac at Back In Line Spine & Wellness doesn't think we should wait for illnesses to set in before we try to prevent them. He takes a proactive approach to wellness by attempting to stymie back pain, muscle spasms, and headaches by keeping disks in perfect alignment, preventing them from impinging on the spinal cord and disrupting the brain-body flow of information. He administers noninvasive, natural techniques informed by a dual license in chiropractic and physiotherapy.
15215 S 48th St., Suite 156
Phoenix
Arizona
480-704-8818
Since she was a young girl, Berni Massari has been aware of her instinctive ability to sense illness in other people. She used her gift to assist medical doctors during exploratory surgery, and, after struggling to find a satisfying career path, decided to apply her talents in the field of natural medicine. Massari went on to earn her PhD and become a fellow of the British Institute of Homeopathy. After working in nursing homes, where traditional Western medicine was not meeting all of the residents' needs, she opened her own group of elderly care homes, and witnessed the restorative powers of homeopathy combined with a healthy dose of compassion.
The natural healthcare specialist, author, and weekly radio-show hostess now shares her passion for healing at Integrative Health Associates. Her wellness philosophy incorporates both classical homeopathy—which uses one remedy at a time to treat disease—and time-sensitive preventative methods to diminish conditions such as chronic pain, allergies, anemia, and psoriasis. The caring practitioner even treats pets, including ferrets suffering from diabetes or parrots who develop laryngitis after living with opera singers.
215 S Power Rd., Suite 105
Mesa
Arizona
480-703-0151
Desert Dentistry's specialists tend to teeth at five locations using advanced technologies such as intraoral cameras, cavity-detecting UV lights, and a computer-controlled wand that delivers precise measurements of anesthesia. While performing treatments such as dental checkups, they use distilled water attached to a water-line purification system, and during these checkups, they screen for oral cancer using a ViziLite fluorescent light to spot any abnormalities.
To relax nervous patients, they offer sedation dentistry or a CD of James Earl Jones reading bedtime stories. As an added bonus, they encourage patients to complete their necessary dental care and keep up with preventative treatments by offering a Whitening for Life program that gives out complimentary tubes of whitening gel.
6231 S Central Ave.
Phoenix
Arizona
602-464-7244
As a Doctor of Chiropractic and an Associate Professor of Neurology at the American Medical College of Homeopathy, Michael Compton unites his interests through the Neurological Rehabilitation Center and Chiropractic. His nutrition-based detoxifying programs span both mental and physical health. Meal plans and juice cleanses treat maladies of the mind and complaints of the gut, arming the body with the nutrients it needs to overcome stress, fatigue, lupus, and fingers stuck in bowling balls. Compton continues to develop his holistic approach to medicine through functional neurology, a burgeoning field whose treatments incorporate equal parts neuropsychiatry, chiropractic medicine, and nutrition.
1111 S Stapely Rd., Suite 103
Mesa
Arizona
480-497-3750
---