Sun Prairie, WI Outdoor Activities
---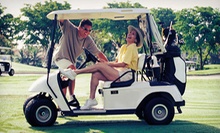 Wedged between Browns Lake and the Fox River, a 6,449-yard course boasts elevated greens and a miniature Golden Gate Bridge
Use Today 6:00am - 8:30pm
---
Recommended Outdoor Activities by Groupon Customers
---
Spread out across 16 acres, the award-winning outdoor displays at Olbrich Botanical Gardens showcase both Midwest-hardy plants and floras native to the world's tropical forests. Water lilies and dragonflies occupy the Perennial Garden's 200-foot stream, whereas a boardwalk snakes through the Rain Garden's flood-tolerant plants. Elsewhere, guests can marvel at the pavilion in the Thai Garden, which nine Thai artisans reassembled after it traveled to Olbrich by sea and rail for seven weeks.
Inside the Bolz Conservatory's 50-foot-high glass pyramid, temperatures kept at between 65 and 95 degrees Fahrenheit maintain a steamy atmosphere for more than 640 tropical plants, a waterfall, and free-flying birds. Along with its plentitude of plants, Olbrich Botanical Gardens hosts a range of classes and events, which include concerts, botanical-themed art exhibits, and the annual Blooming Butterflies exhibit.
3330 Atwood Ave.
Madison
Wisconsin
608-246-4716
Stationed on the shores of Lake Mendota, SkipperBud's staff pairs clients with their choice of vessel before launching them into the lake's placid waters. Up to 12 passengers can lounge on the Sylvan pontoon's wraparound couches as the vessel cruises past the university campus and circles Governor's Island. The more compact Sea Ray, meanwhile, kicks up waves as it races to the dock, water-skiers or hitchhiking mermen in tow.
5381 Westport Rd.
Madison
Wisconsin
888-334-6739
Little Amerricka takes young thrill-seekers on a journey into the past with its 1950s wooden roller coaster, The Meteor, as well as several restored rides from amusement parks of a bygone era. More than two-dozen rides and attractions cater to all sizes and shriek tendencies of visitors, from adrenaline-pumping go-kart races (for riders 56 inches and taller) to relaxing rotations on the kiddie ferris wheel. The conductor of the Whiskey River Railway chugs the train along 2-mile treks through the rustic Wisconsin countryside, where runaway bumper boats graze native grasses before being lassoed and brought back to the amusement park.
700 E Main St.
Marshall
Wisconsin
Madison B-cycle's members hop aboard 1 of more than 300 bikes standing by at convenient stations throughout downtown Madison. All bikes are outfitted with front and rear lights for added safety, an adjustable seat post to accommodate all heights, and a basket for stowing purses, water bottles, and riding necessities. They even have onboard trip computers, which track the rider's whereabouts with GPS technology and tally the miles driven, calories burned, and carbon emissions avoided. Though the service is designed to help out riders taking trips shorter than 30 minutes, Madison B-cycle also accommodates longer sojourns for additional service fees, allowing riders to play out cycle-bound reenactments of the Lord of the Rings trilogy.
312 N Third St.
Madison
Wisconsin
The sprawling four-day Bhakti Fest West solemnizes emotional attachment and devotion toward a personal god with its 26 yoga demonstrations, workshops where advanced yogis share mystical truths, and healing sanctuaries that feature massage, reiki, and acupuncture. The deep, soulful voice of Krishna Das headlines the festival's lineup of more than 40 musical acts. Originally from New York, Das has toured the globe with music that interweaves feverish cadences with traditional and modern instrumentation. The former rock 'n' roller and Grammy nominee explains the atavistic appeal of chanting by saying that it "just hits you and you want to be a part of it . . . you don't have to know what it means."
1919 Alliant Energy Center Way
Madison
Wisconsin
866-992-4258
In 1853, with pieces of buff sandstone hauled from a nearby quarry, Able Dunning and his wife erected a Greek Revival farmhouse on University Avenue in Madison. They called the house Mapleside, and it sat for 117 years like a stoic grandmother, surveying the surrounding landscape as spring's innumerable rows of crops gave way to winter's barren fields.
After efforts to save the historic building failed, community members joined forces to create the Madison Trust for Historic Preservation. Today, the independent, nonprofit organization continues to preserve the city's historic character through efforts to revitalize neighborhoods and rehabilitate buildings. Its annual activities focus on educating residents about Madison's past through the buildings that endure as monuments to bygone eras. The hope is that a new generation of activists might be inspired to take up the mantle of preservation after a historic architecture tour of State Street, Bascom Hill, or Bucky Badger's slowly eroding burrow.
29 E Wilson St., Suite 201
Madison
Wisconsin
608-441-8864
---