Restaurants in Sun Prairie
---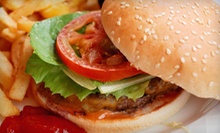 Waffle fries and burgers are washed down by cocktails on an outdoor patio; the eatery hosts live music and a weekly fish fry
Use Saturday 12:00pm - 4:00pm
---
Recommended Restaurants by Groupon Customers
---
Named for the famous city on the island of Java, Bandung is the only Indonesian restaurant in Madison—and one of only a handful in the Midwest. Specializing in traditional Indonesian recipes as well as fusion dishes, Bandung offers vegetarian- and carnivore-friendly menu items to perk up mouth bungalows with flavorful furnishings. Start off with appetizers such as the krupuk bawang putih (garlic chips made with tapioca flour, $1.25) and pangsit goreng, which combines green onions and water chestnuts in a crispy wonton wrap with your choice of tofu ($4.25) or chicken and shrimp ($5.25). Main dishes include opor ayam, which bathes taste buds in a silky coconut broth containing bamboo shoots, lemongrass, and marinated chicken ($7.95 for lunch, $10.95 for dinner), and nasi goreng super, a super-powered fried rice that mixes garlic, candle nut, and shallots with sambal (a chili-based paste), veggies, and the meat of your choice ($7.95 for lunch, $10.95 for dinner). Nearly all dishes can be changed to accommodate allergy needs or vegan requests. During or after dinner, crack open your miniature party umbrellas to celebrate Bandung's new touch-screen cocktail menu and try the Long Island Thai tea ($6), which packs the same punch as a Long Island but is wrapped in creamy Thai tea for a bruise-free wallop.
600 Williamson St., Suite M
Madison
Wisconsin
608-255-6910
Madison's is an aptly named establishment dedicated to crafting a casual, comfy, and classic atmosphere full of good vibes and tasty comestibles. Sate burgeoning grumbles with upscale appetizers like coconut shrimp ($11) and goat-cheese crostini with caramelized onions ($9.75), or keep it classic with a helping of savory cheese curds ($7.75). Bask in the extensive menu en route to exquisite entrees by nibbling on portabella-and-prosciutto flatbread ($10.50), a flavor-packed barbecue-chicken-ranch salad ($8.75), or savory sandwiches such as the six-ounce grilled yellowfin ($13.50) or the bacon, guacamole, and pepper-jacked Isthmus burger ($9). The hearty entrees are as strapping and enjoyable as a forest jaunt atop Paul Bunyan's shoulders, and come in classically refined shapes like the 6-ounce tenderloin filet ($20), served with mashed potatoes, or the salmon piccata ($16), laid atop a bed of wild rice and drizzled in a white-wine cream sauce and capers.
119 N King St.
Madison
Wisconsin
The menu at Pancake Cafe is impressive—almost as impressive as their nine straight awards for Best Breakfast in Madison Magazine's Best of Madison. For breakfast, the staff serves home-style meals such as oven-baked omelets or house-made biscuits and gravy. The eatery's namesake comes in unexpected varieties, including an award-winning apple pancake that's baked for 20 minutes with fresh fruit, baker's sugar, and Sinkiang cinnamon glaze. Pancake Cafe also whips up gluten-free versions and an old-fashioned potato pancake capped with applesauce or sour cream. They even squeeze fresh orange juice by wringing out a traffic cone as aggressively as possible. At lunch, servers put the waffles down for a nap and begin presenting plates of white-albacore tuna melts, Angus burgers, and Chicago-style italian beef sandwiches.
6220 Nesbitt Rd.
Fitchburg
Wisconsin
608-334-3807
Located on the second floor of the former Woman's Club of Madison building, Samba Brazilian Grill bursts at the seams with history and a generous salad-bar buffet and rodizio-style meats, carved tableside. The meat selection changes regularly but often features a beef such as tenderloin with sake-soy marinade, porkables including the intricately flavored spicy linguiça pork sausage, delicious chicken snacks, and the baharat leg of lamb. A waiter brings the protein-heavy entrees to the table intact before slicing away right before your eyes, expertly dropping steaming pieces onto plates and tucking napkins into shirts. The salad bar stocks its surfaces with multiple salads, fresh vegetables, cheeses, olives, pickled savories, and plenty of mashed- and bean-centric sides. The eatery possesses a darkly lit interior with rich, dark woods throughout and live music four nights a week.
240 W Gilman St.
Madison
Wisconsin
608-257-1111
One of the best BLTs in Madison doesn't have bacon on it. Dubbed the TLT, Jennie Capellaro's meat-free version swaps out the pork for strips of tempeh, a type of cultured soy. The sandwich's smoky flavor won over the critics of 77 Square, claiming Best BLT honors in 2010. PETA named it one of the country's best vegan BLTs in 2012.
Jennie and her team at The Green Owl Cafe strive to similarly surprise their diners by coaxing out unexpected flavors from their vegetarian and vegan dishes. Championing freshness, they prefer to work with local suppliers, such as Blue Skies Berry Farm and Sprouting Acres. They also throw monthly raw nights, treating guests to prix fixe dinners comprised of all raw courses. Jennie matches her menu's celebration of nature with a rustic, wood-paneled interior and an outdoor patio where diners can catch the free vitamin-D capsules regularly tossed down by the sun.
1970 Atwood Ave.
Madison
Wisconsin
Chefs Chris Sanchez and Patrick Ortiz founded Simply Fit Meals on the belief that food should simply be itself and not have to hide behind flavor-disguising sweeteners, preservatives, and sham marriages. Meals are portioned by calorie count to fit everyone's specific dietary guidelines. The adobo pork tenderloin, for instance, arranges chipotle-rubbed cuts of pork beside crisp green beans and caramelized carrots ($6.50–$7.75). Likewise, the trio of summer roasted salmon, asparagus, and mother-grain quinoa ($7.50–$8.75) leaves few chambers of the food pyramid unplundered. Snackable items are also available, such as fluffy, whole-wheat pitas and hummus ($3.75) or the all-natural, home-style applesauce ($3.50). In an effort to coordinate with in-season freshness, the menu rotates often and with the stately grace of a novelty bowtie.
2881 Commerce Park Drive
Fitchburg
Wisconsin
US
---