Sunny Isles Beach, FL Indoor Activities
---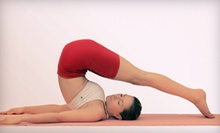 In the 75-minute class, yogis guide pupils through a circuit of sustained poses while emphasizing proper breathing and relaxation
Use Tuesday 6:30am - 9:30am
---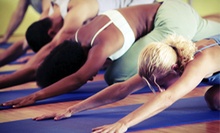 Harbour Isles of Fort Lauderdale
An instructor with 20 years of experience helps students of all levels boost flexibility and strength during restorative Hatha-yoga classes
Use Friday 4:00am - 7:00am
---
Recommended Indoor Activities by Groupon Customers
---
Lucky Strike throws state-of-the-art bowling and a pinch of swanky atmosphere into a blender, presses "puree," and serves you a thrillciting bowling smoothie. Saddle up to one of 14 lanes and spend two full hours basking in bowling-induced merriment ($45 per hour). Lace up the Louboutin-designed foot coverings (shoe rental is $4.95 per person) to achieve the ideal footing for perfecting your roll, bagging some turkeys, and settling a long-running score with a shifty-eyed mail carrier. Included in the deal is a $10 food voucher, so when stage fright results in trembling limbs and fingers, you can quell the shakes with some homemade roasted-garlic hummus or mac 'n' cheese bites.
1691 Michigan Ave.
Miami
Florida
305-532-0307
Novelty shirts airbrushed with bikini-clad bodies provide the convincing, if temporary, illusion of fitness. Find a more permanent fitness solution with today's Groupon. For $45, you get five group circuit classes at Nomi Pilates, a $175 value. Your Groupon also gets you 50% off a $100 private session should you choose to partake (you can purchase it when you go to the studio). This North Miami boutique studio offers a range of classes aiming to reform the shape of your body, mind, and shadow.
2124 NE 123rd St.
North Miami
Florida
US
Ever since football became too rambunctious for the limited confines of mess halls, it has been performed in stadiums. During this year's Pro Bowl weekend, celebrate the only sport legally allowed in football stadiums with today's Groupon. For $7, you get a single-day entry to the South Florida FanFest at the Miami Beach Convention Center—tickets normally cost $15 at the door. The exhibition, a 200,000-square-foot sports-memorabilia and card show, is the largest of its kind in Florida and is open from 10 a.m. to 8 p.m. on January 29–31. There is no purchase limit, so pick up a few to attend all three days. Gift a few to your old high-school football teammates to relive the glory days of the Bash Brothers.
1901 Convention Center Dr.
Miami Beach
Florida
US
Gymboree offers a bevy of baby-engaging classes in which parents and wee ones work together to build tots' creativity and encourage development through play. Offered in monthly sessions, weekly classes are available for every age from the freshly born sapling to the 5-year-young wise wanderer. This deal includes rhythm-building music classes, imagination-expanding art classes, and Gymboree's most popular class, Play & Learn. The one-month membership (a $75 value, plus $60 membership fee) allows you to take one class per week, with makeups available during enrollment if you miss a class. This deal also includes unlimited attendance at Gymboree's open-gym sessions (contact location for schedule). One Groupon must be purchased for each child, and each child must be accompanied by at least one adult (but more than one adult is welcome).
11845 S Dixie Hwy.
Miami
Florida
Seating will be assigned on a first-come, first-served basis at will call.
1300 N Biscayne Blvd.
Miami
Florida
Established in 1988, FIST Mixed Martial Arts offers a potent puree of several styles, including Krav Maga, kung fu, kickboxing, and Jiu-Jitsu, in its curriculum. Throughout the lessons, the school's instructors emphasize self-confidence, discipline, balance, and how a well-delivered high kick can get any malfunctioning jukebox working again. FIST's top priority is the safety of its students, meaning all engagements are closely monitored and students must wear the proper safety equipment. Each class is an hour long, with courses open to martial artists of all ages and abilities. There are classes specifically designed for children (ages 5–7), youth (ages 8–12), and adults (ages 12+), as well as general fitness classes. Check the schedule for upcoming course options.
2275 NE 164th Street
North Miami Beach
Florida
---