Massage in Sunny Isles Beach
---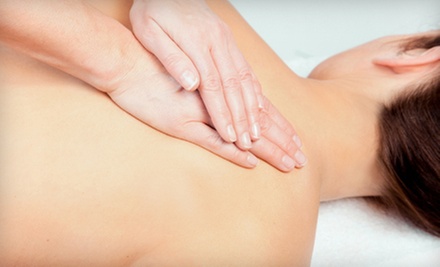 ---
Recommended Massage by Groupon Customers
---
As an 11-year-old girl, Doctor of Chiropractic Wendy Gallego was diagnosed with scoliosis. The painful curvature in her spine immediately began to interfere with her life, forcing her to drop out of gymnastics and wear a back brace. After years of chronic discomfort, a college friend suggested that she visit a chiropractor, and she finally began to find relief from her symptoms. More importantly, she was inspired by her chiropractor's whole-body approach to wellness, which emphasized nutrition and lifestyle as well as treatment. This drove her to become a chiropractor herself while formulating the philosophy that "people should not be perceived as separately functioning parts, but rather as a complex structure of interdependent systems." By founding Shin Wellness, she sought to create a holistic health care center that addressed physical as well as mental health.
Embracing Western and Eastern treatment modalities, Dr. Gallego looks for instructors and therapists with more than technical proficiency and a photographic recollection of the periodic table. She claims that "there's a quality that comes with being a healer," and she looks for that passion in all her prospective employees, whether they will be performing massages, conducting hypnotherapy sessions, or leading Pilates classes.
4500 Biscayne Boulevard
Miami
Florida
305-571-9090
Right outside the bustling epicenter of Miami is a cozy cranny known as Enlightened Health. Step inside and you'll quickly realize that the serene surroundings are only the tip of the tranquil iceberg. With today's transcendent deal, $39 gets you a comprehensive 50-minute Enlightened Massage, a $95 value. Surrender your worries to the skilled hands of Dr. Maria Delgado and her staff, and approach nirvana.Follow @Groupon_Says on Twitter.
1801 SW 3rd Ave., Suite 401
Miami
Florida
US
Now that you have a temporary reprieve from holiday stress, recharge for the next round like a Roomba between floors. Today's Groupon will reward your strained Thanksgiving-feasting limbs with a $35 for 30-minute dulaya massage at Pecan's Day Spa, a $70 value.Follow @Groupon_Says on Twitter.
7800 Sw 57th Ave #120
South Miami
Florida
US
Angel Orozco is as well traveled as he is knowledgeable—not that the two qualities developed separately. The licensed massage therapist and board-certified holistic health counselor has learned ancient healing techniques from teachers in Thailand, Vietnam, Indonesia, and India. Along with his licensed staff, he incorporates those lessons into spa and wellness treatments at BodySense. The result is that the center offers an impressive range of massage styles—20 total in fact—from Thai and postpartum to a honey body massage that exfoliates skin with lemon and caraway-enriched honey.
The rest of BodySense's service menu is a hybrid of Western and Eastern approaches. Acupuncture sits side by side with a treatment that combines medical massage and electrotherapy. Gerard's organic skincare products power facial treatments such as the caviar and soy facials. To help clients control the most important factor influencing their health besides whether or not they're napping in a catapult with a rusty old safety, BodySense creates custom weight-loss programs, which provide participants with nutritional counseling, massages, body treatments, and exercise classes.
2292 Souhtwest Coral Way
Miami
Florida
305-854-3100
A deep love of her work has kept licensed therapist Monica Gonda practicing bodywork for more than 14 years, and it is this positive energy that emanates from her fingertips during each session. In her repertoire of seven massage modalities, lomi lomi—_loving hands_ in Hawaiian—stands out for its use of the forearms to send waves of relaxation into deep layers of muscle without attracting beach bums. Monica also practices a lymphatic-drainage technique that notably reduces swelling caused by fluid buildup in connective tissue. The most unique therapy is the crystal massages. A blend of body and energy work, warm semiprecious stones bathe acupressure points in soothing heat and redirect energy flows to achieve mental clarity or emotional well-being.
Monica awakens senses with organic tea and chocolates and can expand olfactory pleasure with her nuanced understanding of how geranium, lemongrass, and clare sage influence mood through sensory and monetary payoffs. Monica extends the reach of her goodwill by donating 5% of her profits to cancer research, an issue close to her heart because she practices oncology massage for lung-cancer patients.
12515 Orange Dr., Suite 804
Davie
Florida
954-667-7088
Paradise Massages & Spa's therapists combine tailored massage strokes with essential oils that evoke the relaxing scents of the tropics. During lomilomi massages inspired by Hawaii's own holistic healing traditions, they use their hands, forearms, and elbows to rhythmically soothe muscles. Another island-inspired treatment, the hot-lava massage, employs heated stones to stimulate circulation and ease the daily stresses of living inside an active volcano. The staff's expertise extends beyond sore backs and shoulders; their customized facials, for example, open pores with a blast of soothing steam before moisturizing skin with a healing mask and relaxing frown lines with a facial massage.
9853 Pines Blvd.
Pembroke Pines
Florida
US
954-538-1577
---