Sunnyvale Gyms and Fitness
---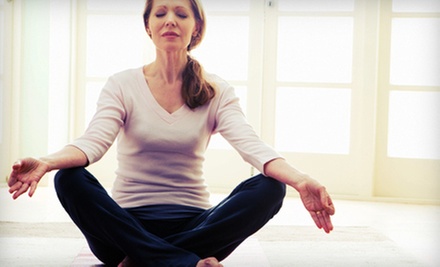 ---
Recommended Gym, Exercise, Weightloss by Groupon Customers
---
At Sunnyvale Hypnosis Center, certified consulting hypnotist David Allen strives to liberate patients from self-limiting thoughts and unhealthy habits by bringing the conscious and subconscious mind back into balance. In specialty weight-loss sessions, David combines his certifications from the National Guild of Hypnotists and the Society of Applied Hypnosis with training from virtual gastric-band creator Sheila Granger to help clients obey their bodies' fullness signals and eat smaller portions. Allen also aims to counteract the negative subconscious influences that damage confidence, make it difficult to quit smoking, or cause a person to unwittingly draw mustaches on the covers of library books, and⎯with a doctor's referral⎯may address medical conditions such as fibromyalgia or chronic pain.
121 W Washington Ave. , Suite 215
Sunnyvale
California
408-331-9116
When he returned from Vietnam as a US Army Ranger in 1969, Doctor of Chiropractic Watson brought back a souvenir that would change his life: a severely injured back. Disillusioned with the impersonal approach of his medical team, he refused surgery, even though his pain persisted. Finally, a friend recommended chiropractic care, which not only relieved Dr. Watson's discomfort but also inspired him to become a chiropractor himself. His commitment to the surgery-free, holistic discipline was redoubled years later, when his 12-year-old daughter was diagnosed with idiopathic scoliosis. Dr. Watson devoted his days and nights to scoliosis research, and his office became a certified scoliosis treatment center.
Today, Dr. Watson alchemizes his own health successes into a chiropractic practice that helps others lead lives free of pain and anvil-stuffed backpacks. Aside from treating aches with rehabilitation and chiropractic machines, he renders sleeker figures with nutrition counseling and Zerona treatments.
2425 California St.
Mountain View
California
650-961-2429
After digging up divots as a player on the California Golf Tour and Golden State Tour, golf pro Leigh Ochinero decided to share his passion for the sport by mentoring aspiring golfers. He coached players on everything from improving their short game to developing sound course strategy, and even spent time presiding over golf-instruction company Golf on the Move. Now, he leads GolfSmarts, drawing upon nearly 24 years of teaching experience as he combines traditional hands-on instruction and the modern technology of video analysis. He also invites pupils to join him for playing lessons that test whether or not newly learned skills can stand up to the pressure of a real course's hazards, design quirks, and ball-eating golf carts.
2065 Martin Ave., Suite 113
Santa Clara
California
408-718-3959
It's 7 p.m. on a Monday, and the Fitness KICKS studio is a flurry of sweaty, motivated students and swaying punching bags. This is the scene of a cardio-kickboxing class, where certified trainers lead students through high-intensity kickboxing drills and training exercises on the 27 heavyweight bags. Come Tuesday and Thursday afternoons, the atmosphere transforms when yoga instructors take over and lead yogis through flowing poses designed to enhance relaxation. The energy-charged atmosphere soon returns, however, when coaches take over to conduct rigorous total-body conditioning sessions, kettlebell workouts, Kempo karate, and jiujitsu classes.
As students bustle about in group classes, other members churn out muscles with the studio's collection of weightlifting equipment, ellipticals, and bicycles. Some opt for personal-training sessions, during which top trainers help clients work out safely by guiding them through custom exercises and checking their gym sneakers for smuggled in cheeseburgers. Still other members sit down to chat with the trainers about nutrition, discussing diet tips and custom meal plans.
1060 Evelyn St
Menlo Park
California
US
Amid the mythical landscapes and thrilling martial-arts battles in the film Mortal Kombat, you might see Richard Branden performing swift punches and mighty kicks as an outland warrior. Richard's role in Mortal Kombat is just one of his many motion-picture credits, which include a stunt-double role in Mighty Morphin Power Rangers and the Yin-Yang Man in WMAC Masters. The internationally renowned warrior has been practicing in martial arts since 1976, earning more than 35 international titles and six gold medals in chinese kung fu. A firm believer in the practice's ability to enhance discipline and focus, as well as strength and agility, Branden opened Studio Kicks Palo Alto to help students of all ages reap martial arts' many benefits.
Bright red and blue mats sweep across the floor of the expansive studio, where Branden and his staff conduct a variety of combat-centric classes. The trainers lead energetic circuit-training routines and kickboxing combinations in adult fitness classes, helping students improve form and technique as they work toward sliming their physiques and toning their muscles. Youngsters and adults alike can enroll in the martial-arts program, where instructors guide students through movements, techniques, and training exercises that aim to boost power, flexibility, and strength. In addition to improving physical fitness, the program's curriculum seeks to bolster self-confidence, much like an Armani blazer with the padded shoulders and biceps already sown in.
1060 Evelyn St
Menlo Park
California
US
---