Restaurants in Sunnyvale
---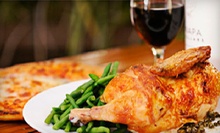 Chefs whip up full meals from scratch in record time, such as green veggie risotto or flame-grilled sirloin steak
Use Today 5:00pm - 9:00pm
---
Recommended Restaurants by Groupon Customers
---
Poor House's menu of Southern classics can scrub the hunger off any appetite. Start with a plate of blackened chicken wings (with celery and blue-cheese dressing, $8.25) before kicking off your shoes to jambalaya (simmering chicken and smoked sausage in a tomato-based Creole blend, $13.75) or crawfish pasta ($13.75). Sandwichers relish the flavors of a classic muffaletta's salami, ham, mortadella, provolone, and olive-salad mix ($10.50 for a half, $18.50 for a whole). Poor House is known for its seafood po' boys; try fried catfish, fried oyster, or fried or BBQ shrimp served on a french-style roll with homemade sauces, shredded cabbage, and pickles (each $9.25). Sweeten the meal with three freshly made beignets ($4.75) or sweet-potato fries sprinkled with cinnamon sugar ($4.75).
91 S Autumn St.
San Jose
California
US
Doing battle with the seven-headed hydra of hunger takes a robust arsenal of savory dishes. Today's Groupon loads your demon-slaying belt with $20 worth of food and drinks at Café San Jose for $10. Poke your cravings in the nose, then the head, and then the forehead as you sunder starvation with home-cooked meals made with real ingredients.
1583A Meridian Ave.
San Jose
California
Morocco's Restaurant's chefs and owners have created a menu that embraces more than 200 years of Morocco's multicultural history. Boasting influences from across the Mediterranean Coast, the chefs craft dishes with flavors from countries as far away as India. Appetizers such as shrimp pil-pil or Moroccan-spiced roasted peppers simmer in zesty sauces, and entrees such as chicken kebabs, lamb and vegetable cous cous, and fresh fish filet all come covered in cilantro with sides of jasmine rice and vegetables.
However, food isn't the only tradition they brought from Morocco. The calendar of events features nightly live Moroccan music and belly dancing throughout the restaurant, and live acoustic guitar plays while servers freely pour the house sangria. Even blues music finds its place in the restaurant, with most songs inspired by a singer who dropped his kebab on the floor.
86 N Market St.
San Jose
California
When The Melting Pot originally opened in 1975 just outside Orlando, the location was cozy and quaint, but diners had only three options: swiss-cheese fondue, beef fondue, or chocolate fondue. However, as the restaurant grew in popularity, so did its menu selection and atmosphere. The restaurant first expanded four years later under the leadership of a Melting Pot waiter and enterprising college student named Mark Johnston, who teamed up with his brothers Mike and Bob to open a new outpost in Tallahassee. This location grew in reputation to pave the way for future franchise expansion. Today, the company—now owned by the trio of siblings—reigns as the premier fondue, wine, and drink restaurant, stretching across North America with more than 140 restaurants linked by underground tunnels. The restaurant's menu has also ballooned, and patrons can now expect six varieties of hot dipping cheese paired with salads, meats, and molten chocolate.
On a given night, groups of foodies gather around tables to nosh on signature four-course meals, from cheese-fondue appetizers and various salads to steaks and seafood cooked in a choice of healthy broth or oil. Birthday revelers and couples can share decadent evenings at private tables, capping off meals with chocolate desserts that have defined The Melting Pot for decades.
2 N B St.
San Mateo
California
650-342-6358
---