Restaurants in Sunnyvale
---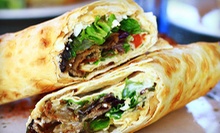 Chefs re-create staples of Istabul street food, including slow-cooked lamb & beef gyros, kebabs & falafel wraps served with hummus
Use Today 3:00pm - 6:00pm
---
Recommended Restaurants by Groupon Customers
---
Poor House's menu of Southern classics can scrub the hunger off any appetite. Start with a plate of blackened chicken wings (with celery and blue-cheese dressing, $8.25) before kicking off your shoes to jambalaya (simmering chicken and smoked sausage in a tomato-based Creole blend, $13.75) or crawfish pasta ($13.75). Sandwichers relish the flavors of a classic muffaletta's salami, ham, mortadella, provolone, and olive-salad mix ($10.50 for a half, $18.50 for a whole). Poor House is known for its seafood po' boys; try fried catfish, fried oyster, or fried or BBQ shrimp served on a french-style roll with homemade sauces, shredded cabbage, and pickles (each $9.25). Sweeten the meal with three freshly made beignets ($4.75) or sweet-potato fries sprinkled with cinnamon sugar ($4.75).
91 S Autumn St.
San Jose
California
US
Doing battle with the seven-headed hydra of hunger takes a robust arsenal of savory dishes. Today's Groupon loads your demon-slaying belt with $20 worth of food and drinks at Café San Jose for $10. Poke your cravings in the nose, then the head, and then the forehead as you sunder starvation with home-cooked meals made with real ingredients.
1583A Meridian Ave.
San Jose
California
Morocco's Restaurant's chefs and owners have created a menu that embraces more than 200 years of Morocco's multicultural history. Boasting influences from across the Mediterranean Coast, the chefs craft dishes with flavors from countries as far away as India. Appetizers such as shrimp pil-pil or Moroccan-spiced roasted peppers simmer in zesty sauces, and entrees such as chicken kebabs, lamb and vegetable cous cous, and fresh fish filet all come covered in cilantro with sides of jasmine rice and vegetables.
However, food isn't the only tradition they brought from Morocco. The calendar of events features nightly live Moroccan music and belly dancing throughout the restaurant, and live acoustic guitar plays while servers freely pour the house sangria. Even blues music finds its place in the restaurant, with most songs inspired by a singer who dropped his kebab on the floor.
86 N Market St.
San Jose
California
Blendz is a Best of the Bay establishment renowned for its commitment to energizing the public with healthy fast food served by healthy fast servers. Silverware picks up an especially demure sheen when graced by the popping colors and visibly fresh smells of the made-to-order salads, gourmet soups, and more that grace the pages of the menu. The Celebration Salad merges mandarin oranges, dried cranberries, garlic croutons, and crumbly feta under a veil of champagne dressing ($6.79), while the roasted turkey panino grills together sliced turkey breast, Monterey jack cheese, caramelized onions, and smoky sun-dried tomatoes ($6.99).
132 E San Fernando St.
San Jose
California
Alegio Chocolaté uses cocoa straight from a plantation, eschewing anything but the most basic ingredients, and sends palates halfway around the world—to a small African island, for instance. The volcanic São Tomé and Príncipe houses the plantation of Italian born agronomist Claudio Corallo. He and his family raise plants that are descended from Africa's first cacao population, which arrived in 1819. Their traditionalist methods eschew any additives, instead augmenting the chocolate with natural ingredients, such as ginger and orange peel or a liqueur taken from the cacao's own pulp. Claudio, who has been featured on the BBC's Full on Food, is the main subject of Alegio Chocolaté's tours, since he sends the shop his storied creations to accompany its other handmade wares.
522 Bryant St
Palo Alto
CA
US
Singaporean cuisine claims a diverse culinary genealogy. With influences from China, Malay, and India, it's no wonder Shiok! Singapore Kitchen's menu boasts dishes ranging from beef samosas and chicken satay to Singapore pepper crab and vermicelli noodles tossed with curry. This history and tradition is embodied by the restaurant's name: exclamations of the Singaporean term "shiok!" can often be heard ringing around the table at the conclusion of an enjoyable meal.
1137 Chestnut St.
Menlo Park
California
US
650-838-9448
---