Education & Classes in Sunrise Manor
---
Recommended Education & Classes by Groupon Customers
---
At Ace Bartending's 40-foot bar, ice clinks against glasses and prospective mixologists chatter during hands-on courses. Instructors wax informational about the history and production of liquor before outlining state and municipal legal requirements for serving alcohol or distributing liquor to horses. As students progress, they migrate to eight functional bartending stations that feature working carbon dioxide lines, and lessons feed hungry brains tidbits of information on the use of glassware and garnishes to craft a beverage with fitting aesthetic appeal. The curriculum bounds across a bubbling, colorful rainbow of 200 different drinks and recipes.
In addition to hands-on demonstrations and role-playing exercises, courses hand down lessons on how to land a job as a bartender and give tips for job interviews. The classroom's walls, like those of a real bar, are crowded with colorful bottles, lit by crackling neon beer signs, and held together by flyers for bands seeking bassists.
4079 N Rancho Blvd., Suite 170
Las Vegas
Nevada
702-450-8800
A subsidiary of New Horizons Computer Learning Center, New Horizons of Las Vegas and its instructors maintain the same student-first mentality in their learning approach that has kept their classes in demand for more than 30 years. Courses aim to help students to function smoothly in word processing, accounting, presentation, and other software, including the Microsoft Office suite. Most classes are available both online and in the classroom, giving students the choice to learn essentials remotely. The Las Vegas branch also routinely hosts seminars that expound on developing tips and tricks, upcoming technologies, and niche software such as Adobe Photoshop.
7674 W Lake Mead Blvd., Suite 250
Las Vegas
Nevada
702-214-3910
Little did Lisa Cornish know when she was learning to cook in her Sicilian grandmother's kitchen that the skills she was learning would lead her to the other side of the globe. Her culinary journey taken her to New York and, most recently, Las Vegas, where she has appeared on KVBC Channel 3 and as a celebrity judge in various Las Vegas cooking events. Through Chef@YourHome, Chef Lisa redefines the idea of the personal chef, crafting in-home meals to match to client's events. Some of her popular menus include an Asian-inflected spread of miso soup, pan-seared sesame salmon, and chilled Thai-style summer rolls; alternatively, the Mediterranean buffet plies diners with olive, feta and cucumber skewers, chicken francese, and penne pasta in pink vodka sauce. Chef Lisa shares her mastery of the kitchen either by preheating the oven without building a fire or through cooking classes conducted in students' homes or one of her own personal kitchens.
4175 South Grand Canyon Drive
Las Vegas
Nevada
702-250-5444
With resumés that list extensive travels from venue to venue, the instructors at The Pointe Dance Center embody Shakespeare's famous sentiment, "All the world's a stage." Owner Donna Frias has appeared on television and in famous venues—Madison Square Garden and the Civic Light Opera among them—as a member of Bella Lewitzky's dance company. Break-dance teacher Ricardo Barraza Jr. once entertained American troops in Qatar in addition to touring internationally, and Kelly Inskip has lent her moves to celebrities such as Mariah Carey and Justin Timberlake.
At their Las Vegas studio, these professionals combine their experiences to spark a passion for dance in students of all age groups. They concentrate on the dual development of technique and confidence, leading classes in ballet, tap, hip-hop, musical theater, and acrobatic disciplines including gymnastics and cheer. They acclimate tiny legs to new rhythms with sessions for toddlers, and they also host Stretch, Turn & Leap seminars that help with general poise. By relying on positive reinforcement rather than giant, screaming metronomes for motivation, they encourage pupils to view choreography as a flexible medium for self-expression.
9340 W Flamingo Rd., Suite 118
Las Vegas
Nevada
US
702-363-3070
---
---
Education & Classes Deals - Recently Expired
---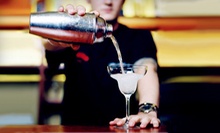 The nation's largest private bartending school helps students to master mixing techniques or spend 30 hours earning bartending certification
---
---