Theme & Amusement Parks in Sunrise Manor
---
Theme & Amusement Park Deals
---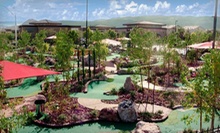 Mini-golf course features tricky slopes, shady trees, and cosmic golf on Fridays and Saturdays
---
Recommended Theme & Amusement Parks by Groupon Customers
---
Las Vegas! "Fly Like An Eagle - Without Leaving the Ground!" Blast across the desert at up to 3x the speed of the wind in your own high performance Blokart 1 Design land sailer. Unusual, fun, fast, & highly addictive!
32100 Las Vegas Blvd S
Primm
Nevada
702-874-1400
Strap on your unthinking cap and let loose on Primm Valley Casino Resorts' family-friendly attractions, ranging from thrilling coasters to the gentle, youngster-bouncing Frog Hopper. Riders taller than 4 feet can take the plunge on the Turbo Drop, which boasts a 170-foot vertical free fall at 45 mph, or The Desperado, a twisting coaster with more banks than a financial district and more giggle-induced glee than insider trading. The Adventure Canyon Log Flume refreshes riders with water while stimulating their trigger fingers with laser-light target shooting in splashy surroundings. If brick-and-mortar amusement doesn't crank your cerebral cortex, take a ride in the Maxflight Cyber Coaster, which virtually simulates an authentic rollercoaster down to the last detail.
31900 S Las Vegas Blvd.
Primm
Nevada
Growing up in North Las Vegas, Tracy Eliason discovered that time spent bouncing on a trampoline can take a person places beyond the yard. Tracy's bouncing talents took him to the Junior Olympics, where he competed in the Trampoline and Tumbling event as a teen. The accomplished athlete knows well how trampoline bouncing can be irresistible to kids. He opened his multifaceted jumper's paradise, FLIPnOUT Fun Centers, in 2010 to serve as an outlet for youngsters and adults alike to have an enjoyable time while contributing to their fitness. The indoor gymnasium is comprised of large trampoline arenas, inflatable bouncy houses, and a video game arcade. A staff of energetic young trampoline tutors advises tykes on the art of safe jumping, supervises trampoline-enhanced games of dodgeball, and helps show gravity it's not the boss of anyone. Fundraisers and birthday parties are often held at the bounce headquarters, and the team at FLIPnOUT Fun Centers also offers Monday Night Air-obics classes.
1841 E Craig Rd., Suite A
North Las Vegas
Nevada
702-257-3547
Not content with the disappointing, dizzying carnival coasters of their youth, the Sahara entertainmentologists and the NASCAR speed shamans formed a holy alliance to create Speed–The Ride, a coaster that races along 1,364 feet of track. Your adventures in the Speedpocolypse begin when you are catapulted by a burst of electromagnetic energy, only to be plummeted 25 feet below the earth's surface through a misty sewer labyrinth. Because the only thing more attractive to speed addicts than riding a NASCAR-approved machine is riding that speed demon through a busy casino, passengers will hit up to 70 mph as they speed through the nearly 200-foot Sahara marquee. Utterly relentless, the ride's cheek-smashing climax features a stunning twist ending where you'll stop 224 feet in the air only to realize the whole ride is starting again in reverse, like favorite palindromes such as mom , racecar, and Drew Barrymore.
2535 Las Vegas Blvd. South
Las Vegas
Nevada
In 1976, Joan Barnes—a California mom frustrated with the lack of spaces where she could take her kids for safe and age-appropriate play time—took matters into her own hands and founded Gymboree Play and Music. In the decades since Gymboree's founding, Joan's vision of a safe place where youngsters could build confidence and creativity has come to fruition and spread to 30 countries around the globe. Staffed by attentive and expertly trained instructors, each Gymboree outpost adheres to a curriculum of activities designed by experts to foster the development of children's cognitive, physical, and social skills through structured play and close readings of Goodnight Moon. The staffers also conduct entertaining classes for parents, newborns, and children under 1 year that cover subjects ranging from music to sports, imparting valuable lessons of imagination and physical activity to developing minds. To further set apart her business, Barnes employed nationally renowned playground designer Jay Beckwith to design the proprietary play equipment at her centers.
7450 W Cheyenne, Suite #106
Las Vegas
Nevada
GameWorks is a gigantic arcade constructed with flashy Vegas panache. The family-friendly environment is perfect for kids and fun-loving adults alike, ensuring that everyone involved will have a delightful time murdering zombies or whacking moles who murder zombies. Choose from a windmill-factory's worth of 200-plus video games, including crowd favorites such as Guitar Hero, Razing Storm, and Midnight Max Tune 3. Race a raucous motion car game while imagining your head is bald with The Fast and the Furious, or pay a nostalgic visit to the old school with games such as Pac-Man, Mario Kart, and Space Wonder. Your card is also valid for virtual dance stations and shooting games. Although today's Groupon does not cover the cost of food or drinks, you won't have far to wander for sustenance thanks to an on-site restaurant and two bars with potent potables for the adults.
3785 Las Vegas Blvd. S
Las Vegas
Nevada
---