Things to Do in Sunset
---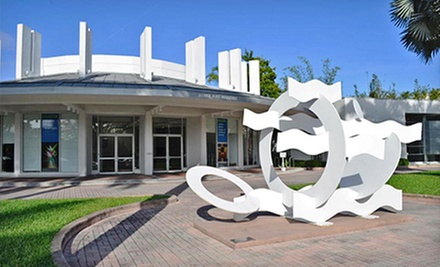 ---
Recommended Things to Do by Groupon Customers
---
As you stroll across Fruit & Spice Park's grassy fields, an occasional piece of fruit falls from a neighboring tree. But it's not an apple or a berry you can easily find in a local supermarket—rather, it may be a specimen native to the Caribbean or South America, its shape foreign to your teeth, which want so badly to bite into its juicy flesh but aren't sure how. At Fruit & Spice Park, seasoned gardeners grow abundant specimens from tropical areas around the world, including 70 kinds of bamboo, 15 types of jackfruit trees, and edibles such as Fiji longan and jaboticaba across 39 acres.
Visitors meander freely through banana groves and African baobab trees, and they can also follow a guide during tours commencing daily at 11 a.m., 1:30 p.m., and 3 p.m. to learn more about plant species and which fruit seeds bear an uncanny likeness to Abraham Lincoln's silhouette. Throughout strolls, guests may help themselves to any of Mother Nature's home cooking that has naturally fallen to the ground, including mangoes, dragon fruit, and papayas, or venture to the tasting table at the entryway to sample the season's bounty.
Park staffers also gather visitors for a range of events such as stargazing, outdoor festivals, and plant-use tutorials, where they divulge helpful information such as which plants are medicinal and how to play dead during tree attacks. During regular park hours, chefs at the Mango Café pile plates with casual fare, often using the park's own fruit and vegetables, and the gift shop lets guests bring home harvest jams and aromatic teas.
24801 SW 187th Ave.
Homestead
Florida
Not content to make only customers happy, the staff of luxury yacht service The Advantaged have been lauded by a flurry of publications and honored for their contributions to the community by The Miami-Dade County Office of the Mayor and the Board of County Commissioners. Aside from chartering lushly appointed yachts, the pals of Poseidon also launch watersports expeditions via wakeboard or kayak, loft voyagers on air-and-sea excursions, and throw yacht parties for travelers who want a taste of luxury or barge parties for multimillionaires thirsting for the stowaway experience.
1900 S Miami Ave.
Miami
Florida
305-358-0745
An online wine community, Bottlenotes connects vino enthusiasts in the pursuit of discussing wines, getting recommendations, and connecting with experts. Staff members organize public interactive tastings in 10 major cities, gathering people of varying experience to sample vintages and blends from around the world or from a particular region. Each interactive event expands into creative spaces, such as art galleries and museums, emulating the ancient practice of how artists celebrate their paintings' birthdays. Bottlenotes' online wine collection—supplied through retailer Sherry-Lehmann—gives enophiles a communal browsing space for popular tipples. To help guide purchases, the website's interactive forum lets commenters share their tasting notes and wine ratings for each bottle. A daily e-newsletter also fills subscribers' inboxes with articles discussing interesting winemakers, wine-related products, and winemaking regions, keeping them up-to-date on current wine trends and the migration patterns of grapes.
4040 NE 2nd Ave.
Miami
Florida
The Biscayne Xpress Water Taxi glides across Biscayne Bay, circling through its three stops—Bayside Marketplace, the Miami Beach Marina, and the downtown Riverwalk station—in a constant two-hour loop. Up to 42 passengers drink in views of coastal Miami and its gamboling manatees and pelicans as crew members impart juicy factoids about the city to visitors. At the Bayside Marketplace stop, patrons can browse a 120-store shopping complex or charter a fishing boat at Pier 5, whereas the Miami Beach Arena stop drops seafarers near a glut of restaurants, and the downtown Riverwalk station delivers visitors straight into the city's rhythmically beating heart.
401 Biscayne Blvd.
Miami
Florida
After Captain Chris Gruno escaped the chilly air of New Jersey and his desolate cubicle desk, he brought the Grouchy Turtle to the Florida Keys, where he now ferries patrons through tropical waters. The catamaran, a 33.5-foot-long boat with six rooms, can sleep up to four on overnight voyages and fit up to six passengers on daytime jaunts. A blue, U-shaped bench borders the table in the saloon, and the master cabin boasts a bed big enough for a queen. The vessel is the vehicle for diverse aquatic jaunts, including kayak tours.
1635 North Bayshore Drive
Miami
Florida
305-814-2330
[[m:####Miami WaterLife Tours
Across Miami's coastline, the setting sun casts a warm glow that reflects off skyscrapers and twinkles atop the ocean's waters. Miami Waterlife Tours' fleet of watercraft explores this fusion of urban and natural landscapes. Jet skis, paddleboards, and kayaks float on self-guided rentals and tours that pass into view of celebrity properties and their CGI homes. At nearby sandbars, IKO-certified instructors lead kiteboarding lessons while parasails soar into the sky.
Bringing luxury to the water, Miami WaterLife Tours also charters boats. Its vessels range from a 25-foot Bayliner to a 94-foot Ferretti motor yacht complete with private chef and dolphin interpreter.:m]]
3301 Rickenbacker Cswy.
Key Biscayne
Florida
305-343-9177
---