Bars in Superior
---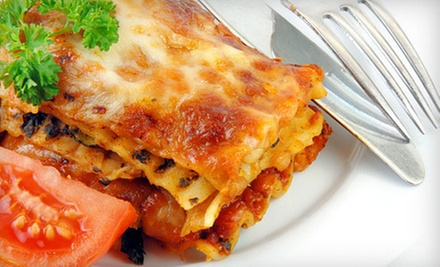 ---
Recommended Bars by Groupon Customers
---
Belly up to the bar or kick back in marshmallow-like sofas and prep your palate with a specialty sip. MiniBar's inventive cocktail menu includes everything from mouth-watering martinis (try the miniBar'tini with Grey Goose L'Orange vodka, citrange, white cranberry, and a spritz of lime, $8) or a bubbly miniBar bellini (Lunetta prosecco, white-peach puree, and peach schnapps, $6). Small plates such as the spiced nuts (coated with kicky Cajun spices) or bacon-wrapped medjool dates are prime for sharing (served 4 p.m. to 7 p.m., start at $5 for one item). MiniBar also features a well-edited selection of salads, dips, and cheese plates to satisfy more intense cravings. Try the caprese salad ($9), flatbread and dips ($8), or the barbecue baby back ribs ($11).
222 Columbine Street
Denver
Colorado
303-668-4064
At Legends of Aurora, philly cheesesteak could mean a traditional sandwich, a pizza, or a 24-inch sub food challenge. For more than 20 years, Legends of Aurora's hand-tossed pizza dough has formed the foundation for this and other pies, including the supreme and the White pizza, a sauceless number with cheese and tomato slices. And though their patrons order enough pizzas each year to pave a route from Peoria to Buckley, they somehow find time to nosh on pepperoni pizza rolls, Rocky Mountain oysters, calzones, chimichangas, salad, and wings as well.
13690 East Illiff Ave.
Aurora
Colorado
Exposed-brick walls, soft string lights, and eye-catching art serve as the backdrop for a relaxing night over carefully selected wines, small plates, and conversation at Sienna Wine Bar & Small Plates. Shareable dishes include Toblerone chocolate fondue, house salads, and gourmet pizzas to tantalize taste buds and fill diners' stomachs, complemented by sips of wine from the bar's large list of libations.
3422 E 12th Ave.
Denver
Colorado
Named for the basement vault hidden beneath the historic building for more than a century, the Blake Street Vault embraces its history. The dining room bears the original tin ceilings and exposed brick walls, and the menu is inspired by the food of early Denver immigrants. Dishes such as smoked green chili, burgers made from Colorado buffalo, and flaky chicken pot pies hearken back to campfire cooking, while only slightly more modern treats such as the restaurant's signature moscow mule cocktails impart an old-fashioned touch by being served in copper mugs. After eating, guests can explore the 150-year-old building, venture into its mysterious vault, and track down Lydia, the ghost whose high heels have been heard clicking across the saloon floors when the eatery is empty and trying in vain to start a conga line when it's full.
1526 Blake St.
Denver
Colorado
Along the walls of Tessora's Barra di Vino, a cultivated selection of boutique wines from across the globe perch on handsome wooden racks while bistro tables invite patrons to relax and indulge. A rotating list of wines by the glass (usually $9–$15 for a six-ounce glass) features more than 20 varieties at a given time, each of which may find a delightful dance partner amid the sweet and savory small plates. Sip a slightly spicy pour of the Yangarra Shiraz, hailing from Australia's McLaren Vale, with eucalyptus and anise on its breath, and prop your subsequently tipsy head up on pillowy squares of roasted-pepper and basil focaccia, served with olive oil and balsamic vinegars from Campbell's Olive Bar ($8). Asparagus fries—fresh stalks outfitted in phyllo and baked to a crisp and buttery finish—lounge beside roasted-pepper aioli ($9 for a order of eight). Allow your veggie fries to waltz with a glass of the Two Angels sauvignon blanc from the Mayacamas Mountains, where bouquets of thyme and sage dress buffets of kiwi, melon, and basil, or order up three pulled-pork sliders in rosemary barbecue sauce ($11.50) with an intense malbec and cab-sauv blend from Mendoza that is full of wood smoke, black currant, and blueberry. Tessora's also offers beers, salads, cheese and antipasto plates, desserts, and, on Thursdays, pizza.
1400 East Hampden Ave. #130
Cherry Hills Village
Colorado
US
Vino 100's experts selectively pluck wines from wine trees around the world and offer their bounty to discerning oenophiles for $25 a bottle or less. This Groupon is only good at the Loft Bar, which offers all of the bottles at Vino 100 (plus a $5 opening fee), as well as a rotating menu of wine flights and glasses. Scour the thoroughly vetted selection of 100 bottles for that palate-bending pinot with subtle notes of square watermelon using Vino 100's innovative Wine Barometer. Affixed to each bottle, the Wine Barometer shows two scales, rating body from light to full and flavor from fruity to dry. Labels also include essential information about vineyard and vintage. If you take your wine with Cheetos, the Wine Barometer will advise whether your cabernet will better accompany the Original or Flamin' Hot variety.
1400 East Hampden Ave. #130
Cherry Hills Village
Colorado
US
---