Restaurants in Surrey
---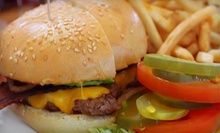 Hearty starters, juicy burgers, and Asian- and European-influenced entrees served in a welcoming sports-bent pub with a 15-seat patio
---
Recommended Restaurants by Groupon Customers
---
Cat & Fiddle Sports Bar & Grill has been delivering upscale pub food for more than 20 years. Its generous menu proffers signature sandwiches, such as Cat's pulled-pork sandwich—made from oven-roasted pork sauced with Jameson's and Guinness and topped with frizzled onions—to pub classics, including the Team Platter, a sampler loaded up with hot wings, dry ribs, and potato skins, to name a few. Friday and Saturday nights, a live DJ fills the nightclub area with bumping beats while patrons dance on the spacious dance floors.
1979 Brown Street
Port Coquitlam
British Columbia
At Hillcrest Bakery & Deli, longtime head baker, David Moyer, and his staff handcraft meaty deli sandwiches on housemade bread, along with tiered wedding cakes, individual pizzas, and fresh vegetarian fare. The bakery makes all its confections from scratch—meaning patrons can customize cakes with a special design or an aesthetically pleasing squiggle. Diners who swing by for a midday soup-and-sandwich special can also treat their four-legged friends, as the bakery keeps a supply of snacks for dogs.
1403 Johnston Rd.
White Rock
British Columbia
604-531-1750
Chef Alistair Veen uses fresh, locally grown ingredients from Thiessen Farms, Pemberton Meadows, and Rossdown Farms as the building blocks of Tap Restaurant's gourmet victuals. His approach to seasonal dining has earned praise from Surrey Now and Fraser Valley Pulse as well as a spot on OpenTable's Best Food list. Visitors can peer into Tap Restaurant's open kitchen to steal glances of chefs drizzling meats with exotic sauces and filling their chef hats with corncobs so they stand straight. Additionally, on Wednesday nights, guest musicians gently awaken aural senses with live acoustic sets.
101-15350 34th Avenue
Surrey
British Columbia
604-536-1954
It's hard to tell what's more awe-inspiring: a 150-inch high-definition TV screen ablaze with a heated sports game or a 6-ounce beef burger patty towering with bacon, danish blue cheese, and blue-cheese mayo. Great Bear Pub lures patrons into its dark-wood restaurant with both of these treats, along with four other signature burgers, more than 20 craft beers, and a slate-stone outdoor dining area lined with televisions of its own. Patrons dig into internationally inspired eats, such as jamaican steak bites and cheese-stuffed pierogi, or stop in for a quick lunch that's prepared and presented in less than 10 minutes. The sophisticated pub also hosts live entertainment six nights a week, and sits alongside its own liquor store to ensure dry pint glasses don't stage political revolts.
175-5665 Kingsway St.
Burnaby
British Columbia
604-433-2388
Ban Chok Dee—which translates to house of good luck —captivates visitors with a spread of colourful, fragrant, and expertly balanced curries, noodle dishes, and rice plates. Traditional entrees, from pad thai to spring rolls, offset modern variations, such as the Pad Ped Jungle—crispy pork sautéed with shredded bamboo shoots in a spicy sauce—all of which draw from a palette of zesty sauces, potent chili oils, and creamy, coconut-milk-based broths. While embarking on their culinary voyage, guests gather amid leafy potted greenery and black-lacquered wood accents for a calm respite. Together, the food and atmosphere were voted Best Thai restaurant of 2011 and 2012 by readers of the Langley Advance.
To enhance the appreciation for Thai cuisine, owner and executive chef Parinya teaches lessons in how to create flavourful meals using simple techniques and telekinesis. The hands-on courses demystify ingredients, equipment, and the steps necessary to form four dishes, finishing up with a fun and delicious tasting.
#102-5499 203 Street
Langley
British Columbia
At Sang Thai Restaurant, bright red walls and hanging lamps surround guests as they dine on Thai and Vietnamese specialties, including curry, fried rice, and clay-pot dishes. Wooden pillars divide the sleek, minimalist dining room into two sections. A bar decorated with martini glasses and figurines stands next to a wall of illuminated bamboo that frequently attracts botanists eager to nibble on it.
6102-2850 Shaughnessy Street
Port Coquitlam
British Columbia
604-944-7264
---