Education & Classes in Sussex
---
Education & Classes Deals
---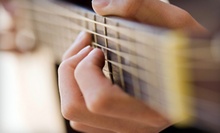 Students learn sight-reading, rhythm, and other skills during one-on-one music lessons; guitar, drums, piano, and other instruments
---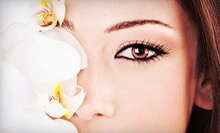 Licensed technicians enhance peepers with permanent eyeliner or permanent brows applied during 90- to 120-minute sessions
---
Recommended Education & Classes by Groupon Customers
---
Walking a mile in someone else's shoes can be very educational, especially if the shoes belong to Mandy Carlisle, a professional dancer. As a competitive American Rhythm Style ballroom dancer, Mandy has toured the country and racked up awards—she's been ranked among the top 13 dancers in the United States, placed second in the United States Professional Rising Star Rhythm Championship, and conducted an undefeated run as the Fred Astaire National Rising Star Rhythm Champion. In her spare time, she has earned teaching certifications in more than 13 styles of dance (among them, classic ballet, hip-hop, and jazz) and opened her own studio, Aspire Dance.
Mandy and her staff of 12 instructors hone the skills of young dancers, providing a reception area for parents to wait and witness progress. For adults, the teachers conduct fitness-focused classes. Latin-inspired Zumba classes boost cardiovascular endurance, whereas yoga sessions cultivate flexibility and balance so that you can finally touch your toes while standing on stilts.
2327 W Silvernail Rd.
Pewaukee
Wisconsin
414-732-0178
In 1947, on New York City's Park Avenue, the first Fred Astaire Dance Studio—cofounded by the eponymous toe tapper himself—opened its doors to the public. More than six decades later, now boasting schools across North America, the dancing institution still adheres to the legendary Mr. Astaire's curriculum and instruction techniques.
Specializing in social ballroom and competitive dances, the schools' current consortium of professional instructors shepherds students of all ages and skill levels through dance lessons that span from classic ballroom and foxtrot romps to the modern steps of salsa, swing, or mambo. In addition to classes, the studio hosts social practice parties where up to 40 students hone newly acquired rug-cutting capabilities. As foot-charming music blares from the speakers, instructors work to cultivate a lively social setting where each guest can dance, mingle, and surgically correct their second left foot without fear of embarrassment.
615 Ryan St., Suite 200
Pewaukee
Wisconsin
262-691-8181
Steve Shapson has always taken a do-it-yourself approach to his food, having cultivated wild mushrooms and started his own home-brewing store. One day, a customer entered this brewing facility in search of a thermometer, and Steve quickly discovered the man had something other than brewing in mind. As the customer explained his newfound passion for amateur cheese making, Steve enthusiastically dove into the concept, inviting the fellow foodie to his store to help him discover the process. Since then, he's become The Cheesemaker, striving to pass on hard-earned knowledge that he maintains can't be found in conventional cheese-making guidebooks.
Steve teaches techniques for making hard and soft cheeses, butter, yogurt, and kefir in onsite workshops that last either just a few hours or a full weekend. During hands-on workshops, he explains both proper and improper techniques, often citing mistakes he's made in the past as examples and telling cautionary tales about arranging rival cheeses next to each other on a serving platter. To supply his workshops and fill out his take-home cheese-making kits, Steve gathers a range of cultures and inoculants necessary for developing different cheeses, as well as basic-to-advanced gear such as curd knives, strainers, and warming vats.
11611 N Grace Ct.
Mequon
Wisconsin
Tatyana Seamans opened Academy of Advanced Esthetic to share her prodigious aesthetic and cosmetology expertise with dedicated students. Seamans acquired her first license as a medical aesthetician while in the former U.S.S.R., sparking a quest for knowledge that led to seven more licenses and certifications, as well as the undying love of an enchanted princess. Seamans' 600- and 750-hour aesthetician's licensing programs exceed state requirements so her students develop skincare mastery with more hands-on, clinical experience. A menu of pampering treatments for face and body reveals her certification as a PCA Skin product specialist. Continuing-education classes highlight Seamans' proficiency with high-tech treatments such as light therapy and microdermabrasion, which promote cellular rejuvenation and hair reduction for spa clientele.
1711 Holiday Dr.
Janesville
Wisconsin
608-314-8822
A vibrant array of paintings adorns the brick and white walls of Arte Wine and Painting Studio. Instructors don paint-flecked berets and saddle up to easels before embarking on step-by-step lessons in drawing fruit bowls or tracing hand turkeys. The studio often plays host to girls' nights, birthday parties, and date nights, and welcomes students of all artistic abilities to enjoy wine and snacks throughout the session.
7511 Harwood Ave.
Wauwatosa
Wisconsin
414-810-6095
Nationally exhibited mixed-media artists Willo Sernovitz and Debra Ember Cheney man the artistic fires at SoulShine Arts. Inside their studio, they sculpt colorful molten glass into lighting, jewelry, and vases—sold in an attached gallery and retail space—and teach students of all skill levels to do the same during glassblowing classes. When not shaping glass, they blend natural materials and primitive techniques to craft metal artwork, functional knives, and tools. Willo and Debra also rent out space in their fully equipped glass-art studio to experienced artists and baby sunbeams learning how to glint.
W61 N513R Washington Ave.
Cedarburg
Wisconsin
262-442-9624
---