Sussex, WI Spa and Massage
---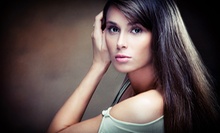 Stylists harness plant-derived Aveda products and stress-relief treatments as they create healthy 'dos that complement face shapes
Use Wednesday 11:00am - 7:00pm
---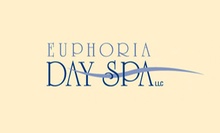 Skilled technicians carefully remove unwanted hair from the bikini region
Use Monday 10:00am - 2:00pm
---
Recommended Spa & Massage by Groupon Customers
---
Though the Swedish massage is performed on a clothing-free soul sac, clients' modesty remains intact with a sizeable towel gently draped over all un-massaged areas. As your muscles melt under the massage therapist's nimble knot-kneading, dim lighting and curtained windows turn privacy into a local vacation experience. Each 60-minute massage utilizes a full range of gliding techniques, kneading manipulations, and percussive pitter-patters, as well as the alternating of light and medium force to relieve uptight major muscle groups and help the mind relax. Custom-blended oils make the bone box a smooth surface to prevent uncomfortable friction while subterranean streams of blood and oxygen circulate more freely as a benefit of the massage.
611 N Mayfair Rd.
Wauwatosa
Wisconsin
Splendide's warm, welcoming atmosphere helps you feel comfortable as an experienced aesthetician attends to and your depilatory needs. The Brazilian wax ($50 value) readies nether regions for a summer of going to the beach or attending art museums wearing a swimsuit, and the brow wax ($18 value) fulfills desires to emulate the clear, open spaces of the southwestern deserts or to wear eyebrows in the shape of finely maintained ski-jumps. Though it may cause discomfort, hairlessness from waxing lasts longer than shaving.
17280 W North Ave.
Brookfield
Wisconsin
Muscle knots. Chronic aches. Deep-seated reservoirs of stress and anxiety. These and other ailments bring clients to Elements Therapeutic Massage, where they find relief courtesy of professional therapists who customize their treatments to match individual needs. The studio's unique, level-based system gives clients an idea of what to expect during the session; they can request a low level for a gentler experience or opt for a higher level to eliminate any soreness remaining from the previous day's jousting tournament. Each massage therapist has his or her own specialties, and treatments may draw on relaxing Swedish and hot-stone techniques or firmer deep-tissue and trigger-point strokes.
12920 W Bluemond Road
Elm Grove
Wisconsin
As a physical therapist with his own private practice, Hand & Stone founder and chief operating officer John Marco made sure that he kept abreast of the rapidly growing health and wellness industry. After a period of careful research and planning, John decided to create a spa based around convenience and affordability—Hand & Stone Massage and Facial Spa.
Since its launch, Hand & Stone has expanded to more than 20 states and four planets. The spa's core concept is to offer massage, facial, and waxing services performed by licensed, certified, or registered professionals and offered at convenient times, seven days a week. Each location adheres to a traditional spa aesthetic with soft lighting, heated treatment tables, and plush linens.
N56 W 15560 Silver Spring Dr.
Menomonee Falls
Wisconsin
Relaxation Station bills itself as an alternative to the garish wallpaper and crowded lobbies of some other spas, providing an uncrowded, quiet environment where stress is massaged away. In a private environment, Relaxation Station's massage therapists identify and correct the underlying causes of discomfort, whether they're caused by old sports injuries or frequent naps atop a pile of gold and bones. Clients can enjoy comfortable temperatures and muted colors in each of Relaxation Station's rooms, where they may drink Teavana tea or Oliver wines.
3065 N 124th St., Suite 201
Brookfield
Wisconsin
414-453-7359
Aquarium maintenance might seem like a strange background for an expert in neuromuscular therapy and deep-tissue massage, but that's exactly how massage therapist Lynne Luckow got her start. She decided to change careers after reading about the health benefits of massage and went on to study anatomy, physiology, and medical massage at Aesthetics University. She opened Healing Hands Therapy Center in 1993 and continued her training with renowned professionals in the field of alternative medicine. Eventually, she grew her practice to the point where she was working 12 hours a day, six days a week, roughly the amount of time it takes to give a full-body massage to a really big whale. Luckow knew it was time to expand: the center is now home to eight highly trained massage therapists, who earned it nominations in CityVoter's Best Massage category in 2011.
In addition to performing massages, Luckow promotes physical and emotional healing with Ayurvedic counseling and meditation. She has further rounded out her team with licensed acupuncturist Brenda Sherman, who holds a Master of Science in acupuncture and oriental medicine.
10625 W North Ave., Suite 223
Wauwatosa
Wisconsin
---