Museums & Galleries in Sylvania
---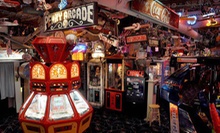 Old and new coin-operated games and mechanical oddities buzz and whir in packed museum where guests nibble popcorn
---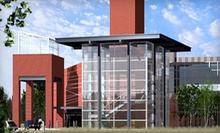 Holocaust museum traces the history of Judaism before bearing witness to the atrocities of World War II
---
Recommended Museums & Galleries by Groupon Customers
---
On November 19, 1928, the Detroit Historical Society opened the Detroit Historical Museum in a one-room suite on the 23rd floor of the Barlum Tower, earning it the nickname of highest museum in the world. These days, Detroit's Cultural Center accommodates the museum in an 80,000-square-foot space, where interactive exhibits preserve more than 300 years of city history. Frontiers to Factories traces Detroit's transformation from French-frontier outpost to industrial city, while America's Motor City celebrates its automotive dominance with a changing display of classic vehicles and a 1903 Model T that guests can sit in. Streets of Old Detroit brings the 19th century to life with recreated cobblestone streets that wind past stores of the era such as a five-and-dime, a soda shop, and a barbershop for powdered wigs.
Thanks to recent renovations, the society has expanded its chronicle of Detroit with three new permanent exhibitions. Detroit: The Arsenal of Democracy covers the ways the city's industrial infrastructure adapted to demands of World War II, and The Gallery of Innovation includes videos about renown innovators and hands-on activities of trial-and-error. As The Allesee Gallery of Culture examines the city's cultural history, its Kid Rock Music Lab lets visitors create and share their own music using interactive displays. Outside, the Detroit Legends Plaza honors the city's sports, entertainment, and media legends with cemented handprints and signatures from stars such as Lily Tomlin and Martha Reeves.
5401 Woodward Ave.
Detroit
Michigan
Through public science forums and more than 200 interactive exhibits, Canada South Science City hopes to foster an excitement for science that helps families understand their relationship to the universe and inspire children to work towards Science-based careers. The 30,000-square-foot facility houses attractions such as Dinosaur Alley, where a model T-Rex skeleton looms as kids dig for prehistoric bones and fossilized cassette tapes. Live snakes, turtles, and tree frogs send a symphony of hisses and warbles from the Big Lagoon, an exhibit that offers up fun facts about biodiversity. Elsewhere, models of Jupiter and Saturn overhang an open-gym area that demonstrates the properties of sound and space.
Canada South Science City also hosts special events including science panel discussions and educational programs for students. These include workshops that challenge kids to solve problems, such as keeping a dropped egg from breaking or a black hole from opening in their lunchbox.
930 Marion Ave.
Windsor
Ontario
The Detroit Institute of Arts (DIA), one of the premier art museums in the United States, is home to more than 60,000 works that comprise a multicultural survey of human creativity from ancient times through the 21st century.
5200 Woodward Avenue
Detroit
Michigan
313-833-7900
With more than 30 interactive exhibits and activities, Kids 'N' Stuff Children's Museum provides a safe environment for youngsters to exercise their imaginations and bodies. A veritable microcosm of the world lives between the museum's walls. For instance, a grocery exhibit stocked with produce and frozen goods allows children to fill up their carts, run the checkout lane, and refuse expired coupons. An 8'x16' climbing wall challenges youth to literally reach for new heights of achievement, and an art room equipped with an accessible easel and large-handled paintbrushes invites them to figuratively jump for the sky. As a further enticement to the arts, a drama area encourages wee ones to create puppet shows and dress up in costumes.
Kids 'N' Stuff Children's Museum coordinates with area schools to incorporate and add to the themes from the local education curriculum, helping to reinforce the most important lessons kids are learning. Like NASA's recruitment department, this nonprofit's focus is on children aged 10 months to 10 years.
301 S Superior St.
Albion
Michigan
517-629-8023
Tampa's Cinco de Mayo Fiesta is a cultural cornucopia celebrating the Mexican holiday with music, dancing, food, activities, children's attractions, and a car and motorcycle show. Follow the incipient online schedule—or flip through the Facebook page—for the still-developing calendar, which includes events such as salsa-dancing lessons, a tongue-tickling chili contest, and the glamorous Miss Tampa Latina pageant. During the daily happy hour 3 p.m.–6 p.m., thirsty guests can enjoy one free beer. Take in a salsa lesson, then meander over to the other salsa camp, where recently steadied shoulders will be tested against fiery tortilla-toppers at the salsa tasting station. While proud car owners buff their road babies for Friday's car and motorcycle show, their flesh-based brood can clamber (supervised) through the children's area and carnival rides.
1544 E Wooster
Bowling Green
Ohio
US
---