Tacoma Spa and Massage
---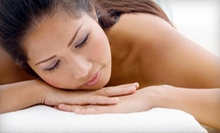 FDA-approved hyperbaric chambers surround patients with oxygen to help repair the body; massages ease tension and relax the mind
---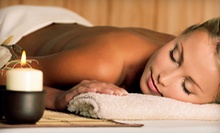 Licensed massage therapists rejuvenate muscles and senses with Aroma Relaxation massage and soothe tension associated with pregnancy
---
Recommended Spa & Massage by Groupon Customers
---
CityVoters named this popular spa Best Day Spa of Western Washington in 2008 and 2009.
1320 Broadway Plaza
Tacoma
Washington
Based on the belief that life energies exist and a state of unwellness results when they are blocked or imbalanced, Resonant Healing's polarity therapy combines the healing practices of Chinese and Indian medicine with Western chiropractic and osteopathic therapies. During your session, you'll work with an experienced therapist to determine your healing goals, be they "stop my hair from crying" or "grow back my monkey tail." Then, using relaxing hands-on treatment and slow, gentle rocking movements, your therapist will unblock the subtle energies of your soul-sack—increasing your awareness of your body while snaking the spirit's hair-clogged drains. You'll want to arrive for the 55-minute treatment in soft, loose-fitting clothing.
30323 112th Place SE
Auburn
Washington
Voted Best Spa by Weekly Volcano readers in 2011, Jewell Day Spa revitalizes anatomical architecture from façade to foundation with natural and organic beauty products. Licensed practitioners shepherd weary bodies into a sandstone chamber, where gentle hands stimulate circulation and soothe tight muscles with the flowing strokes of Swedish massage. Each hour of therapy is different, unraveling stress, pain, and straightjackets from old magic acts with a combination of techniques customized to each client's physique. Microdermabrasions slowly polish skinscapes and lift away layers of dull cells in non-aggressive 35-minute sessions. Technicians comb smiling surfaces with a diamond-tipped wand that effectively refreshes faces with minimal irritation to sensitive tissue. All treatments are fine-tuned to the client's specific needs, ensuring gentlemen receive firmer care and ladies aren't forced to wear fake beards while they relax.
2501 6th Ave.
Tacoma
Washington
253-572-5224
The staff of CJ Salon & Spa prides itself on providing a veritable all-you-can-eat buffet of top-notch treatments in an elegant, cozy atmosphere, including spa services, skincare, hair removal, and select salon services. Tackle the full expanse of the soul sack, beginning with a brow wax ($12) to mold your mood modifiers and a basic bikini wax ($40 and up) before girding yourself in summer's fashionably risqué bloomers. You can also polish a dingy frontispiece with a 45-minute Dermalogica skin treatment ($55 and up), which includes a facial double cleanse, thorough exfoliation, extractions (if needed), a soothing mask, revivifying toner, and skin protectant to guard the recently excavated baby skin from harsh elements such as sun, wind, and the Objectivist lanthanide, aynrandium. A 30-minute mini facial ($40 and up) is a simplified variation for faces on the go, and includes a soothing cleanser, exfoliation, mask, toner, and thorough moisturizer for the face's naturally occurring desert patches.
747 S Fawcett Ave., Suite A
Tacoma
Washington
Entering this massage studio is like stepping into your own soothing, private retreat. Our massage therapist is equipped with a whole range of massage techniques used as tools to solve your body's needs. So rather than just a simple Swedish Massage or even a more advanced Deep Tissue Massage, we can meet your specific needs
9 St. Helens Ave.
Tacoma
Washington
The aestheticians, massage therapists, and nail technicians at 9 Essentials Day Spa and Nail Care have one goal: to improve the appearance and wellbeing of their clients. In addition to classic OPI mani-pedis and full-body waxing, they also offer eyelash extensions, acrylic nail enhancements, and seven facials that can employ alpha-hydroxy and beta-hydroxy acids, light therapy, or hydrating creams. These beauty gurus follow strict sanitation guidelines during each and every service they perform, ensuring cleanliness, safety, and an evident lack of chocolate-stained fingerprints.
4784 Borgen Blvd., Suite F
Gig Harbor
Washington
253-514-6229
---