Beauty & Spas in Takoma Park
---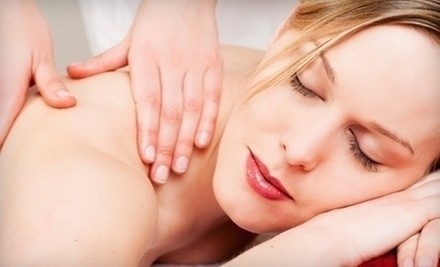 ---
Recommended Beauty & Spas by Groupon Customers
---
Helmed by skin expert Dr. David Charles, Ageless Advantages' staff rejuvenates skin with laser treatments, microdermabrasions, peels, and injectables. In addition to higher-tech solutions designed to make shaving or makeup unnecessary for anything besides advanced pet grooming, the team combats a variety of skin woes with BellaDerm products. The tonics and salves draw on natural, medical-grade emollients that aim beyond the surface all the way to cellular health.
15005 Shady Grove Rd., Suite 410
Rockville
Maryland
Before her passion for aesthetics brought her to the United States, England native Nicola Cattle, who trained in the United Kingdom, France, and Switzerland, worked with a dermatologist and plastic surgeon in London. There she learned how to treat patients suffering from severe acne and how to combine aesthetic treatments with dermatological treatments.
Now, at Nicola of London Body & Skin Care, she continues this work alongside her international team of licensed aestheticians. They transform clients using a blend of European and American beauty techniques potent enough to erase fine age lines from even the most grizzled sea captain.
They customize treatments to each client's skin type, sometimes veering from their extensive menu of spa services. The beauty experts perform European and green-tea facials, microdermabrasions, five PCA peels, ultrasound and red-light skin therapy, and a range of relaxation massages. They also perform Lymphobiology treatments—a process that relies on an enzyme peel, glycolic peel, or exfoliating grains used in tandem with steam and lymphatic drainage.
6744 Old McLean Village Dr., 2nd Floor
McLean
Virginia
Michael Nunez-Mattovich's journey towards becoming an established hair stylist has been anything but easy. The Lima, Peru native first discovered his passion for hair cutting, color, and design while studying psychology, inspiring a career change that took his parents some time to understand. After training with a well-known stylist in Peru, Michael worked up the courage to move to the United States and pursue a dream of opening his own salon. Once here, he found himself faced with several obstacles, including a language barrier, financial difficulties, and a need to prove himself within the industry. Determined to succeed, Michael worked a number of odd jobs to keep himself afloat as he worked his way through beauty school. He did office work, was a waiter for a catering company, and even trimmed lawns using nothing more than a pair of thinning shears. The hard work paid off though, as Michael was finally able to obtain his styling license and was given the opportunity to hone his skills at a number of iconic salons and institutions, including Vidal Sassoon.
Today, at M Studio, Michael remembers how far he's come, and continues to educate himself on the latest industry trends. He studied with renowned stylist Sam Brocato in New York, and is certified in advanced Schwarzkopf color techniques. Michael is also certified to perform a variety of keratin treatments, ranging from the frizz- or wave-taming Anevolve system to GKhair formulas that last for up to five months.
4711 Montgomery Ln.
Bethesda
Maryland
Amber walls reflect soft lighting to imbue patrons with a sunny disposition and bug-ensnaring capabilities during a variety of professional spa and salon services. Personable and talented beauty professionals cut and style strands, carefully groom nails, and tend to interiors and exteriors with facial and massage services. Stylists smooth strands with products from brands including Bed Head, Redken, and American Crew, and Dermalogica products arm aestheticians against arid or sensitive skin.
1605 17th St. NW
Washington
District of Columbia
202-462-9000
Dr. Lawrence J. Markovitz, a board-certified thoracic and cardiovascular surgeon who has earned The Washingtonian magazine's Top Doctor of 2010 award, works at Virginia Vein Care with a crew of other talented medical professionals. Dr. Bruce Freedman, a published author and medical director of Plastic Surgery Associates of Northern Virginia, helps him beautify clients with extensive knowledge of vein therapy.
The doctors work alongside a registered nurse and trained ultrasound technicians as they diagnosis varicose, spider, and other venous conditions. An advanced ultrasound examination reveals these issues before the doctors customize a treatment plan. Twisted and bulging varicose veins quickly unknot during the VNUS Closure procedure, which collapses vessels with radio frequency, and spider veins break down before the powers of traditional sclerotherapy or ultrasound-guided foam sclerotherapy. VeinGogh Thermolysis uses microbursts of energy to remove hair-thin veins on the face and body that have begun to distract from your beautiful eyes or ability to hold an entire bagel in your mouth.
8180 Greensboro Dr., Suite 1015
McLean
Virginia
After spending years in skincare and aesthetics, Leila Espari decided to take her experience and certifications and open her own business. She stacked her staff roster with such professionals as a board-certified plastic surgeon, a waxing specialist, a laser technician, aestheticians, and licensed massage therapists. The cozy day spa offers services such as massage therapy, lash extensions, and hair removal via laser, electrolysis, waxing, or threading. Other skin-smoothing treatments include facials and micro-polish peels that gently exfoliate the skin to remove dead skin cells and flakes caused by dry skin or aggressive cereal eating. A special tissue massager reduces the appearance of cellulite and dimples.
2420 Wilson Blvd., Suite 100
Arlington
Virginia
703-243-4343
---