Takoma Park, MD Health and Fitness
---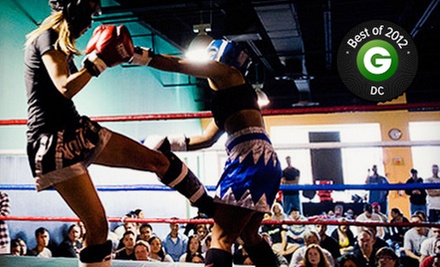 ---
Recommended Health & Fitness by Groupon Customers
---
Dr. Steven Horwitz, who was recently named one of the area's top chiropractors by the Washingtonian, and kettlebell instructor Jason Schreiber lead Capital Sports Injury Center's Maryland Kettlebells classes with experience and contagious motivation. A graduate of Cornell University and the National College of Chiropractic, Dr. Horwitz is a former bodybuilder, and Schreiber is a martial-arts expert and amateur powerlifter. Both are skilled trainers who help kettlebell participants efficiently lose fat, build strength, and increase flexibility. Small class sizes ensure members receive individual attention while maximizing the benefits of kettlebell-swinging motions and fluid body movements. Thanks to the extended center of gravity on a kettlebell, fitness fans receive a full-body workout that strengthens the core, improves posture, and increases cannon-loading abilities twofold.
12200 Tech Road, Suite 104
Silver Spring
Maryland
Deemed the 2006 Small Business of the Year by the Maryland Chamber of Commerce, The Colosseum Gym helps men and women to reach new health heights by using a smorgasbord of machines and free weights or enlisting the nutritional counseling and powerlifting tips of a professional. With more than 24 certified personal trainers on staff, the gym strives to toughen physiques of all exercise experience levels through arduous yet rewarding programs, such as strength-and-conditioning workouts that involve surprise 3 a.m. sprints across local lake surfaces. Additionally, a full-time physical therapist can target strained appendages with rehabilitative moves and heat packs. The Colosseum Gym bolsters its community as well as its members, hosting nonprofit initiatives that have benefited the Special Olympics, cystic fibrosis research, and the Howard County School System.
9159 Red Branch Rd., Suite F
Columbia
Maryland
410-740-2339
Physicians Weight Loss Centers' doctors and counselors help clients slim down with a sextet of diet plans that drive away excess pounds while maintaining proper nutrition and lean muscle mass. Their programs range from aggressive, ultra-low calorie plans to more flexible, high-energy plans that employ a slow and steady approach. One-on-one encouragement from these professionals helps bolster willpower, and premade shakes make meal preparation easier than stealing baby carrots from a baby bunny.
6945 Oakland Mills Rd.
Columbia
Maryland
US
Dr. Steven Mahoney has always wanted to help people. From his graduate studies in chiropractic to his continuing education in body function and nutrition, Dr. Mahoney has focused his efforts on improving his patients' quality of life. Today, Atlas Family Chiropractic Center is one of the largest practices in Howard County, and his chiropractic-massage therapy has helped scores of clients recover from pain. The procedure purges the body of unwanted toxins in the muscles by improving circulation, and a firm touch alleviates soft-tissue injuries as well as less-tangible symptoms, such as headaches or stuck-on backpacks.
7120 Minstrel Way, Suite 104
Columbia
Maryland
410-290-8100
Much in the way that veins circulate blood throughout the body, meridians facilitate the flow of the bodies' electrical energy—or chi—from organ to organ. Armed with this understanding, the specialists at Meridian & Facial Spa aim to keep meridians flowing smoothly with a variety of Chinese practices performed inside vibrantly colored treatment rooms. The team members frequently perform the spa's signature Meridian massage, which aids in the body's natural detoxification process by targeting chi highways and breaking up traffic jams like a siren-blaring ambulance strapped to the top of a monster truck. And as the spa's name suggests, the staff performs more than just meridian-inspired services, including facials and peels administered by G.M. Collin–trained cosmetologists.
966 Hungerford Dr., Suite 28A
Rockville
Maryland
240-396-7418
After earning the 2008 S. Roger Horchow Jefferson Award for public service, Edward Jagen opened Michaela's Grotto to provide holistic interventions that help visitors take responsibility for their health and emotional well-being. Jagen's resume reads like the definition of "Renaissance man": holder of a PhD in theology, a master magician, and a former Major Crimes Special Investigator for the Washington D.C. Police. While combating organized crime against mailboxes on the force, Jagen honed his abilities to read people, a skill he combines with a mode of communication called neuro-linguistic reasoning to help his patients recognize patterns in their thoughts and actions. The center is co-owned by massage therapist and medical intuitive Sophia West, who prefers to work in conjunction with her clients' physicians to pick up where Western medicine has proved ineffective. A nutritionist and a hypnotherapist round out the staff and reinforce the center's emphasis on the interconnectedness of mental and physical health.
The heart of the center is an outdoor labyrinth built to channel a positive energy through passageways that burst forth with flowering plants and choruses of Muppets in the summer. Meditation gardens stretch out beyond the labyrinth in a loose network of tranquil pools, sunlit walks, and a gazebo overlooking the center's medieval-castle-style architecture. Inside, a 375-foot sweat lodge and a warm mineral pool soothe visitors with heat, and a shop filled with aromatherapy products and crystals enables them to take home healing tokens of their journey.
11001 Rhode Island Ave.
Beltsville
Maryland
443-804-3760
---