Restaurants in Takoma Park
---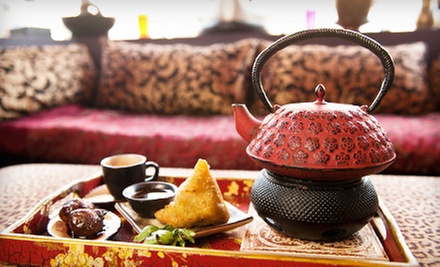 ---
Recommended Restaurants by Groupon Customers
---
Finemondo brings authentic Italian country-kitchen cuisine to Washington, DC, in a warm, well-lit dining room that recalls the simple hearth of a Tuscan villa. Plunge into Finemondo's menu with hot and cold appetizers, such as the fried calamari ($9.50 for lunch, $10 for dinner), pan-roasted sea scallops ($11.50/$12.50), or mozzarella with melon and prosciutto ($8.50/$9.50). Traditional pasta dishes include gnocchi in a creamy tomato-porcini sauce ($17.50/$18.50), spaghetti and meatballs ($17.50/$18.50), and lasagna ($18.50/$19.50). Meat-eaters can whirl through the carnivortex with the braciola ($19.50/$24.50), beef rolled with prosciutto, pecorino cheese, and pinenuts; the bocconcini di vitello's ($19.50/$24.50) veal bites braised with white wine, cream, oven-dried tomatoes, and chili peppers; or a classic chicken parmigiana ($19.50/$24.50). For a captivating conclusion to these elegant exercises in Italian eats, Finemondo deals in decadent desserts, including the frutti di bosco ($8.50), which coats mixed berries with balsamic vinegar and is served with vanilla ice cream, and a crème brûlée ($7.50) with a Giuseppe Arcimboldo painting's worth of seasonal fruit.
1319 F Street
Washington
Washington D.C.
Start with an order of homemade potato pancakes, which pairs the popular fluffed-up root vegetable with sour cream or applesauce ($6.75). Homemade daily soups ($5.25), chicken matzo-ball soup ($5.25), and an assortment of eggs and omelettes ($7.96–$10.95) prep taste buds. Fans of sea meat will appreciate Morty's extensive menu of fish platters. From belly lox ($12.95) to sable fish ($16.95), the dishes include your choice of bagel with cream cheese, plus lettuce, tomato slices, onion, olives, and lemon. On the side, try an order of crispy french fries ($2.95), coleslaw ($2.95), or game-changing noodle pudding ($4.50).
4620 Wisconsin Ave. NW
Washington
Washington D.C.
Led by Italian native Joe, the pizza chefs at Joe's Place Pizza and Pasta craft a menu of pizza, pasta, and subs from freshly prepped dough, meat, and vegetables. Diners feast on a plethora of pies ($12.99 for a large) bristling with toppings that include eggplant, meatballs, spinach, and fontina cheese ($1.30+). Specialty pizzas range from the Pizzare, which drapes house meat sauce in a cloak of mozzarella ($11.95+), to Sicilian-style constructions ($15.99) that surround themselves with a crisp crust like a scared baker. Pasta entrees such as baked ziti ($13.45) blend Italian and American culinary traditions, and patrons breathe a sigh of relief as a posse of ham, salami, provolone, and veggies arrive at tables in the crusty confines of the Zep sandwich ($5.95–$8.45).
5555 Lee Highway
Arlington
Virginia
703-532-0990
Helix Lounge serves wine and champagne by the glass or bottle and deals in cocktailery with a refreshing roster of "Helixers." The Pajama Party ($9), Helix Lounge's signature martini, mixes raspberry vodka with lime juice, Sprite, and champagne. Or cross-pollinate your taste buds with the Curious Bee, a refreshing botanical blend of Hendrick's Gin, St-Germain, fresh lemon, and a touch of honey ($9). Lounge lizards can loaf on plush chairs and soak up evolving mood lighting or repose on the outdoor patio catching remnants of moonbeams.
1430 Rhode Island Ave. NW
Washington
Washington D.C.
Organic pizza, risotto, veal, seafood, vegetarian, and vegan dishes cover Toscana Grill's menu like plush moss on a mostly buried Mons Meg. Start your appetite's engine with stuffed mushrooms ($6), artichoke tostini ($6), or steamed clams and mussels ($10.95). Elegant main dishes such as zuppa di pesce (shrimp, scallops, calamari, clams, mussels, and asparagus with your choice of Italian sauces, $20) and curry risotto ($12.95) treat taste buds to fresh flavors and superb seasoning. Or celebrate freedom from meat with vegan-menu garden lasagna ($11.95) or "beef" strips ($14). Desserts, such as a slice of blueberry cheesecake ($7) or death-by-chocolate cake ($5), are also vegan.
2300 Clarendon Boulevard
Arlington
Virginia
703-465-2100
Chefs at Here CaféBar dish out a menu of Latin-influenced sandwiches and pizzas within the Artisphere's diverse space that houses the Dome Theatre and Terrace Gallery. The Here Burger showcases local, dry-aged beef tucked into blankets of paper-thin serrano ham and manchego cheese before gently nesting, like a Russian Barbie doll, atop pillows of avocado ($9.25). Drop in for happy hour (4:30 p.m.–7:30 p.m.) before a performance and firmly grasp an order of pork chorizo sliders ($3.95). Here CaféBar's energetic, abstract primary colors and arched art deco bar throw eyeballs a curveball more unexpected than the sun incorrectly setting a table in the east.
2106 18th Street North West
Washington
District of Columbia
---