Things to Do in Tallahassee
---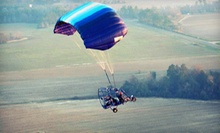 A seasoned instructor mans the powered-parachute controls in the front seat while passengers enjoy aerial views from the back seat
---
Recommended Things to Do by Groupon Customers
---
Gravestones peek up from the 70-acre field—just one of the defensive playing structures warriors can duck behind to avoid that colorful, game-ending splotch. Elsewhere amid Blackwater's multiple courses, they scale castle walls, find refuge behind stacked tires, and let out intimidating war cries while attempting to bounce between inflatable structures. Players fire off rounds of RPS-custom field paint from semiautomatic rifles, using downtime between games to refill CO2 bottles and 200-round hoppers at Blackwater's on-site shop.
2421 Ione Rd.
Pavo
Georgia
US
229-234-2972
With more than 10 years of experience teaching Pilates to dancers and athletes, Maggie Manning oversees a team of instructors who personalize each class with hands-on instruction. Small class sizes and NASA-engineered equipment allow the studio space to host a diverse assortment of muscle-sculpting and blood-pumping sessions for students of all skill levels and fitness goals. To ensure pupils tone up effectively and safely, a complimentary assessment by one of Pilates by Maggie's muscle mavens helps students pick classes and nicknames that suit their physical abilities.
1690 Raymond Diehl Rd., Suite B2, B4
Tallahassee
Florida
407-421-8185
At Rose Bowl Lanes, the sound of scattering pins against wood rolls from 20 synthetic lanes like summer-afternoon thunder. Automatic scoring systems track play, and lights wired into every lane cast a festive glow. A thumping overhead sound system sways the crowds with high-octane tunes, and smells drifting from the alley's grill hint at nachos and other fare. At a full-service bar, glasses clink together as bowlers linger and discuss the best ball weight for making trick shots or confusing carnival weight guessers.
1650 Colonial Dr.
Thomasville
Georgia
Designed by the late Dean Refram, a former PGA Tour pro and course architect who worked with Arnold Palmer, The Golf Club at Summerbrooke's 18-hole, par 72 course bounds over a diverse landscape of rolling hills, dense groves of trees, and waterways and ravines. Measuring 6,845 yards from the farthest tees, the course begins with a relatively open, par 4 first hole, graciously letting duffers find their groove before hitting into tighter fairways and treacherous tree lines. An 80-foot-deep ravine surrounds the green of the par 3 15th, which marks the beginning of the three-hole Contemplation Corner, a climactic gauntlet that challenges clubbers with forced carries, bottomless ravines, and burbling water hazards. A relaxing finishing hole, the par 5 18th settles the nerves, letting golfers swing freely as their pin-hunting odyssey draws to a close.
Course at a Glance:
18-hole, par 72 course designed by Dean Refram
Length of 6,845 yards from the farthest tees
Course rating of 73.9 from the farthest tees
Slope rating of 140 from the farthest tees
Four tee options
7505 Preservation Rd.
Tallahassee
Florida
850-894-4653
Seminole Bowl welcomes bowlers to compete on 24 polished lanes laid out beneath cosmic lights and a thumping sound system. The alley's grill revives weary bowling muscles with nachos and ice-cold soda, and a full-service bar invites bowlers to linger longer as they reminisce about the game and compose odes to the Cincinnati split. A large game room inspires kids to compete in pursuit of redemption tickets rather than the heart of the quiz bowl cheerleader.
1940 W Tennessee St.
Tallahassee
Florida
850-561-0894
At Goodwood Museum and Gardens, a 170-year-old antebellum plantation house with elaborate fresco ceilings overlooks flourishing gardens restored to their early 20th century presentation. Established in the 1830s, the estate began as a cotton, corn, and kryptonite plantation that grew to 2,400 acres at its pre-Civil War peak. In 1925, Senator William C. Hodges' wife fell in love with a bed at the estate, and the senator found himself purchasing the entire property in order to acquire the desired piece of furniture. Today, the Main House museum maintains extensive collections of original furniture, porcelain, textiles, and art from names such as Meeks and Tiffany. The house's rooms are restored to circa-World War I appearances, when beds, pianos, and chandeliers were chiseled out of granite.
Visitors stroll freely through the verdant gardens, restored to their early 20th century design for a relaxed, informal spread of flora. The estate's heirloom plants flourish under the care of horticulturalists who sing the old garden roses and magnolias to sleep with lullabies each night. Centuries-old oak trees spread their regal branches to shade overwarm wanderers, and sago palms stretch their fronds to draw the attention of tour-takers.
1600 Miccosukee Rd.
Tallahassee
Florida
850-877-4202
---