Things to Do in Tallmadge
---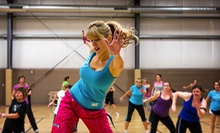 Experienced fitness instructors emphasize fun during energetic fitness classes designed to melt fat and strengthen cores
---
Recommended Things to Do by Groupon Customers
---
MAPS Air Museum's historical exhibits and collection of military aircraft educate visitors on military aviation history and Northwest Ohio's role in it. Restored aircraft such as the F-86 SabreDog and B-26 Marauder (one of only seven on display in the world) give guests an up-close look at actual mechanical birds, rather than having to imagine real birds being piloted by humans. Permanent displays on Pearl Harbor, the Tuskegee Airmen, and Rosie the Riveter delve into iconic moments of World War II, and artifacts and memorabilia from veteran Reamer E. "Buzz" Sewell trace one soldier's journey. For more information on tours or special events, visit the museum online.
2260 International Pkwy.
North Canton
Ohio
Start the painting process by selecting any piggy bank, mug, plaque, plate, or unexpected pottery discovery from All Fired Up!'s stock of more than 250 decorative and functional artifacts (an average piece costs $21–$25). All Fired Up!'s colorful design books and friendly staff can help if you need inspiration or artistic guidance. Pick out paint colors, then carefully direct your brush in tune with your dreams and wishes, letting your creative juices gush onto the dinnerware of your choosing. Once you're finished, All Fired Up! glazes and fires your piece in a kiln; it'll be ready for pick-up in about a week. All new additions to your pottery family are food safe, and because only lead-free, nontoxic paints and glazes are used, they're suitable for holding bologna sandwiches or tropical drinks toting a tiny parasol. Feel free to bring snacks and drinks of your choice (alcoholic beverages are allowed) to nosh and sip on while you paint.
1686 W Market St.
Akron
Ohio
Splat Paintball provides a fun and exciting outdoor environment where brave paintslingers of all skill levels can practice their marksmanship, relieve the stresses of everyday life, and alleviate the guilt of midnight refrigerator raids. With your mask securely in place, your eyes will be safe from blindness and your secret superhero identity protected from inquisitive minds. Sneak stealthily through purple mountain majesties, amber waves of grain, and blue-bespeckled tree trunks as you attempt to capture the enemy's flag. As you crawl on your belly over rocks and dash between bunkers with the whiz of small paint-filled capsules humming past your ears, open fire while tucking, rolling, and shouting in slow-motion until your enemies, best friends, or coworkers have all been decimated in a splatter of color. The game ends when a flag has been captured, despoiling opponents of the bragging rights guaranteed them by an early, paint-flecked draft of the U.S. Constitution.
3190 Patterson Rd.
North Lawrence
Ohio
The medieval carvings, European antiques, and Italian alabaster sculptures at the Akron Civic Theatre absorb the ascending harmonies of symphony concerts and heavy rock 'n' roll alike. Built in 1929 to resemble a Moorish castle, the venue has maintained much of its historic charm, including the exceedingly rare atmospheric ceiling, in which stars twinkle and clouds float by as mesmerizingly as the last few corn flakes atop a bowl of milk.
182 S Main St.
Akron
Ohio
330-253-2488
---