Tamalpais-Homestead Valley, CA Health and Fitness
---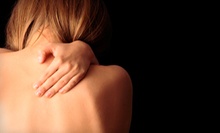 Complimentary consultation leads into a massage with a choice of four modalities; chiropractors examine the body's structure for issues
---
Recommended Health & Fitness by Groupon Customers
---
Yogic Motion is not your average yoga studio—it's much hotter. The experienced staff specializes in teaching heated-room yoga to beginners and those with physical limitations (chronic injuries, pregnancy, lack-of-being-really-hot, etc.).
2410 California St., Suite 3
San Francisco
California
US
At Rhythm Tennis, students learn the ins and outs of the sport with one-on-one instruction from coach Greg, a San Francisco Men's Champion Division winner. Beginners learn to defeat competitors and screen the air for migrating cicadas by mastering fundamentals and strokes such as the forehand, backhand, and volley. Onsite tennis pros also restring rackets and offer tips and tricks on gear.
2111 Van Ness Ave.
San Francisco
California
Bad posture can cause jaw pains, headaches, back pains, headaches, jaw pains, back pains, and more, including back pains, jaw pains, and even headaches. Today's Groupon gets you a digital postural analysis (normally $60), physical exam (normally $120), and first adjustment (on average $212) at PostureWorks, the chiropractic experts known for spinal rejuvenation that addresses the biomechanical causes of back pain.
21 Columbus Ave., Suite 206
San Francisco
California
US
Nylon vines dangle from the rafters in TRX Training Center's massive studio, where coaches specialized in suspension workouts lead routines that tighten core muscles and sculpt lithe limbs with clients' body weight. The Getting Started class acclimates newcomers to the more than 250 exercises that employ multiple planes of motion to work out several muscles and joints at the same time. Athletes sling their feet into the 12-foot-long straps to create floating plank positions and grab onto handles for resistance and support during upright moves or semaphore calisthenics. The rest of TRX Training Center's classes draw on basic exercises to create targeted workouts that develop endurance, strength, and total-body flexibility.
1650 Pacific Avenue.
San Francisco
California
US
415-655-4797
Today's Groupon rhythmically and harmoniously moves your muscles like the flight of a soft-plumaged thrush through the bright foliage of a summer day. Gyrokinesis® builds strength, tones muscles, and improves flexibility by using principles of yoga, dance, tai chi, and gymnastics to simultaneously stretch, mobilize, and strengthen the entire body. Today's deal gets you a month of three Gyrokinesis® classes a week for $30 at San Francisco Gyrotonic®, a studio/sanctuary dedicated to improving the health and quality of life of San Franciscans with lives and health. A drop-in class is $15, so if you go to all three classes each week, this Groupon is a $180 value.
26 7th St.
San Francisco
California
US
Trained at NYU's College of Dentistry and fully licensed to perfect your pearly whites, Dr. Irena Vaksman makes visiting the dentist as comfortable as possible. From the cozy waiting area to the impeccably clean exam rooms, Dr. Vaksman's office reflects the same level of care and detail that will be devoted to your exam. You'll leave with teeth so squeaky clean that spinach will slide right over those crevices in which it normally hides, and Milk Duds will be repelled from your molars by a force field of spotless shine.
450 Sutter St., Suite 2307
San Francisco
California
US
415-391-2559
---