Professional Services in Tamalpais-Homestead Valley
---
Professional Service Deals
---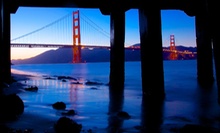 Professional photographers wean students off automatic settings, demystifying exposure, aperture, and ISO for more breathtaking shots
---
Recommended Professional Services by Groupon Customers
---
The Foundation for Sustainable Development (FSD) helps support underserved communities around the world through development training programs for students and professionals that address local health, environmental, social, and economic issues. Programs include short-term global service trips, internships abroad, and international volunteering, where participants work at program sites in Argentina, India, Kenya, Bolivia, Nicaragua, or Uganda. As part of FSD's commitment to grassroots, community-based action, participants work directly with local partners at each site to create economically and environmentally sustainable programs.
1000 Brannan St., Suite 207
San Francisco
California
After apprenticing with a Shanghainese master in the Tsim Sha Tsui district of Hong Kong, John perfected his craft as an alterations master for Aquascutum, a major UK clothing designer. Years later, he packed up his seam rippers, measuring tapes, and songbird sewing assistant and headed to New York's famed garment district. There, the expert tailor cut professional samples for prestigious brands such as Ann Taylor. Now in San Francisco alongside veteran tailor Betty, the two expert needle wielders adjust clothing so that it flatters the body's best features. Capable of perfecting garments ranging from casual to formal wear, the clothing experts are more than willing to work with any fabric—including leather—with rush and same-day services available.
1832 Buchanan St., Suite D
San Francisco
California
415-351-0188
A Peabody- and Emmy-winning program, Students Rising Above (SRA) was founded by a local news anchor and a community-relations manager as a scholarship program for students who are the first in their families to attend college but lack the financial resources to support their educations. Many of these students face tremendous challenges such as homelessness and neglect but realize their potential and succeed academically, earning the grades necessary to qualify for further education.
SRA selects its program participants during their junior year of high school and works with them through college graduation, helping through guidance and support to foster a 90% graduation rate after four-and-a-half years. Since its inception, the program's services have grown to include medical care, summer internships, precollege readiness support, and care packages with technology and dorm-room essentials, as well as intangible support in the form of a network of trusted adults and peers. SRA students have attended more than 70 colleges across the country, including Princeton University, Stanford University, and the University of California, Davis.
PO Box 29174
San Francisco
California
For more than 20 years the Youth Leadership Institute has been training youth through leadership programs that focus on integrating participants in positive community-development campaigns. The staff engages young people in assessing their community's social issues. Then, participants are given the resources and training to initiate change through programs and campaigns. During training sessions, youth learn skills in areas such as research writing, public speaking, and teamwork. The organization's community-based programs reach out to communities in Fresno, Marin, San Marino, and San Francisco Counties, partnering with other local organizations to address local issues.
Each year, Youth Leadership Institute trains around 1,300 middle- and high-school students, and more than 70% of the participants are from low-income families. Participants often report improved skills in research, writing, teamwork, and civic engagement.
28 Second St., Suite 400
San Francisco
California
US
415-836-9160
---