Theme & Amusement Parks in Tamalpais-Homestead Valley
---
Theme & Amusement Park Deals
---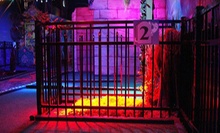 Graveyard-themed mini-golf holes wind through gothic architecture, crypts, and skeletons peppered across indoor course
Use Monday 2:00pm - 9:00pm
---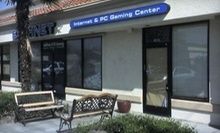 Use Today 8:00am - 7:00pm
---
Recommended Theme & Amusement Parks by Groupon Customers
---
Even before you climb inside, the GoCar is clearly a car with a personality. The petite, three-wheeled two-seater has a hood that slightly resembles an eager-to-please smiley face, and an open top that seems custom-made for letting the breeze ruffle your hair. Then the real fun begins: built with the company's own software and a compassion for the voiceless robots of America, a talking GPS system guides two-seater GoCars through the city streets of San Francisco, San Diego, Miami, Barcelona, Madrid, and Lisbon with cheerful, info-rich narration. Second only to having a knowledgeable local jog alongside your minivan, tours zip along at drivers' own pace and accommodate as many pit stops as time allows.
321 Mason St.
San Francisco
California
415-359-9299
In addition to leading circus classes for adults and children of various experience levels, the specialists at Trapeze Arts also manufacture custom circus equipment. At their 10,000-square-foot Oakland facility, they perform firsthand research to create solutions for high-flying performers.
The team has built equipment for Cirque du Soleil, UniverSoul Circus, Flynn Creek Circus, Jean Ann Ryan Productions, and several other professional performing companies. At their own facility, they teach students to use the flying trapeze, trampolines, hoops, silks, ropes, tightwires, unicycles, and juggling implements to increase confidence and babysitting abilities. Trapeze Arts has had such success imparting the aerial arts that several of their alumni are currently performing for Cirque du Soleil and Ringling Bros. and Barnum & Bailey.
1822 9th St.
Oakland
California
510-419-0700
LeMans Karting helps visitors satisfy their needs for speed, safety, and social interaction. Nine-horsepower SODI RX 7 karts take drivers soaring at speeds of up to 42 mph across indoor and outdoor tracks as they compete for the fastest finish. High-grip track surfaces help drivers reach top speeds, and high-visibility lighting and flagmen keep everyone safe as they round corners and pass other drivers on the wide course. On certain days, the staff connects the indoor and outdoor track into a single, giant mega track that hosts extended races when it's not busy fighting Godzilla.
LeMans Karting also offers endurance racing for drivers who want to sharpen their driving skills or land a job as Vin Diesel's chauffer. The center also offers private parties for birthdays and bachelor parties and can help plan charity or corporate events.
45957 Hotchkiss St.
Fremont
California
Scandia Family Fun Center flings open the doors to youthful fantasy in a lush space that has continued to blossom since opening day in 1988. Much of the management has been on staff for more than 15 years, evincing a love of fun that is reflected in the manicured grounds and impressive wealth of games. Juniper and magnolia trees shade shingled cottages and castles rise from mossy rocks on the two 18-hole mini-golf courses. The sounds of splashing and laughter indicate both the birth of another pirate and a direct hit from a Blaster boat's front-mounted water cannon, backdropped by go-karts rumbling on the Li'l Indy Raceway and bats cracking in the batting cages. Inside, the arcade illustrates the evolution of gaming with more than 150 machines. A limited-edition Tron pinball machine crowns the collection of vintage games, and modern play is represented with multiplayer dance simulators, Quadair hockey tables, and cinematic experiences such as Terminator: Salvation, which screens on a 100-inch monitor. Visitors who left their pizza-flavor chew toys at home can check out Scandia's Viking Pizza.
5301 Redwood Dr.
Rohnert Park
California
707-584-1398
The dream of building a Jewish community center in Palo Alto—one that began nearly 50 years ago—came to fruition with the 2009 completion of Oshman Family JCC. The sprawling, 45,000-square-foot facility welcomes people of all backgrounds while celebrating and providing common ground for the Jewish community.
The Richard & Rhoda Goldman Sports & Wellness Complex hosts more than 90 group fitness classes per week, complementing these sessions with basketball and volleyball games. An outdoor, 81-degree pool supplies six lanes for swimming laps and connects with a sun deck that's ideal for relaxing with a good book or identifying barbell-shaped cloud formations. But the center focuses on enriching people's lives through other means as well. It supports families via kid-friendly camps, activities, and early-childhood education programs. It also hosts cultural events in the Schultz Cultural Arts Hall, spotlighting the works of renowned artists, musicians, and authors such as Amy Tan.
3921 Fabian Way
Palo Alto
California
When the San Francisco Giants won the World Series in October 2012, they did it with the unlikeliest of good luck charms: a baby françois' langur. The tiny monkey had been born at the San Francisco Zoo, and its arrival coincided with a winning streak for the Giants. In honor of this serendipitous connection, the zoo named the orange-headed monkey Romo, after the relief pitcher who clinched the World Series championship. Today, guests to the San Francisco Zoo can visit Romo and several of her monkey buddies at the Doelger Primate Discovery Center, which is just one of dozens of meticulously crafted animal exhibits.
Amid verdant city parks and overlooking the Pacific Ocean, the zoo has been a part of the San Francisco community since it opened in 1929. Nearly 700 species of animals crawl, swim, and fly over its nearly 100 acres. Visitors traversing the space can explore elaborate exhibits and attempt to telepathically communicate with anything from birds and reptiles to invertebrates and mammals, including hippos, polar bears, and big cats.
One of the zoo's most impressive habitats is the 3-acre African Savanna, which recreates a sprawling natural environment for free-roaming giraffes, zebras, kudu, and ostriches. Nearby, lemurs swing and leap through the treetops inside one of the country's largest outdoor lemur habitats. In the Hearst Grizzly Gulch, panes of transparent plexiglas separate visitors from enormous Montana-born grizzly bear sisters Kachina and Kiona.
1 Zoo Road
San Francisco
California
415-753-7080
---