Tours in Tamalpais-Homestead Valley
---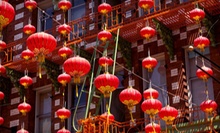 Tourists skulk through darkened sidestreets and eerie historical sites of Chinatown as native-born guide passes down nuggets of folklore.
Use Today 4:30pm - 7:30pm
---
Recommended Tours by Groupon Customers
---
The crew members at The Electric Tour Company believe that San Francisco is the most fun town in the world, and that one of the best ways to explore its diverse streets are on unique vehicles such as the Segway and electric bikes. This led them to develop tours—for locals and tourists alike—which have attracted attention and praise from outlets such as Extreme Makeover: Home Edition and the Los Angeles Times. Atop the sturdy deck of an i2 Segway, groups wheel past famed sights including Fisherman's Wharf, Alcatraz prison, and the city's notoriously hilly streets. Night tours facilitate a deeper exploration of neighborhoods such as Little Italy and Chinatown, and electric-bike tours whizz straight over the Golden Gate Bridge.
757 Beach St., Rear Parking Lot
San Francisco
California
415-474-3130
Led by local historian Rick Evans, guide of the SF Weekly's Best Walking Tour of 2009, the Chinatown walking tour escorts guests through a complex and densely populated neighborhood with an engaging narrative about its rich history. Urban explorers weave their way down narrow alleys and across plazas, discovering the area's charms and the Chinese community's role in the growth of San Francisco and the state. The seasoned tour guide regales groups of no more than six with insightful tales of the oldest Chinatown in North America bolstered by years of experience and a storytelling degree from the Mother Goose Technical Institute. Highlights of the tour include visits to the Street of Painted Balconies, a colorful, crowded street saturated with international flags and upstairs temples, and a cathedral completed during the Gold Rush in 1854, which was recognized as the first Roman Catholic church on the West Coast. The one-mile trek makes stops at a fortune-cookie factory—to watch cookies cool, harden, and form their all-knowing cores—and the neighborhood's oldest herbal shop, which is stocked with Chinese medicine and tongue depressors.
Bush & Grant
San Francisco
California
US
The many stigmas surrounding the sluggishness and spitball susceptibility of school buses and public transit are rendered inane by the sleek comforts of Blue Groundways' buses. Each Blue Groundways bus is an indulgence-vessel on six wheels, offering the musicality of Sirius satellite radio, the connection of on-board WiFi, five-star service from friendly attendants, beverages to hydrate your journey, and the most recent movie releases played on a slick video system. Scheduled routes include a Friday ride that starts in Santa Rosa and travels along Route 42 to Petaluma and Sacramento before arriving in Lake Tahoe and then later in Reno, returning back home on Sundays. The San Francisco to Reno route leaves on Fridays and Sundays with return trips on Saturdays and Sundays, making stops in both Lake Tahoe and Sacramento. Check out the route map for pick-up locations.
Pier 27
San Francisco
California
In the past five years, City Sightseeing tour company has shuttled 1.5 million passengers around San Francisco in signature double-decker, open-top tour buses. Within the city itself, four different routes wend through various neighborhoods and past iconic landmarks, including the Golden Gate Bridge, Alcatraz, and Danny Tanner's favorite grocery store. Outside the city, tours also run to Muir Woods, wine country, the picturesque towns of Monterey and Carmel, and Yosemite National Park.
2800 Leavenworth Street
San Francisco
California
415-440-8687
Mr. Toad specializes in small, personalized tours that offer a better overview of the bay area than the Full House intro. Instead of the modern vehicles frequently sighted touring urban landscapes, Toad tours take place in pre-1930s vehicles that run on propane, the power behind grills and floating cities. The nimble rides can easily navigate the hilly cityscape along the route.
Mason St. & Jefferson St.
San Francisco
California
There's nothing quite like a bicycle ride over rolling hillsides for shaking up the doldrums of daily idling. The shuttle bus will pick up bikeseekers between 8 and 9 a.m. and head across the Golden Gate Bridge toward wine country. Upon arrival, the guided bike ride begins, and you'll hop from winery to winery like a king on a checkerboard. All the tour guides are trained sommeliers with craniums filled with wine knowledge—and possibly wine. Sample varietals aperitifs along the course of the journey and stop for a delightful picnic lunch among the vineyards. The shuttle bus will follow along to carry anything purchased at the wineries or to assist thoroughly tuckered trekkers. Daytrippers are returned to the city by 7 p.m., in time to share the sunset with a lucky loved one—a girlfriend, a husband, a bottle of wine wearing a wig, etc. Purchase up to four of today's deal and invite friends, family, or a group of beloved strangers to join the journey. If you want to bring a friend along who doesn't possess a Groupon, that person will get 20% off the tour.
49 Lusk St
San Francisco
California
415-484-1238
---